Legal analyst Glenn Kirschner on Sunday claimed that former President Donald Trump has committed new crimes violating the law in New York State, warranting new charges.
Trump is already under potential criminal probes in numerous jurisdictions, including New York City, where Manhattan District Attorney Alvin Bragg has been investigating allegations that he led a scheme to pay hush money to an adult film actress in 2016. Recently, certain moves that Bragg has made have led legal experts to believe that he is closing in on a criminal indictment against Trump, which would be the first in American history for a former president.
In reaction to these rumors, Trump has become increasingly more confrontational on his social media platform, Truth Social. One post threatened that there would be "death & destruction" if he is criminally charged in New York, with another tarring Bragg as a "Soros-funded animal."
Kirschner, a veteran federal prosecutor who is now known for his many appearances as a legal analyst on cable news programs, discussed these heated posts during the latest video in his ongoing YouTube series covering the various legal battles surrounding Trump. In it, he claims that Trump's comments constitute crimes in New York, specifically threatening the district attorney "with the intent to intimidate Alvin Bragg in the performance of his official duties," further referencing a New York law, Section 195.05, "obstructing governmental administration in the second degree."
Kirschner further bolstered his argument by highlighting recent reports of a death threat made against Bragg. Shortly after Trump's "death & destruction" post, an envelope full of an unknown white powder was found in the mail room of the Manhattan District Attorney's office, with an included note reading, "Alvin—I'll kill you."
"Friends, when the grand jurors reconvene on Monday, they should receive additional evidence from prosecutors of Donald Trump's 'death and destruction' threats, in violation of Section 195.05," Kirschner argued.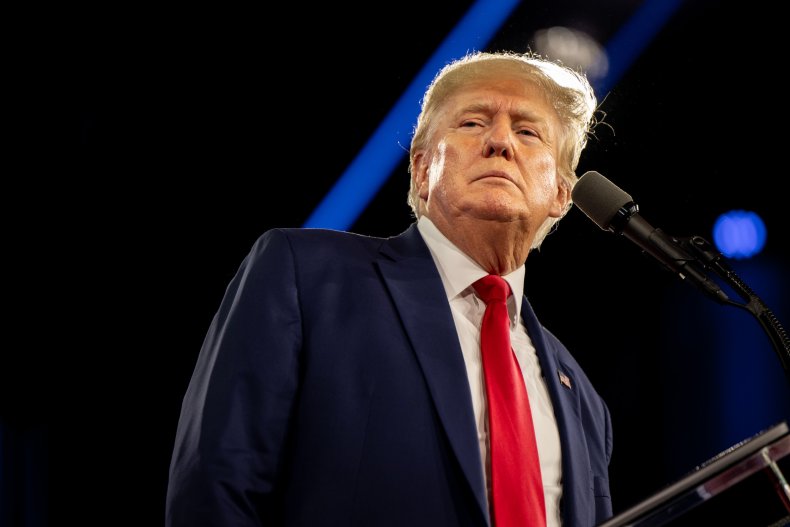 He continued, further highlighting a photo Trump shared on Truth Social, showing himself wielding a bat next to an image of Bragg: "hey say a picture is worth a thousand words. Well, this picture is also worth a 195.05 criminal charge, in violation of the laws New York."
In a prior statement given to Newsweek, a spokesperson for Trump dismissed Kirschner's legal credibility.
"Glenn is a notorious trafficker of wild conspiracy theories and dubious legal analysis," the statement read. "I would expect nothing more from a clout-chasing MSNBC contributor who has been shunned by the legal community at large."
During a Sunday appearance on Face the Nation, Trump attorney Joe Tacopina admitted that, in his estimation, the former president's posts were "ill-advised."
Newsweek reached out to Bragg's press office via email for comment.