Trump 'Giving Aid and Comfort' to Insurrection, Kirschner Says
Former President Donald Trump is "giving aid and comfort" to the January 6, 2021, "insurrection," said former federal prosecutor Glenn Kirschner.
Earlier this week, the former president called for the release of the January 6 rioters, who violently protested the results of the 2020 presidential election at the U.S. Capitol building in a failed attempt at forcing Congress to block President Joe Biden's Electoral College victory. He also said the lawmakers serving on the now-dissolved House select committee investigating the riot should be arrested for treason.
The ex-president's remarks are the latest of he and his allies decrying the treatment of the rioters, who have faced prosecution for their actions in the years since the attack. Some conservatives claim they are victims of political prosecution. However, others say they should face consequences over the riot, which left more than 100 police officers injured.
Kirschner said during a video posted to Twitter on Friday that Trump's latest remarks could add to the growing list of potential charges he could face amid several investigations into his conduct surrounding the 2020 election—and as he again seeks the GOP presidential nomination in the 2024 race.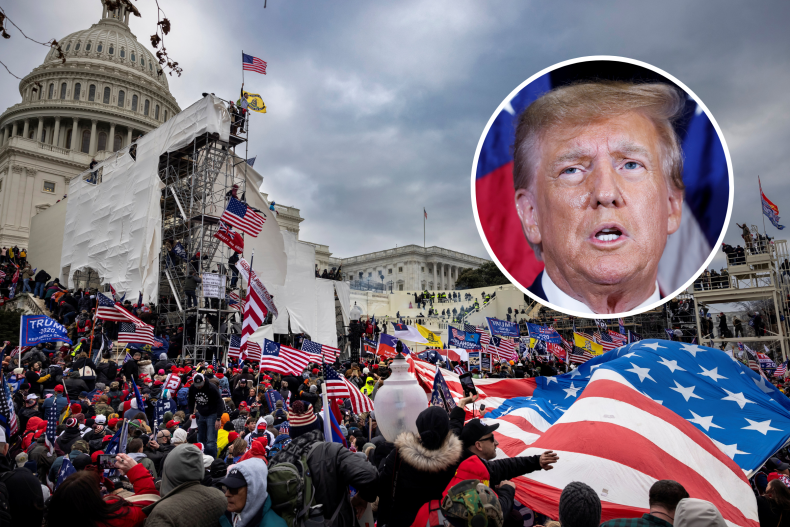 "Donald Trump is now calling for the immediate release of all insurrectionists who have been charged with or convicted of attacking the Capitol on January 6. We actually have a term for that in the law. We call it giving aid and comfort to the insurrection," Kirschner said.
The former federal prosecutor said Trump's recent remarks likely violated U.S. Code 2883, which states that anybody who "gives aid or comfort" to "whoever incites, sets on foot, assists, or engages in any rebellion or insurrection" should be fined, imprisoned "not more than ten years," and be deemed incapable of holding public office.
Kirshner addressed legal critics who say there is no legal precedent to apply this law to these circumstances, arguing that prosecutors must "break new legal ground in our determination to save our democracy" to charge Trump. He explained that not charging a president due to lack of precedent would mean "we could never prosecute a criminal president."
Kirschner told Newsweek on Saturday that "giving aid and comfort" can be part of insurrection charges that were referred to prosecutors, though it may not stand as an isolated charge.
"Will the prosecutors bring [the insurrection charge]? Obviously only [special counsel] Jack Smith knows for sure. But given the pace that he has set, and given the really aggressive tactics in which he has engaged, all of which I think are not just appropriate but necessary, I would expect to see an insurrection charge," he said.
Kirschner said Trump's recent social media posts "will support" the insurrection charge, adding that the former president "continues to give prosecutors additional incriminating evidence."
"I think, as a former career prosecutor, the only thing standing between us and a conviction of Donald Trump is an indictment of Donald Trump, given how much he has incriminated himself," he said.
Trump, however, has maintained his innocence in each of the investigations he faces.
A Trump spokesperson previously downplayed Kirschner's legal analysis in a past statement to Newsweek, writing: "Glenn is a notorious trafficker of wild conspiracy theories and dubious legal analysis. I would expect nothing more from a clout-chasing MSNBC contributor who has been shunned by the legal community at large."
Newsweek reached out to Trump's office by email for comment.