Donald Trump Could Be Indicted for These 10 Crimes in Georgia
Donald Trump could face nearly a dozen charges as part of the investigation into his attempts to overturn the 2020 election results in Georgia, according to a watchdog group.
The Citizens for Responsibility and Ethics in Washington [CREW], broke down what they believe are the 10 offenses the former president could be indicted over as part of Fulton County District Attorney Fani Willis' long-running probe.
For nearly two years, Willis' office has been looking into whether Trump committed a crime during his January 2021 phone call with Georgia Secretary of State Brad Raffensperger in which the former president asked him to "find" the 11,780 votes needed to beat Joe Biden in Georgia.
The probe has since widened significantly and is also looking into allegations the Trump campaign plotted to send a group of fake electors to falsely claim that Trump had won the state in 2020, as well as claims of intimidation of election workers.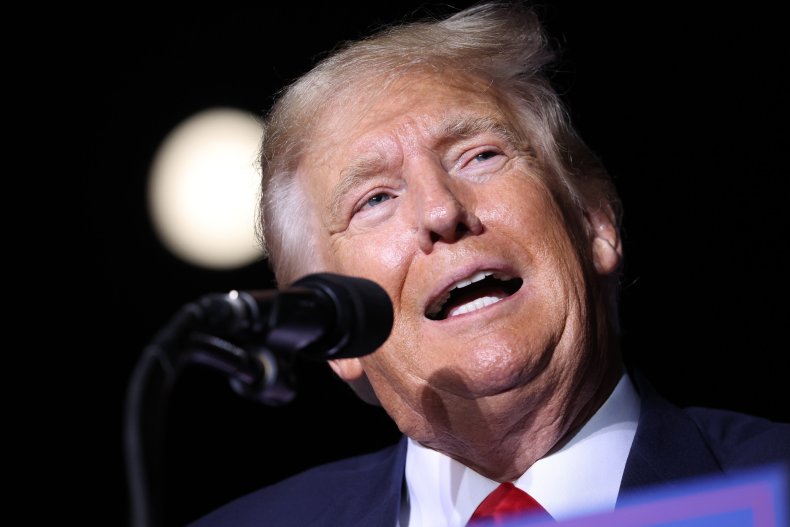 On Thursday, parts of a report from a special grand jury that has been investigating Trump will be made public following a ruling from Fulton County Superior Court Judge Robert McBurney. However, any recommendations of criminal charges, including those potentially against the former president, will not be released.
In January, Willis, who argued against the release of the grand jury report, said that a decision on potential criminal charges is "imminent," without specifying further.
Trump could face a total of four election-related charges in Georgia, five non-election-related incidents, as well as a charge relating to the Georgia Racketeer Influenced and Corrupt Organizations (RICO) Act, according to CREW.
Trump has frequently denied any wrongdoing in connection to the investigation, describing his phone call with Raffensperger as "perfect" and accusing Willis of carrying out a "witch hunt" against him.
Election Related Crimes
CREW suggests that Trump faces charges of solicitation to commit election fraud, intentional interference with the performance of election duties, interference with primaries and elections, and conspiracy to commit election fraud with regard to his phone call to Raffensperger asking him to "find" 11,780 votes.
The charges also relate to allegations Trump pressured officials to reverse the election results as well as the "orchestration" of the fake electors scheme.
"The full extent of Trump's actions before and after the election provides clear and consistent intent to solicit and pressure government officials to reverse the election results," Brie Sparkman, Policy Counsel at CREW, wrote in a blog post.
Non-Election Related Crimes
CREW said Trump faces other charges such as making false statements, improperly influencing witnesses, forgery in the first degree, criminal solicitation, and false swearing for continuously pushing the untrue claim that he lost the 2020 election because of widespread voter fraud, including in his January 2021 phone call to Raffensperger.
"Because the documents signed by the fake electors included falsehoods about their role and authority in the 2020 election, they may have committed false swearing and forgery in the first degree," Sparkman said. "Moreover, Trump and his allies may have committed criminal solicitation when they solicited conduct from Georgia state officials to change the election results in Trump's favor."
RICO crimes
It has long been reported that Willis may be trying to bring forward RICO charges—which alleges the suspect participated in at least two crimes as part of a pattern of criminal activity—against Trump.
CREW says that the list of repeated crimes that Trump is accused of warrants a RICO charge being brought against him in the Georgia investigation.
Judge McBurney has since revealed that the special grand jury is concerned that some witnesses "may have lied under oath" during their testimony, which could result in perjury charges being brought against them.
Trump was not one of those who testified in a special grand jury, but a number of his allies such as his lawyer Rudy Giuliani, former National Security Adviser Michael Flynn, and former Trump Chief of Staff Mark Meadows did.
It is unclear which of the witnesses the special grand jury raised their concerns about.