Yet Another Trump Lawyer Is Scorched by Representing Him
Jenna Ellis, an attorney for Donald Trump, has become the latest lawyer to be punished for their actions while working for the former president.
Ellis has been censured by a Colorado court after she admitted during disciplinary proceedings to misrepresenting evidence about the 2020 election, including falsely claiming it had been "stolen" from Trump.
Ellis is not the first Trump attorney to have faced sanctions—or even criminal prosecution—while defending the former president, but is the first lawyer to admit she misrepresented evidence of widespread voter fraud in the last election.
Other Trump attorneys are also facing disciplinary action after getting involved in the former president's post-election efforts to overturn the 2020 election results.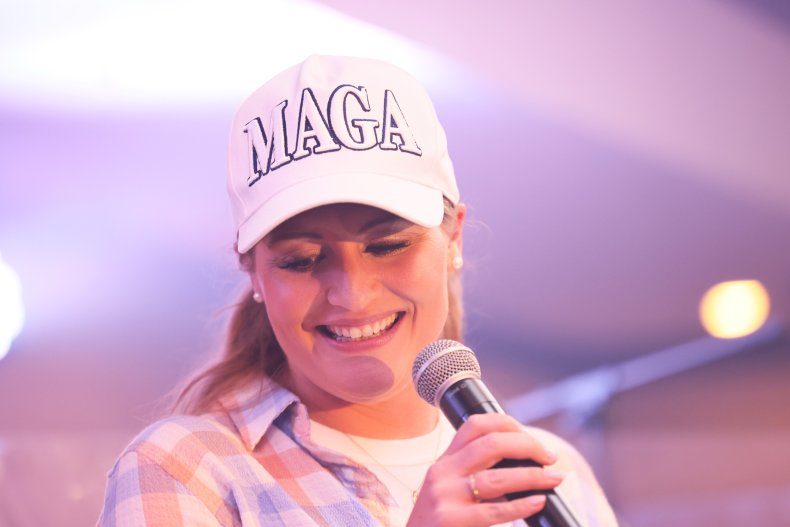 In June 2021, Rudy Giuliani had his law license temporarily suspended after a New York court ruled that he made "demonstrably false and misleading statements" about the 2020 election result. Giuliani could still lose his law license after a bar discipline committee in Washington, D.C ruled in December 2022 that he violated at least one professional rule while helping Trump challenge the 2020 election results.
In January 2023, Trump lawyer John Eastman was charged with 11 disciplinary offenses by the State Bar of California for allegedly plotting with the former president a plan "unsupported by facts or law" to overturn the 2020 election results by obstructing the count of electoral votes of certain states. Eastman's attorney, Randall Miller, told Newsweek in a statement in January that his client disputes "every aspect" of the disciplinary charges filed against him.
Other Trump lawyers have also faced punishment for working with Trump on a number of other cases and lawsuits with the former president.
In January, U.S. District Court Judge Donald Middlebrooks sanctioned Trump and his lawyer Alina Habba for filing a series of "frivolous" 2016 election lawsuits alleging Hillary Clinton and the FBI conspired to work together to accuse Trump's campaign team of colluding with Russia in order to hinder his chances of victory.
Middlebrooks also ordered Trump and Habba to to pay nearly $938,000 in legal costs to the dozens of defendants named in their thrown-out suits.
Elsewhere, former Trump lawyer Michael Cohen was sentenced to three years' home confinement in 2018 after pleading guilty to federal tax crimes, lying to Congress and to campaign finance violations in connection to hush money paid to two women—adult film actress Stormy Daniels, real name Stephanie Clifford, and Playboy model Karen McDougal—to keep alleged affairs between them and Trump secret ahead of the 2016 election.
In the latest case, Colorado's top disciplinary judge Bryon Large approved an agreement between the state's Office of Attorney Regulation Counsel and an attorney for Ellis, in which Ellis agreed to be censured after accepting she had made 10 public misrepresentations.
In a six-page opinion, Large listed the 10 examples of Ellis misrepresenting evidence about the 2020 election. These included:
On November 23, 2020, Respondent [Ellis] appeared on The Ari Melber Show on MSNBC and stated, "The election was stolen and Trump won by a landslide."
On December 3, 2020, Respondent appeared on Mornings with Maria on Fox Business and stated, "The outcome of this election is actually fraudulent it's wrong, and we understand [that] when we subtract all the illegal ballots, you can see that President Trump actually won in a landslide.
On December 5, 2020, Respondent appeared on Justice with Judge Jeanine on Fox News and stated, "We have over 500,000 votes [in Arizona] that were cast illegally."
Large added: "Respondent made these misrepresentations on Twitter and on various television programs, including Fox Business, MSNBC, Fox News, and Newsmax.
"The parties agree that by making these misrepresentations, Respondent violated Colo. RPC 8.4(c), which provides that it is professional misconduct for a lawyer to engage in conduct involving dishonesty, fraud, deceit, or misrepresentation."
Trump's spokesperson and an attorney for Ellis have been contacted via email for comment.