Trump Lawyer Jenna Ellis Tests Positive for Coronavirus a Day After Giuliani's Diagnosis
President Donald Trump's attorney and legal adviser Jenna Ellis has reportedly tested positive for the coronavirus, with the news breaking less than two days after fellow Trump lawyer Rudy Giuliani's own diagnosis was announced by the president.
Ellis has not publicly admitted that she tested positive, even suggesting on Twitter that the news was inaccurate. However, Axios first reported on Tuesday that multiple White House sources had confirmed on Monday that they'd been informed Ellis had tested positive after attending a Friday holiday party at the White House. Several other news outlets confirmed the news via sources as well.
"Funny how MSM [mainstream media] is quick to believe one or two unnamed 'sources' every time, and yet refuses to acknowledge hundreds of eye witnesses across six states who signed affidavits under oath," Ellis tweeted, in what appeared to be a reference to reports of her positive diagnosis.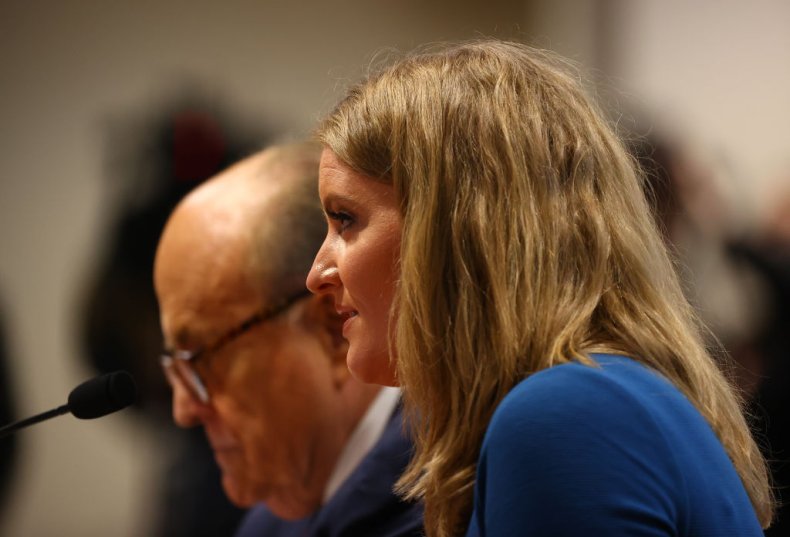 Ellis, along with Giuliani, has been leading the president's campaign's efforts to overturn the results of the November election. Although President-elect Joe Biden was declared the winner more than a month ago, Trump has refused to concede. The president and his attorneys have claimed, without evidence, that Biden won through widespread and systematic voter fraud. Their legal challenges have nearly all failed in court, with judges repeatedly noting that they have not provided evidence to support their unfounded allegations.
Axios reported that some White House officials were frustrated with Ellis, as they were concerned that she could have spread the virus at the party. Ellis has traveled to Arizona, Michigan and Pennsylvania with Giuliani in recent days. After Trump broke the news of Giuliani's positive test via Twitter on Sunday, many raised concerns that the former New York City mayor may have been a superspreader because of his travel and event schedule.
".@RudyGiuliani, by far the greatest mayor in the history of NYC, and who has been working tirelessly exposing the most corrupt election (by far!) in the history of the USA, has tested positive for the China Virus. Get better soon Rudy, we will carry on!!!" Trump tweeted on Sunday.
"Thank you to all my friends and followers for all the prayers and kind wishes. I'm getting great care and feeling good," Giuliani, who has been hospitalized, tweeted several hours later. "Recovering quickly and keeping up with everything."
Ellis and Giuliani are only the latest in a growing list of close Trump administration and campaign officials who have tested positive for the virus. More than 40 have received positive tests.
Newsweek reached out to the White House and the Trump campaign for comment but did not hear back in time for publication.