Trump Lawyer Says Legal Team Conducting Audit of Michigan County's Voting Machines After Judge's Ruling
Donald Trump's legal team is probing nearly two dozen electronic voting machines in Michigan's Antrim County on Sunday, after a circuit court judge permitted the review earlier this weekend.
The judge's ruling granted a requested injunction to Antrim County resident William Bailey, who, according to court documents, alleged his ballot was not counted on November 3. Bailey's complaint did not reference the presidential race, but instead cited a local ordinance to authorize the establishment of a marijuana retailer in his county, which passed by one vote after Election Day.
Neither Trump nor his campaign is referenced in the judge's decision, although it does grant his request for a forensic review of Dominion Voting Systems' tabulation software, which the county used to collect and count votes during the general election.
"A judge actually granted our team access to 22 of the Dominion voting machines for us to conduct a forensic audit," said Jenna Ellis, a senior legal adviser at the Trump campaign and one of the attorneys representing its election lawsuits, during a Fox & Friends appearance Sunday morning.
"So, if you remember, this is the county that had the switch of 6,000 votes from President Trump to Joe Biden. And that was an unexplained and so-called glitch," she continued. "And so, our team is going to be able to go in this morning at about 8:30, and we'll be there for about 8 hours to conduct that forensic examination. And we'll have the results in about 48 hours and that will tell us a lot about these machines."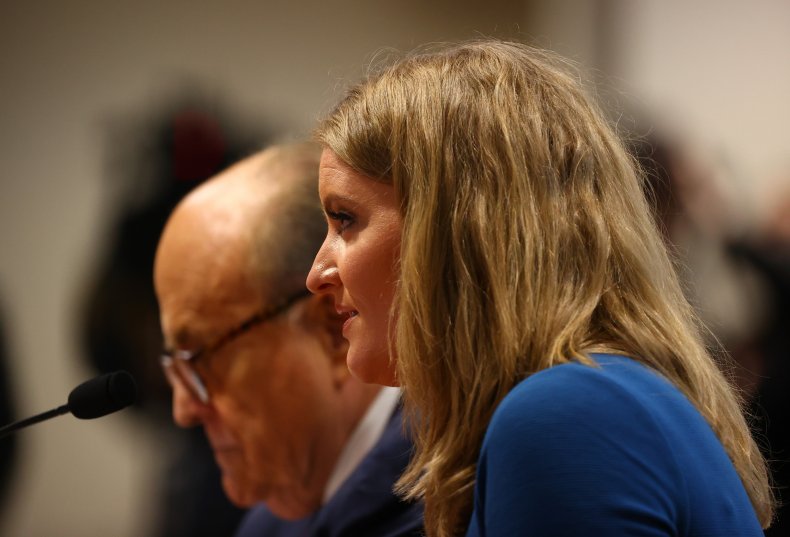 Accompanying Trump attorney and former New York City Mayor Rudy Giuliani, who has positioned himself at the forefront of the sitting president's efforts to challenge election results in court, praised the Michigan judge's ruling on Saturday, calling it "a big win for honest elections."
Amid a flurry of lawsuits seeking to discredit ballots cast in parts of the country where President elect-Joe Biden secured a majority of votes, the Trump campaign accused Dominion Voting Systems of manipulating ballots in his Democratic opponent's favor. The company publicly denied these allegations, and subsequent inquiries conducted by elections officials and federal security authorities found no evidence indicating its software was somehow compromised.
The Trump campaign's claims that voter fraud and misconduct skewed the presidential election's outcome are unsubstantiated, and most of its legal filings saw prompt dismissals in various courts. Several lawsuits filed in Michigan were tossed out over the past month, with the most recent rejection issued Friday.
Antrim County incorrectly reported presidential election results in an unofficial preliminary vote count after Election Day, which indicated that Biden won the predominantly Republican jurisdiction. Michigan Secretary of State Jocelyn Benson explained the error, which was then corrected to reflect Trump's victory among local voters, in a statement released during the week that followed.
"The erroneous reporting of unofficial results from Antrim County was a result of accidental error on the part of the Antrim County Clerk," Benson said. "The equipment and software did not malfunction and all ballots were properly tabulated. However, the clerk accidentally did not update the software used to collect voting machine data and report unofficial results."
Ballot tallies show that Biden secured upwards of 150,000 more votes than Trump in Michigan. The state certified its election results in late November.
Newsweek reached out to the Trump campaign for further comment, but did not receive a reply in time for publication.