Trump Lays Out Long List of Questions He Wants Congress to ask the FBI
Former President Donald Trump detailed the various questions he wants members of Congress to ask during the work on a new subcommittee expected to investigate government agencies such as the FBI and Justice Department.
Republican House Speaker Kevin McCarthy released a list on Tuesday of House members who will serve on the new panel, officially called the "Select Subcommittee on the Weaponization of the Federal Government." All of those appointed to the committee are Republicans, including Chairman Jim Jordan, Representative Elise Stefanik, Representative Chip Roy and Representative Thomas Massie.
The Republican-led House voted earlier this month to establish the weaponization committee amid ongoing DOJ investigations into the classified documents discovered in Trump's possession over the summer of 2022 and the January 6, 2021, Capitol riot, in which the former president has been accused of playing a key role. While announcing his picks for the weaponization panel and another subcommittee on the coronavirus pandemic Tuesday, McCarthy said that the U.S. government "has a responsibility to serve the American people, not go after them."
"Unfortunately, throughout Democrats' one-party rule in Washington we saw a dangerous pattern of the government being used to target political opponents while they neglected their most basic responsibilities," he added.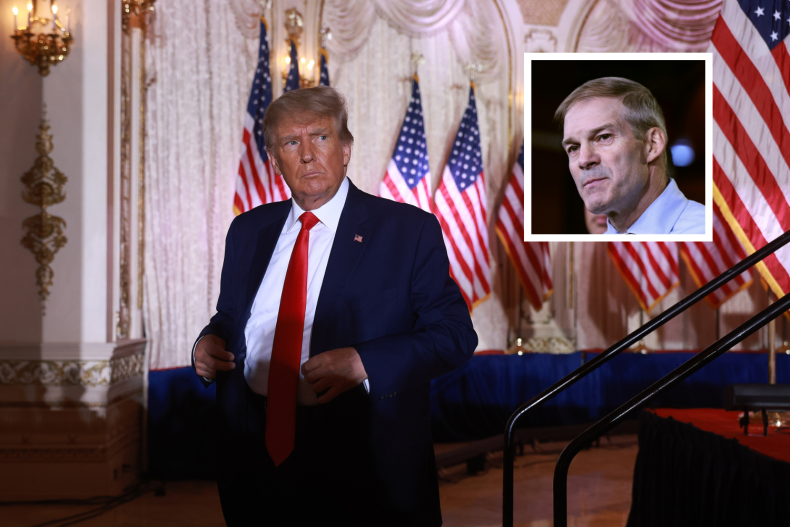 Trump maintains that he did nothing wrong in regard to the classified documents and has repeatedly railed against the DOJ and FBI, which searched his Mar-a-Lago residence in August 2022 and seized classified documents. In a video posted on his Truth Social account on Wednesday, Trump said that the "weaponization" of law enforcement and intelligence agencies is the "greatest threat to American freedom in generations."
He voiced hopes that the weaponization subcommittee will look into several questions that he went on to list.
Trump's first couple of questions were centered on special counsel Robert Mueller's probe into Russian interference in the 2016 presidential election and possible coordination between Russia and Trump associates. The report did not conclude that Trump committed any crime, but it also did not exonerate him.
Trump called on the weaponization subcommittee to ask which person involved in the Mueller probe was responsible for ordering "dozens and dozens of cellphones to be wiped clear of all data." This appeared to be a reference to a Justice Department Freedom in Information Act release in 2020 that showed more than two dozen instances of phones assigned to Mueller's team being wiped or reset for reasons such as forgotten passcodes.
Trump said that he wanted the weaponization subcommittee to ask who on the Mueller team "was in charge of leaking secret information and fake news stories to dishonest journalists of which there are many to perpetrate the Russia hoax."
Another question he listed also took aim at journalists. Trump said he wanted the panel to ask how many "fake news journalists" have been compensated either directly or indirectly by the U.S. government for "their role in spreading domestic disinformation."
Among other questions on his list, Trump asked what role federal agents and "informants" played in "pressing the crowd toward the Capitol" on January 6. He specifically mentioned Ray Epps, an Arizona man at the center of a right-wing conspiracy theory that alleges he encouraged Trump's supporters to storm the Capitol while working for the FBI.
Trump said that the panel needs to do a "full review" of Foreign Intelligence Surveillance Act (FISA) warrants and "any abuse of confidential government databases to conduct political spying on American citizens." He added that the subcommittee should get a full report on any "domestic surveillance" of supporters of his MAGA (Make America Great Again) movement under the Biden and Obama administrations and the "radical left."
Newsweek reached out to Jordan's office for comment.