Trump-Supporting Media Spreading False Conspiracy Theory That Migrant Women and Children Fleeing Tear Gas Are Crisis Actors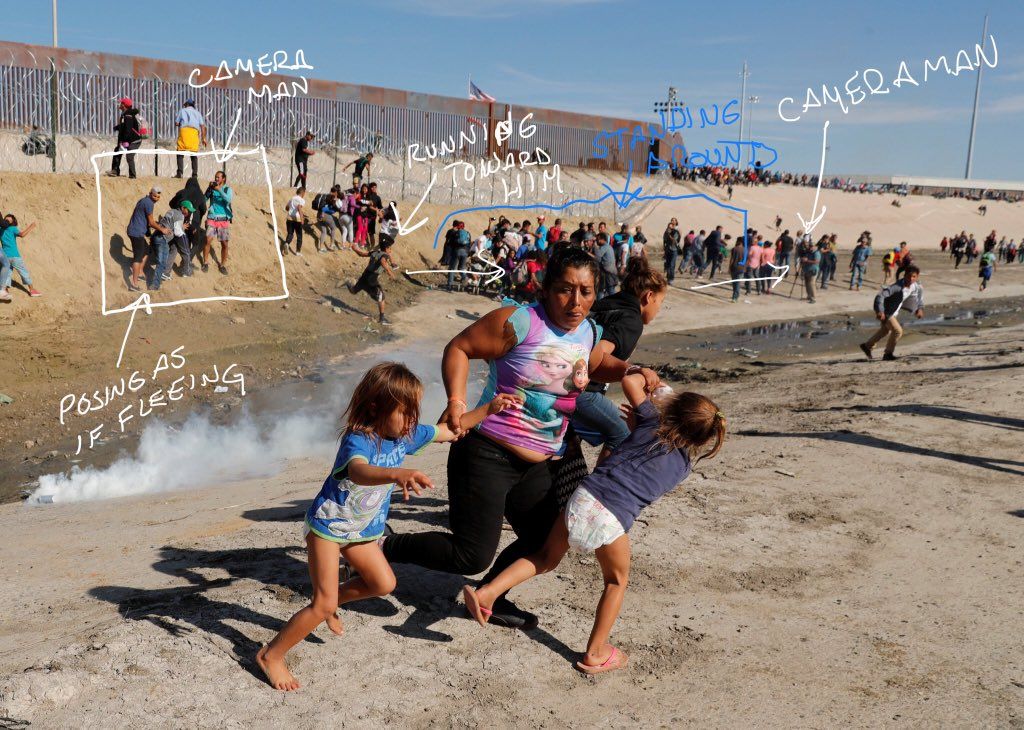 Right-wing media outlets and conspiracy theorists have concocted unsubstantiated claims about a migrant woman and others who were caught in the midst of clashes between migrants and U.S. Border Patrol agents. False conspiracy theories have already hit Twitter, with handwritten remarks on a photograph of a mother and children fleeing tear gas, which some right-wing outlets believe to be proof of a staged "hoax."
Over the weekend, further waves of a migrant caravan that's spent more than a month walking thousands of miles from Central America to the United States arrived at the U.S.-Mexico border in Tijuana. The migrants' arrival came a month after thousands of military personnel were deployed by President Donald Trump to secure the border.
Sunday saw a series of clashes between hundreds of migrants, Mexican police and U.S. Customs and Border Protection agents when migrants tried to cross the border, some by attempting to scale border walls and others trying to push past Mexican police blockades. Rocks and debris were thrown by some migrants at U.S. Border Patrol agents, leading authorities to lob tear gas canisters over the border wall to deter groups of migrants. Entry points were suspended for vehicles and pedestrians at the San Ysidro port of entry in San Diego.
A powerful image captured in the midst of it all by a Reuters photographer, Kim Kyung-Hoon, on Sunday depicted a 39-year-old migrant woman from Honduras and her three daughters, one of which was barefoot, fleeing tear gas. The picture quickly spread to television screens and appeared on front pages of newspapers.
Rather than telling the true story of the mother, Maria Lila Meza Castro, and her young children, 5-year-old twins and a 13-year-old, fleeing tear gas, Trump-supporting media outlets chose to label the entire image and the circumstances surrounding it a "hoax" and a "fake news production."
The reasoning the far-right media outlets used in calling the picture a "hoax" was that other photographers and members of the media could be seen in the background talking with other migrants. This, they said, proved the event was "staged" by the media, a claim that the fact-checking website Snopes has already labeled as "false." In something of an irony, on the same day that the outlets called the image "staged," Dictionary.com announced its word of the year was "misinformation."
On Twitter, notes scribbled on the picture said "posing as if fleeing," "standing around" and "running toward him," with arrows pointing toward another cameraman. Cameramen and groups of migrants in the background were circled.
"Yesterday's headline is today's hoax," said The Gateway Pundit, a far-right online outlet that often peddles conspiracy theories and propaganda. "The illegal alien mother 'fleeing' from the border wall was all a lie. It was a setup."
The Daily Wire, a conservative news and opinion website, wrote that it "appears as if many people are not fleeing anything, and a photographer with a camera on a tripod appears to be taking pictures of a child running as another photographer shoots people 'posing as if fleeing.'"
RedState, a conservative blog, published a headline that read, "There's Good Reason to Believe the Viral Photo of Border Agents Gassing a Migrant Mother and Her Children Is Staged."
Asked by reporters on Monday how he felt seeing the images of women and children running from tear gas, Trump said the gas was a "very minor form" that was "very safe."
"Well, I do say, Why are they there?" Trump said. "I mean, I have to start off first of all, the tear gas is a very minor form of the tear gas itself. It's very safe."
The Trump-appointed commissioner of U.S. Customs and Border Protection, Kevin McAleenan, said otherwise on CNN Monday night. "The CS gas we deploy is standard law enforcement issue," he said.
Border Patrol agents under the Obama administration also used tear gas at times.
Trump also claimed, without evidence, that many of the migrant parents were not the true parents. He suggested they were "grabbers," whom he described as people who "grab a child because they think they're going to have a certain status by having a child, certain advantages."