Trump Meets Putin: How Russia's Press Reacted To G20 Talk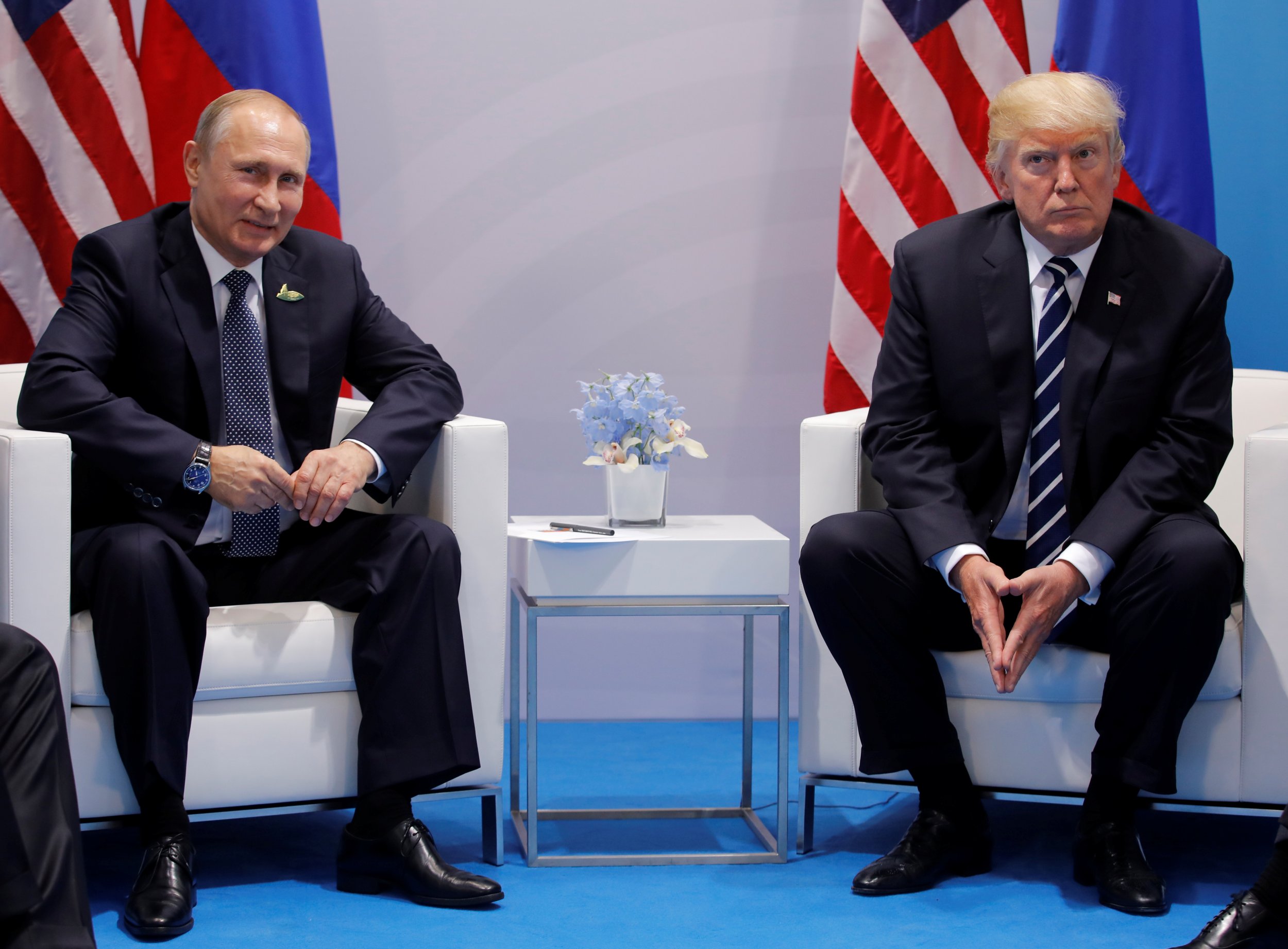 U.S. President Donald Trump thinks his meeting with Russian President Vladimir Putin, went well—tremendously, in fact. While the lack of a strong line on Russia's alleged election hacking and meddling has incensed some in the U.S., Trump's positivity about meeting Putin resonates with another audience—the Russian press.
Even before the meeting was up, Russia senators and parliamentarians on the country's main state-run television channels were clamoring to declare it a success by virtue of its duration.
Read More: Senators to Trump: Don't reward Kremlin's 'bad behaviour' with luxury property
"This was a very serious widening of the format," Vyacheslav Nikonov, lawmaker from Putin's United Russia party, told state-run Perviy Kanal (Channel One) after it was announced that the meeting had nearly tripled its planned length on Friday night. Time reminders prompted applause breaks from the channel's studio audience and Nikonov even afforded himself a shot at Ukraine's President Petro Poroshenko—who underscored his meeting with Trump last month came before Putin's. "If Trump wasn't interested in talking to Putin, he would have spoken to him as long as he spoke to Poroshenko—an hour and 10 minutes," Nikonov quipped.
Judging by the body language of Trump, he was "excited" to meet Putin, political expert Andrei Manoylo told Russia's state news channel Rosiya24
The meeting was a "moment of truth for Trump," pro-Kremlin newspaper Izvestia declared before the two leaders sat down. The onus was not on Putin, but it was Trump's chance to show his "greatness or mediocrity." The verdict was in for pro-Kremlin tabloid Komsomolskaya Pravda on Saturday morning, claiming "Putin and Trump found the road to peace in Syria and Ukraine." The two, "delighted the world" with their handshake, the popular tabloid declared. Beside the announcement of yet another ceasefire in Syria and the anticipated announcement that the U.S. and Russia would have a channel to communicate Ukraine issues, the two leaders made little headway towards peace, though the wider sentiment in Russia's press was quite different.
Trump proved himself to be a pragmatist, Moscow tabloid, Moskovskiy Komsomolets, wrote, citing Russia's summit representative Svetlana Lukash. Dwelling once again on the length of the meeting, the paper guessed it may have caused German Chancellor Angela Merkel "stress" as she had scheduled evening entertainment for all attendants of the summit in her native country.
Any doubts of Putin and Trump's ability to get along were quashed in the meeting, state news agency RIA Novosti reported, citing Senator Franz Klintsevich who said the meeting was meant to "reopen the barricaded door of Russian and American relations and simultaneously suspend questions about the personal compatibility of the two leaders."
Political analyst Dmitry Abzalov told RIA Novosti that Trump's next challenge was the "political struggle" against him at home. The meeting was a further blow to Trump's opponents, political scientist Ana Teresa Gutiérrez del Cid told RIA, calling it "an obvious failure for the political forces who wanted to meddle or cast a shadow on the meeting."