Russians Praise Putin's Meeting With Trump as a Success Before It's Even Finished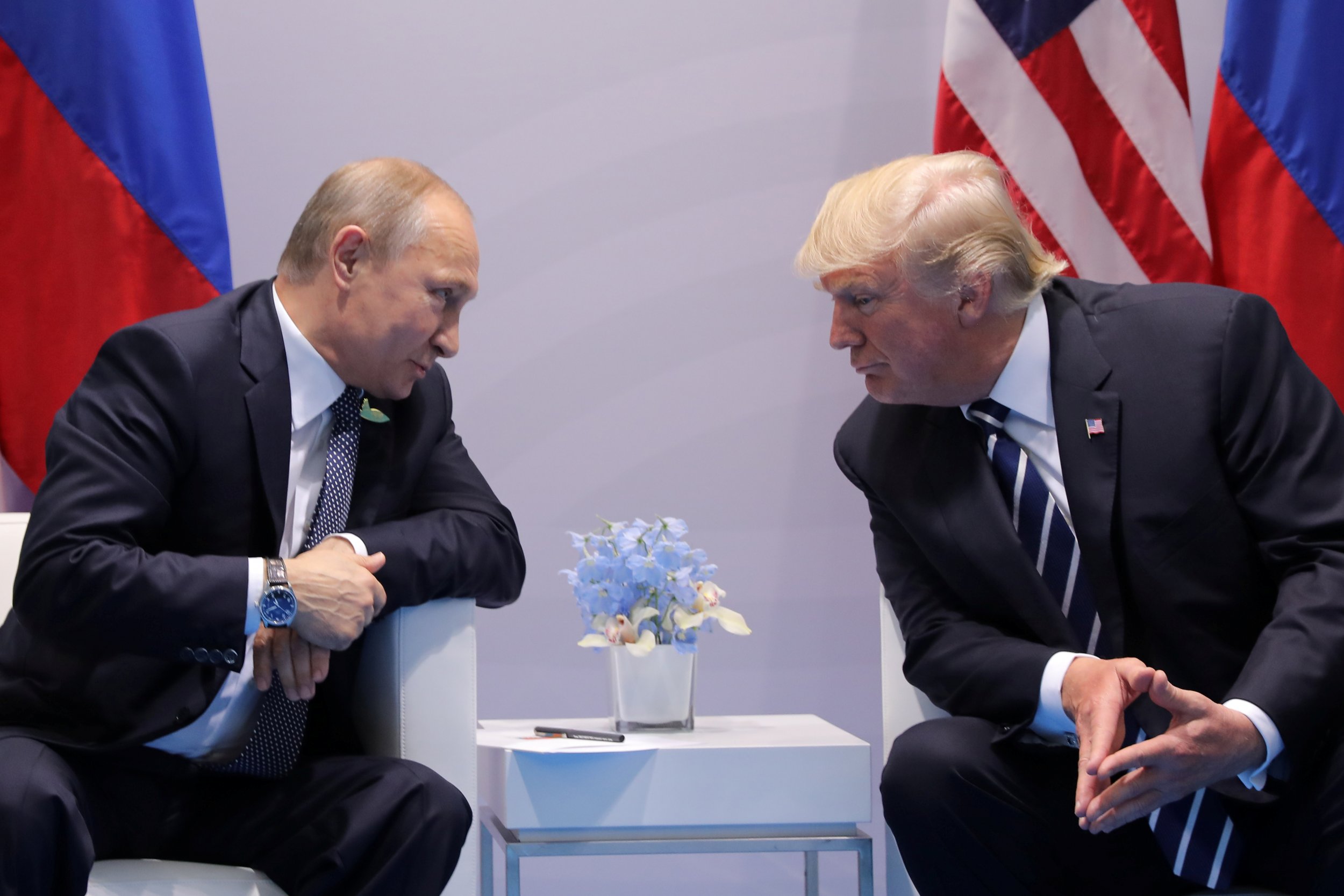 Before the presidents of the U.S. and Russia had even finished their first meeting, Russia's media was ready to interpret its outcome.
The mere announcement that the Thursday meeting between Donald Trump and Vladimir Putin had lasted longer than an hour and a half earned an applause break in the studio of state-run Channel One Russia. The news briefing program Time Will Tell had already lined up a handful of Russian senators and lawmakers, talking over one another to interpret the day's details, before any statement had come from the meeting itself.
Related: Trump warned by senators not to hand back diplomatic compounds to Putin
Vyacheslav Nikonov, a lawmaker from Putin's United Russia party, was among the first to claim the meeting was successful. "This was a very serious widening of the format," he told the host, referring to the fact that the White House planned only for a 30-minute meeting. "If Trump wasn't interested in talking to Putin, he would have spoken to him as long as he spoke to Poroshenko—an hour and 10 minutes," Nikonov said, in an unsubtle jab at Ukrainian President Petro Poroshenko, who visited Trump in Washington before the G-20 summit.
By his account, Putin and Trump "make independent decisions," claiming Europe was suffering from a lack of leadership. The host was eager to agree, chiming in that the pair were not "two functionaries" but rather "two personalities."
Senator Andrei Klimov, explained on the show that Trump "wants to deliver what he promised" during his campaign, which included a pledge to improve ties with Russia. Klimov claimed the investigation into his team's alleged ties with Russia was indicative of "Congress members thirsty for his impeachment."
Former President Obama's sanctions on Russia for meddling in the national election, Klimov said, were "land mines" to contain Trump. "(Putin and Trump) must de-mine this field now," he added.
"Neither Ukraine nor Syria are top issues for this meeting," Russian Senator Franz Klintsevich declared, claiming the real question the meeting would answer was, "Will the military industrial complex...break Trump?"
Trump's body language suggested he was "excited" to meet Putin, Russian political expert Andrei Manoylo told state news channel Rosiya24. "Trump will sacrifice the global climate for a meeting with Putin," state news agency RIA Novosti wrote, referring to Trump's decision to schedule the meeting during a climate meeting at the G-20.
Germany joined Ukraine in getting a slight roasting by speakers, several of whom questioned if Chancellor Angela Merkel's message of support for Trump and Putin's decision to meet was genuine.
"Trump confirmed that he is seriously motivated, that he chooses...to want a mutual path to exit the crisis (with Russia)," Russian Senator Aleksey Pushkov said on Rosiya24. "I concede Trump could understand the Russian position. This is within his powers, and he does not need to consult Congress nor Senate nor least of all the media on the subject of whether or not to restore Russia's diplomatic property," he said in reference to Obama's seizure of compounds in the U.S.
The defense correspondent of Russia's pro-Kremlin tabloid Komsomolskaya Pravda joked about the closeness of Putin and Trump's meeting, tweeting a photo of their handshake with the caption, "Putin hands Trump a flash drive with his new reconnaissance assignment."