Trump Impeachment is More Likely Than 25th Amendment Removal for Mental Health, Experts Say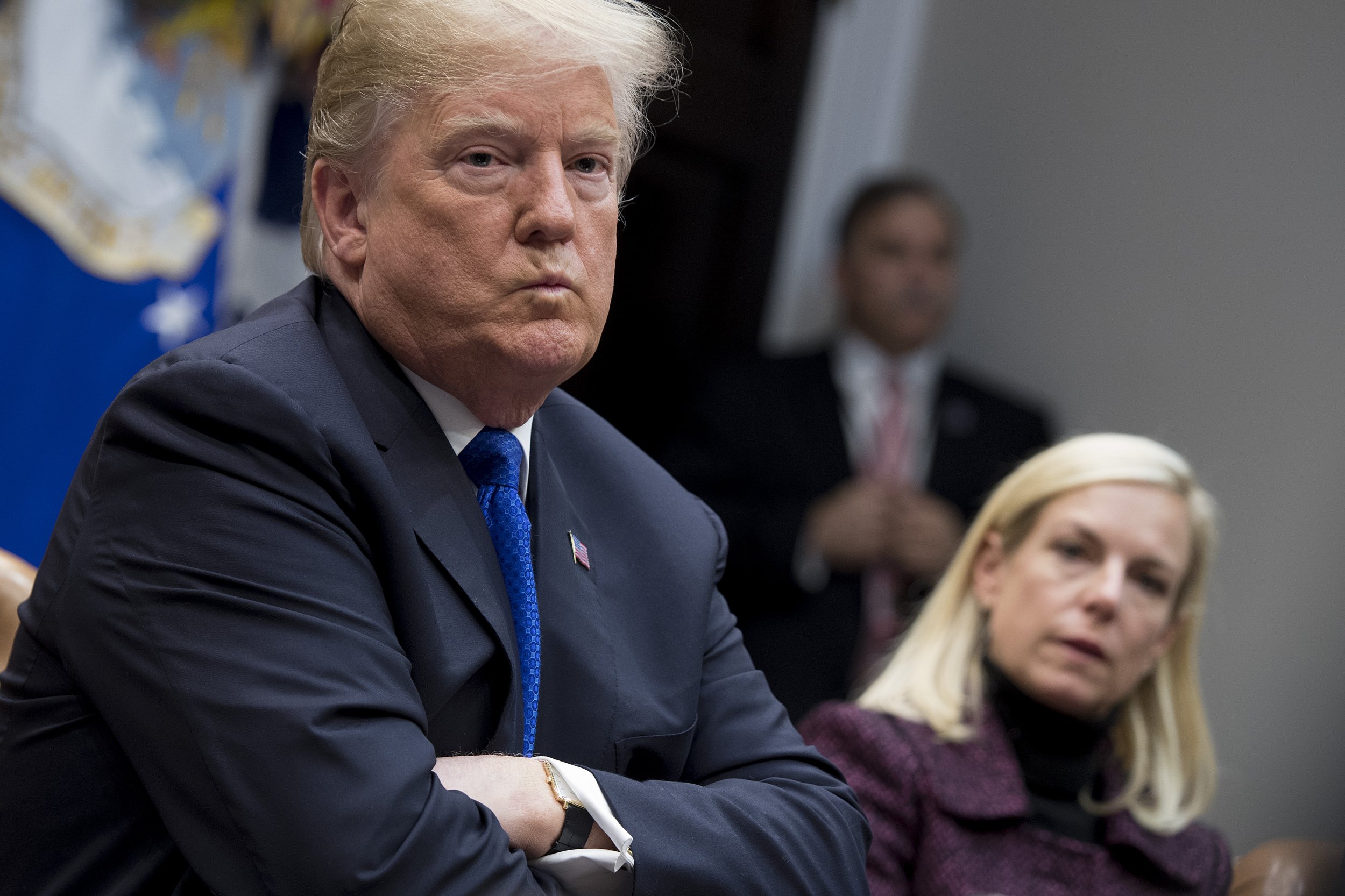 It would be more likely for President Donald Trump to be impeached than removed from office under the 25th Amendment over his mental health, despite all of the fresh concerns about his fitness for office, experts said.
Dan Abrams, ABC News' chief legal analyst and founder of the media blog Mediate, called speculation of using the 25th Amendment to oust Trump a "liberal pipe dream."
"As a procedural matter, it's harder than impeachment," Abrams said on Good Morning America Monday. "So if the president is going to be kicked out of office based on a constitutional principle, it's going to be impeachment. It's not going to be the 25th Amendment."
Even professed Trump critics weren't holding their breath for the 25th Amendment to intervene.
"Nothing would thrill me more than to remove Donald Trump from office. But the more I've thought about it, the only way for that to happen is through impeachment," Jay Berman, the former chief of staff for Senator Birch Bayh (D-Ind.), who helped craft the amendment in the 1960s, told Politico.
"That might be easier in the context of physical incapacity, but it would be a lot harder in the case of mental incapacity," he said.
The 25th Amendment was adopted in 1967, about four years after the assassination of John F. Kennedy. It established a line of succession for the president and said the commander-in-chief could step down if he is "unable to discharge the powers and duties of his office."
The amendment has become a hot topic under Trump following the publication last week of Fire and Fury, a tell-all Michael Wolff book that said nearly the entire White House staff is worried about Trump's fitness for office and mental stability. Wolff said the situation in the White House has become so bad that the 25th Amendment is discussed on a daily basis.
But Trump's mercurial behavior is insufficient in proving he lacks the ability to hold office, according to Peter Wallison, a lawyer who served in the Reagan administration.
"The fact he acts strangely is not sufficient to invoke the 25th Amendment," Wallison told Politico.
Even by the numbers, impeach is seemingly easier than a 25th Amendment ouster.
The House of Representatives needs only a simple majority to pass an impeachment resolution, which would then require a two-thirds majority vote in the Senate to remove the president. By contrast, Section 4 of the 25th Amendment requires that two-thirds of both chambers, or the majority of the president's cabinet and the Vice President, agree to remove a president from office. If the president is not willing to step aside, the vice president must also side with Congress's decision. No president has ever been removed under Section 4 of the amendment.
RELATED: TRUMP 'HAS LESS CREDIBILITY THAN ANYONE WHO HAS EVER WALKED ON EARTH,' MICHAEL WOLFF SAYS
The president's mental health has become increasingly worrisome among many on Capitol Hill. Last month, a Yale psychiatrist briefed more than a dozen senators, including one Republican, over a two-day span, warning that Trump "is going to unravel, and we are seeing the signs."
Trump defended his mental acuity on Twitter over the weekend, calling himself a "very stable genius" and boasting about his successes.
RELATED: MICHAEL WOLFF SAYS TRUMP'S WHITE HOUSE IS 'THAT BAD' THE 25TH AMENDMENT MENTIONED EVERY DAY
The 25th Amendment was established during the Cold War, when the threat of a nuclear annihilation was palpable for the White House. That threat has been renewed as an unpredictable North Korea has emerged as a nuclear power and Trump has shown a proclivity for taunting its leader, Kim Jong-Un.
Trump taunted Kim on Twitter last week, bragging about how his "Nuclear Button" is bigger and better than the North Korean dictator's.
Richard Painter, who served as the chief ethics lawyer in President George W. Bush's administration, said that tweet alone was enough evidence that Trump can't perform his duties.
"This Tweet alone is grounds for removal from office under the 25th Amendment. This man should not have nukes," he tweeted.