American Automakers Urge Donald Trump Not to Shut Mexico Border, Warn of 'Significant Disruptions'
The Auto Alliance has urged President Donald Trump against shutting the border with Mexico in his immigration dispute with the U.S.'s southern neighbor, warning of "significant disruptions" were he to make good on his threats.
The group, representing America's biggest automakers, put out a statement Wednesday titled "The Importance of Open Borders" in response to repeated comments by Trump that, unless Mexico takes greater action to curb undocumented migration, he will close the U.S. border.
"Automakers rely heavily on cross-border trade throughout the North American region," the Auto Alliance statement said. In many instances, auto parts can cross the border multiple times before being integrated into the final assembly of a vehicle.
"We urge all parties to work together to avert a border closing that would result in significant disruptions to the North American auto industry, because ultimately the costs of all this fall upon our customers and make it more difficult for them to afford a new vehicle that is cleaner, safer and more energy-efficient."
Missouri Governor Matt Blunt, a Republican and president of the American Automotive Policy Council (AAPC), an industry group that represents automakers FCA US, Ford and GM, also warned the Trump administration against shutting the border with Mexico.
"Any action that stops commerce at the border would be harmful to the U.S. economy, and in particular, the auto industry," Blunt said in a statement sent to Newsweek.
The White House did not respond immediately to a request for comment.
Trump believes there is a crisis at America's southern border and has declared a national emergency to secure funding for his wall, after Congress refused to allocate any money to its construction.
The president's critics accuse him of manufacturing a border crisis for which there is little evidence, and argue his wall is an expensive and ineffective political gimmick.
"Mexico is going to have to do something, otherwise I'm closing the border. I'll just close the border," Trump told reporters last Friday. "And with a deficit like we have with Mexico and have had for many years, closing border would be a profit-making operation."
On Saturday, Trump tweeted: "Mexico must use its very strong immigration laws to stop the many thousands of people trying to get into the USA. Our detention areas are maxed out & we will take no more illegals. Next step is to close the Border! This will also help us with stopping the Drug flow from Mexico!"
In reality, suddenly closing the border would drive up costs for many American businesses trading with Mexico, potentially causing job losses and putting some firms' survival at risk.
The automobile industry would be hit hard by any closure of the border. Many vehicle makers have factories in both Mexico and the U.S., importing and exporting automobile parts and finished products between both countries.
According to the Office of the U.S. Trade Representative, the biggest goods import to the U.S. from Mexico is vehicles, a trade worth $84 billion in 2017 alone.
Overall goods and services trade between the two across all industries totaled $615.9 million during that year. There was a $71 billion deficit in America's trade as it imports more from Mexico than it exports to it.
Trump believes this deficit is significant and negative for America, which he claims is being ripped off. He has imposed tariffs and opened up trade conflicts with China, the European Union, Japan, and others to secure better terms because of America's trade deficits.
Economists, however, say bilateral trade deficits do not matter all that much. Instead, it indicates that the U.S. economy and dollar are strong, allowing American firms to import cheaply from abroad, keeping their costs low, improving their bottom line, and enabling them to reinvest more.
The president scrapped the NAFTA trade deal between America, Canada, and Mexico because of the bilateral deficits. He imposed tariffs to strong-arm Canada and Mexico into negotiating a new but little-changed deal, USMCA, which is yet to be ratified by Congress.
"Access to Mexico's market place and North American integration are critical to operations in the U.S.," the AAPC's Blunt said in his statement. "That is why we are strong supporters of the administration's USMCA agreement. USMCA is essential to maintaining the competitiveness of the U.S. auto industry and we are urging Congress to pass it without delay."
Trump has also pressured American companies, particularly automakers, to repatriate factories from abroad and open up new plants on U.S. soil under his administration's policy of economic nationalism, despite the increase in costs to both businesses and consumers that this entails.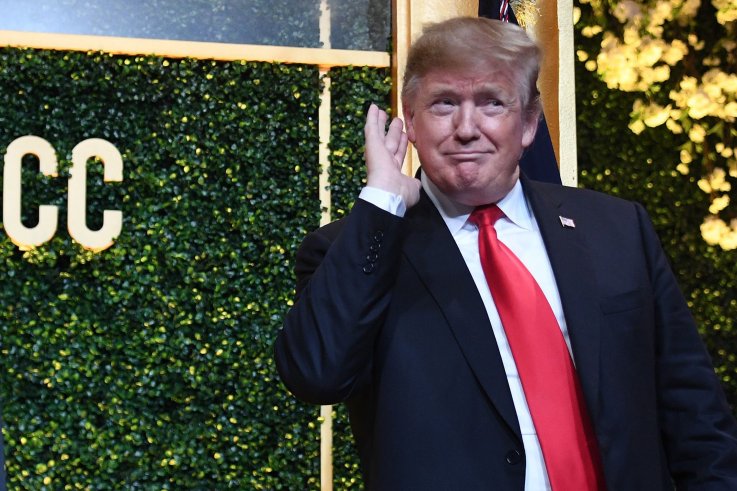 This article was updated with a comment from the American Automotive Policy Council.
American Automakers Urge Donald Trump Not to Shut Mexico Border, Warn of 'Significant Disruptions' | U.S.