Former President Donald Trump faced ridicule online after describing President Joe Biden as "cognitively impaired" before warning he is leading the United States into "World War II" during a speech on Friday night.
Trump, the frontrunner of the 2024 Republican presidential primary, and other Republicans frequently attack Biden's age, saying he's not mentally competent to serve as president, pointing to a number of gaffes he has made since taking office. Polls suggest voters are concerned about Biden's age heading into the 2024 election, even though Trump is only three years younger than the incumbent president. Biden is currently 80 years old, while Trump is 77.
During a speech at the Family Research Council (FRC), the former president issued a warning about Biden's competence that left some observers questioning whether Trump is fit for the presidency himself.
"We have a man who is totally corrupt and the worst president in the history of our country, who is cognitively impaired. In no condition to lead and is now in charge of dealing with Russia, and possible nuclear war. Just think of it. We would be in World War II very quickly," Trump said.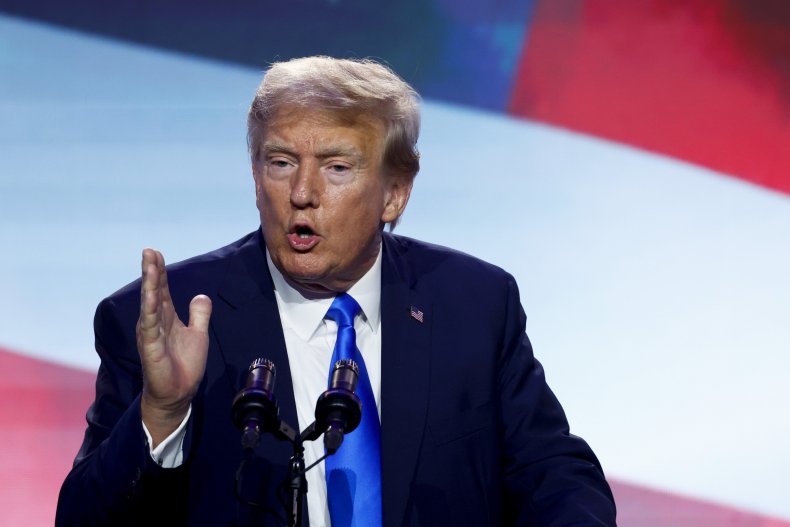 Trump appeared to be misspeaking, as he in the past has said Biden's policies surrounding the Russia-Ukraine war would lead to "World War III." World War II was fought from 1939 to 1945.
His comments sparked a wave of ridicule on social media from Democrats and Republicans, with many poking fun at his gaffe. Newsweek reached out to Trump for comment via email.
"This guy is 'too old' to run for President. More importantly he is not mentally fit. He's also corrupt, charged with 91 felonies in four indictments. He's a liar, cheat, unprincipled. A sex offender. Twice impeached loser. I'm sure I'm missing a few things," Alexander Vindman, former U.S. Army lieutenant colonel and whistleblower whose testimony led to Trump's first impeachment, wrote in a post to social media platform X, formerly known as Twitter, on Saturday.
"Please tell me this is fake," Ian Miles Cheong, a conservative commentator, wrote.
"He is too old and incoherent, also appears to be going blind," wrote Representative Jared Moskowitz, a Florida Democrat.
"I like Trump. I voted for him in 2016 and in 2020 but this is getting really sad and pathetic. Trump's talking about Biden being cognitively impaired and then he says Biden is going to get us into World War 2. Can Republicans please have a better candidate?" wrote X user CaliPatriot20.
What Polls Say About Voter Concerns Regarding Biden's, Trump's Ages
Recent polling has found that while voters are concerned about Biden and Trump's ages, the concerns may be a more substantial hurdle for Biden, the oldest sitting president in U.S. history, to overcome.
An Associated Press-NORC Center for Public Affairs Research poll conducted among 1,165 adults from August 10-14 found that 77 percent of all Americans are concerned about Biden's age, while only 51 percent are concerned about Trump's age. The poll has a margin of error of plus or minus 3.8 percentage points.
Polling has also found broad support for older politicians to be required to take competency tests to prove they are mentally fit for office. According to a recent poll conducted by Redfield & Wilton Strategies on behalf of Newsweek, 75 percent of Americans would support such a requirement.
Support for such tests also increases based on a voter's age. Out of the 1,500 registered voters surveyed, 79 percent of those from the Baby Boomer generation—ages 57 to 75—agreed that such tests should be in place.