Former President Donald Trump was mocked online this weekend after sharing a poll posted by what appears to be a right-wing trolling Twitter account named "Catturd," showing him beating Florida Governor Ron DeSantis in a hypothetical 2024 presidential election.
"NEW POLL JUST OUT...," Trump wrote on his social media platform Truth Social on Friday. The results were based on responses from the 1.5 million users following Catturd on Twitter who were asked who they would vote for in the 2024 Republican primary.
By Friday afternoon, a total of 192,578 Twitter users responded to the poll, 69 percent of which said they would back the former president, while 24 percent would back DeSantis, who has not yet announced if he plans to run for president in 2024.
@catturd2 is a Twitter handle that belongs to an unidentified Florida man in his late 50s who owns a small company called Catturd LLC that sells beanies, bumper stickers, and fridge magnets, according to Rolling Stone.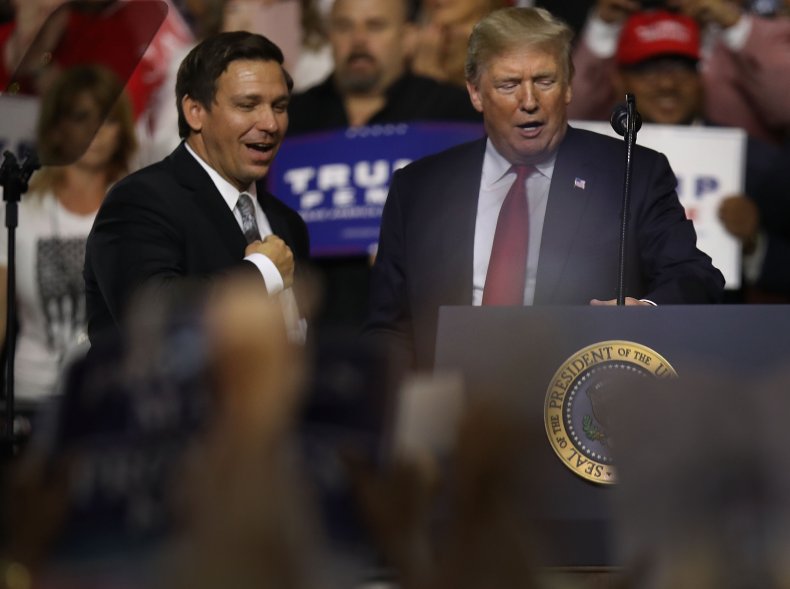 Maintaining his anonymity as he tweets from behind his Twitter profile picture of a cat wearing glasses, the Catturd account has grabbed the attention of MAGA Republicans, including Representatives Marjorie Taylor Greene, Lauren Boebert, and Matt Gaetz, Rolling Stone reported last month.
Twitter users mocked the former president for taking the poll seriously, with investigative journalist Victoria Brownworth, tweeting, "Trump taking a brief break from threatening Manhattan DA Alvin Bragg and calling for violence and mayhem to print a tweet poll from Catturd. This is not parody. This is the CHOSEN leader of the Republican party. A man who relies on Twitter polls from Catturd."
"Is Trump getting desperate or what? The Catturd poll, ffs," said Twitter user Jon Cooper.
Meanwhile, The Lincoln Project founder Rick Wilson tweeted: "When you lose Catturd and Cernovich on the same day, you might be Ron DeSantis."
"The new Twitter/Catturd poll is out and it looks good for trump +/- 100 pts," tweeted New York Times reporter Stuart A. Thompson.
Meanwhile, Twitter user Alex Bruesewitz defended the Catturd poll, saying, "Poll results from@catturd2. Trump extends his lead by A LOT since the last time Catturd conducted a poll. Safe to say that @realDonaldTrump is who the people want!"
Latest polls aggregated by FiveThirtyEight showed Trump taking the lead in the Republican primary over DeSantis by 50 percent compared to the governor's 44 percent.
A February Yahoo News/YouGov poll also showed that Trump is ahead of DeSantis. The survey found that in a head-to-head matchup, the former president leads DeSantis among Republicans and Republican-leaning independents with 47 percent compared to the governor's 39 percent. A further 13 percent said they were unsure.
The former president was also leading in a Fox News poll conducted from February 19-22, which showed him ahead by 15 percent voter support over DeSantis.
Newsweek reached out to Trump's media office by email for comment.