Trump Mocks Protester at Minnesota Rally: 'Was That a Man or a Woman?'
Protesters who interrupted the president during his rally with supporters in Duluth, Minnesota, got the Donald Trump treatment.
"Oh we have a single protester, there we go. Goodbye, darling," Trump said as his supporters in their red "Make America Great Again" hats cheered.
"So we have a single protester, he's going home to his mom. Say hello to mommy. And tomorrow, the fake news will say tomorrow, massive protests at the Trump rally. One person. Massive protests."
A couple of minutes later, another protester appeared in the crowd holding up a photo of Trump with his former friend Jeffrey Epstein, the disgraced billionaire financier and convicted pedophile. On the picture of the two men was the caption: "Who is Jeffrey Epstein?"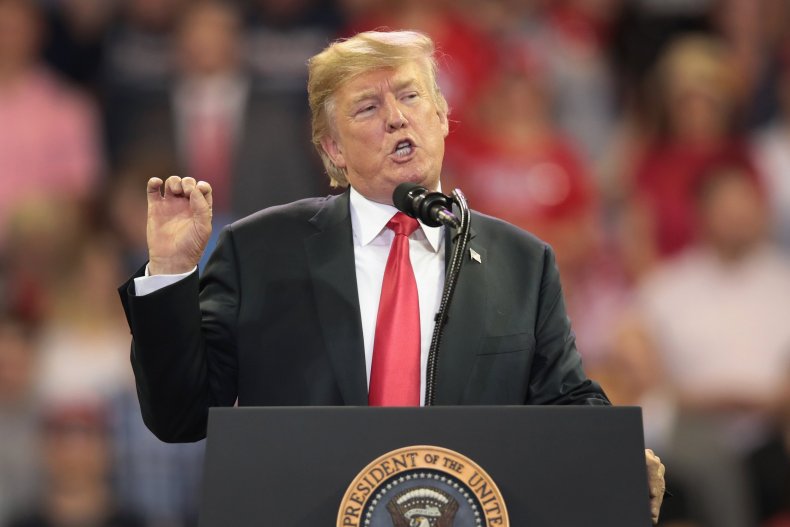 "Get 'em outta here. Go home to your mom, darling. Go home," Trump said as security made their way to the man, who was near to Trump at the front of the crowd.
Trump supporters booed as the man was escorted through the rally, still holding up the photo of Trump and Epstein, and chanted "USA!"
"Was that a man or a woman because he needs a haircut more than I do?" Trump said as his fans cheered. "Couldn't tell, couldn't tell. I couldn't tell. Needs a haircut."
Though his administration is under permanent siege because of the myriad scandals and controversies in which it is entangled, Trump is facing intense criticism over the issue of undocumented children separated from their families by border officials.
In April, under Trump's "zero tolerance" practice for illegal immigration, Attorney General Jeff Sessions ordered that all those found crossing the southern border unlawfully be taken immediately for prosecution.
This meant any children accompanying undocumented adults crossing the border—their family members or guardians—were separated from them. The adults are taken for prosecution and the children—including toddlers and babies—are sent alone to detention centers.
Reports, images and audio from those detention centers show traumatized children crying out for their parents, huddled in cages and sleeping under space blankets. Around 2,000 children have been split from their families since the practice started being enforced.
Officials defended separating children, saying they are upholding the law. Department of Homeland Security Secretary Kirstjen Nielsen said she would not apologize for doing her job.
Read more: Children Crying at U.S. Border and Sitting in Cages: Trump's Separation Policy in Pictures
But under serious pressure from congressional Republicans as well as his usual critics and opponents, Trump signed an executive order preventing the separation of undocumented children from the adults with whom they crossed the border.
"We are keeping families together; this will solve that problem," Trump said at the Oval Office signing on Wednesday.
At the Minnesota rally he added: "Today I signed an executive order; we're gonna keep families together. But the border is gonna be just as tough as it's been.
"Democrats don't care about the impact of uncontrolled migration on your communities, your schools, your hospitals, your jobs, or your safety. Democrats put illegal immigrants before they put American citizens. What the hell is going on?"
This story was updated to include more comments made by Trump at the rally.