President Donald Trump mocked a reporter for wearing a face mask on Friday as new cases of COVID-19 reached near-record heights.
Trump mocked Reuters White House correspondent Jeff Mason for practicing the preventative measure in a crowded Oval Office while speaking about Iran on a conference call with Israeli Prime Minister Benjamin Netanyahu.
"This is Jeff Mason," Trump said. "He's got a mask on that's the largest mask I think I've ever seen, so I don't know if you can hear him."
During a White House press conference on May 26, Trump asked a different reporter to remove his mask after being questioned about his criticism of Democratic presidential nominee Joe Biden for wearing masks. When the reporter refused, Trump said it was "because you want to be politically correct."
There were 71,671 new confirmed cases of COVID-19 reported on Thursday, according to Johns Hopkins University. The total is the highest since a spike over the summer reached a record high with over 77,362 new cases reported on July 16. There have been over 223,000 deaths due to the virus since the pandemic began.
While cases and deaths continue to rise and polls indicate that a majority of Americans do not approve of Trump's handling of the pandemic, the president has continued to downplay its severity. During his debate with Biden in Nashville, Tennessee on Thursday, he insisted that the virus would soon "go away."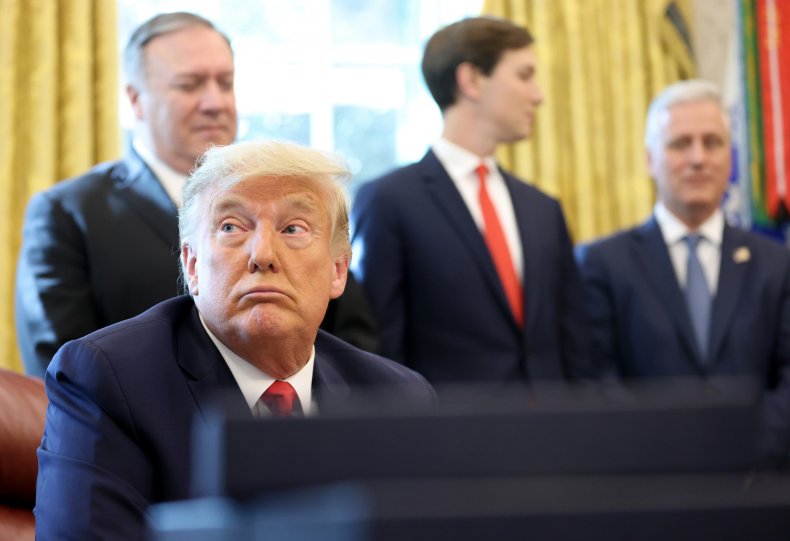 Ivanka Trump and other members of the Trump family were blasted by supporters of the president on social media after they were spotted wearing masks at the debate. Trump family members were seen refusing to wear masks during the first debate in Cleveland, Ohio on September 29.
The president said "masks are ok" during the first debate, while presenting mixed messages about wearing them. He cited early statements from experts who did not initially recommend masks when less was known about the virus and how it spread, while failing to note that the current consensus is that they do reduce transmission.
Trump insisted that White House coronavirus task force member Dr. Anthony Fauci had said "very strongly masks are not good" before changing his mind and saying they should be worn. Although he has rarely been seen wearing a mask, the president said he did "put one on" when he believed it was necessary, while mocking Biden for regularly wearing them.
"I don't wear masks like him," Trump said, referring to the former vice president. "Every time you see him, he's got a mask. He could be speaking 200 feet away and he shows up with the biggest mask I've ever seen."
The president announced that he and first lady Melania Trump had been diagnosed with COVID-19 two days after the first debate. Days earlier, what some later called a "super spreader event" took place at the White House, announcing the nomination of Judge Amy Coney Barrett to the Supreme Court. A significant number of attendees, many failing to wear masks or observe social distancing, tested positive for the virus in the following week.
Newsweek reached out to the White House for comment.