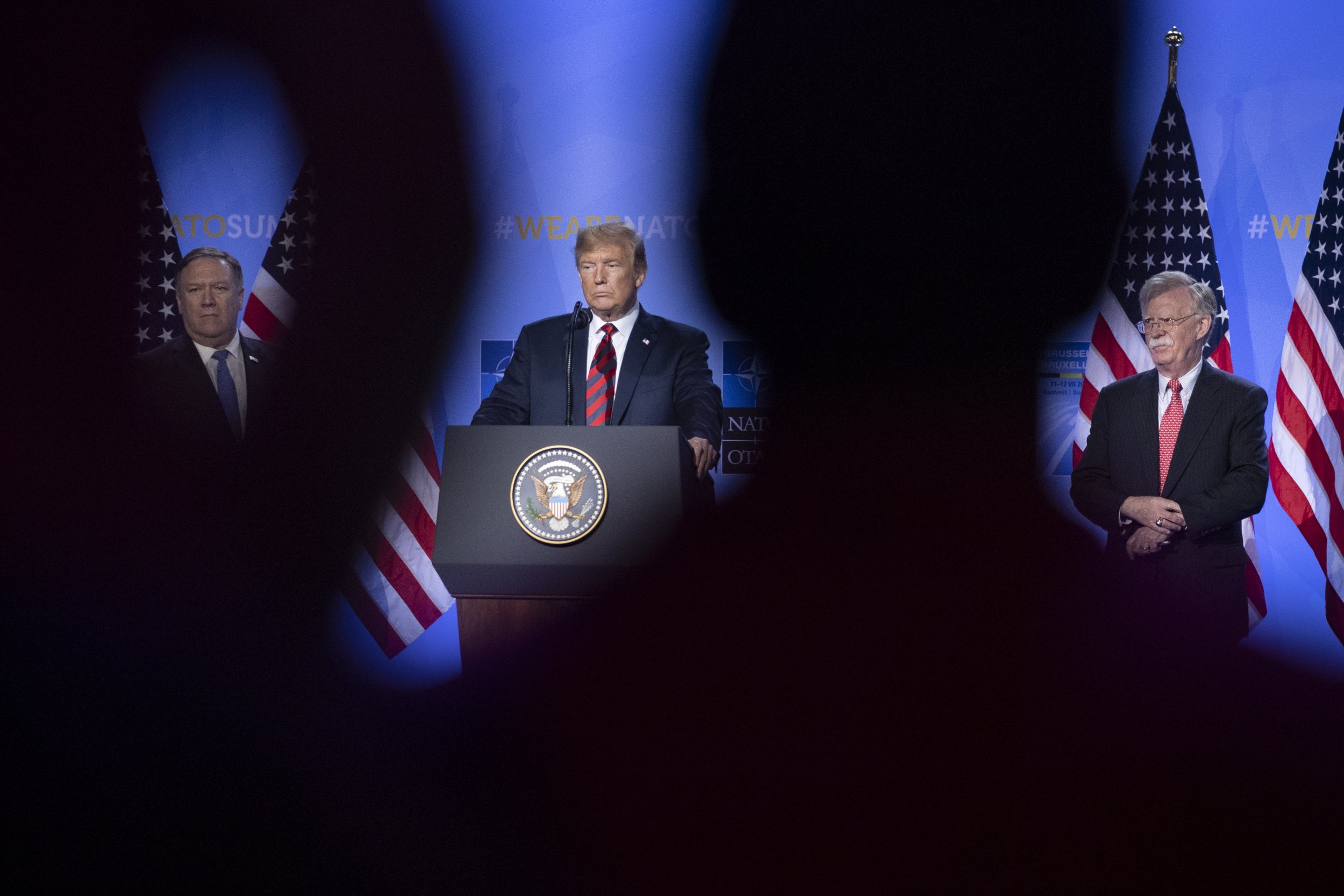 President Donald Trump has repeatedly criticized the NATO Western military alliance for being too heavily dependent on U.S. funds, but now his administration is looking to build a new defense coalition against Iran in the Middle East.
In his latest slight against the 29-member transatlantic pact, Trump dedicated a section of his second State of the Union address Tuesday evening to remarking how "for years, the United States was being treated very unfairly by NATO," before touting a "$100 billion increase in defense spending from NATO allies." The Republican leader has long called on NATO nations and others across the world to contribute for U.S. defense agreements.
On the heels of these comments, however, Secretary of State Mike Pompeo voiced the White House's support for a new "historic alliance," this time poised to counter Iran in the Middle East, during an interview with Fox Business Network on Wednesday morning. He said he believed that "a big number of countries announce that they want to be part of this here in the not-too-distant future, and we'll develop an outline that isn't reactive."
Pompeo promised the grouping would "keep the Middle East more stable in the years to come." Asked if the administration could "still do a NATO-type alliance against Iran," the diplomat responded, "Absolutely. I'm convinced that we can. I think every country understands that it's in their best interest. Now we've got to work through the details to deliver on that."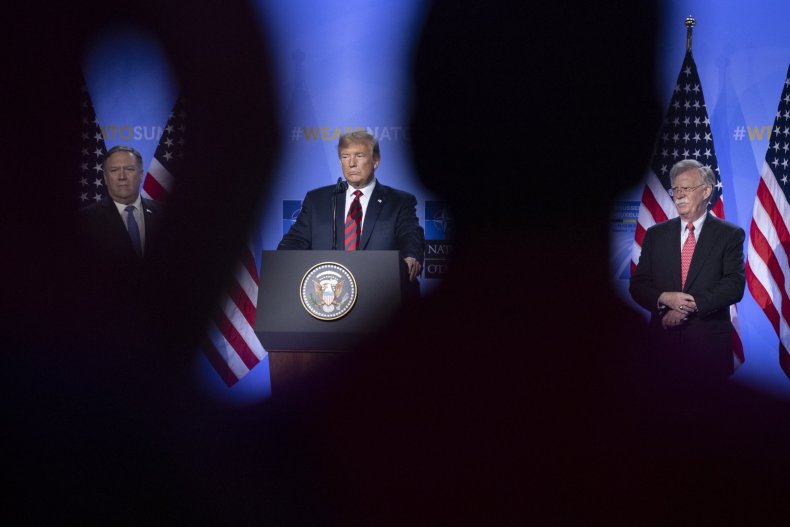 During his rise to office, Trump's admiration for Russian Vladimir Putin worried NATO countries, which had hardened their position toward Moscow in the wake of its annexation of Crimean Peninsula amid a 2014 political uprising in neighboring Ukraine. Trump referred to NATO as "obsolete" in an April 2016 interview and, though he later rescinded his position weeks into his tenure, he has repeatedly criticized alliance members for not living up to their requirement to spend 2 percent of their gross domestic product (GDP) on defense.
Trump's demands have dominated recent NATO gatherings and, as part of his 2019 Missile Defense Review unveiled last month, he said the U.S. would "insist on fair burden-sharing with our allies" in moving forward with ambitious new global missile defense initiatives. Following his comments on NATO during Tuesday's State of the Union address, Trump brought up the proposed state-of-the-art missile defense system" and said his administration "will never apologize for advancing America's interests."
Trump also railed against "the radical regime in Iran" during the annual address, praising his decision last year to withdraw from "the disastrous Iran nuclear deal" of 2015, a move followed by "the toughest sanctions ever imposed on a country." Trump has accused Iran of using unfrozen assets to fund U.S.-designated terrorist organizations and to develop ballistic missiles.
Under Trump, the U.S. has closely aligned its Middle East policy with Iran's arch-foe Israel, as well as with Saudi Arabia and its Gulf Arab allies, who also oppose Tehran's growing influence across the region. Though the U.S. and Iran have both contributed extensively to the fight against the Islamic State militant group (ISIS), they have accused one another of pursuing a destabilizing agenda in the Middle East.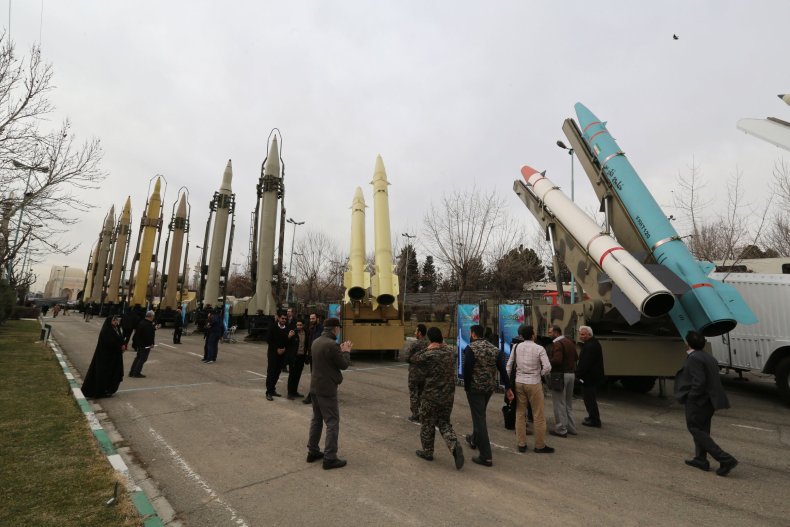 The U.S.'s close ties with Israel and Saudi Arabia have at times been controversial, however, as Washington pursued initiatives with little international support. These included Washington's decision to recognize Jerusalem as the capital of Israel, a move also derided by Riyadh, and the White House's close embrace of Saudi Arabia's conservative Sunni Muslim kingdom, even after its de facto ruler Crown Prince Mohammed bin Salman was accused of ordering the murder of dissident journalist at the Saudi consulate in Istanbul.
Responding to Trump's words at the State of the Union, Iranian Foreign Minister Mohammad Javad Zarif tweeted Wednesday: "US hostility has led it to support dictators, butchers & extremists, who've only brought ruin to our region."
Trump's decision to abandon the Iran deal has also been met with opposition, especially by its other signatories—including China, France, Germany, Russia and the United Kingdom. The three European Union powers of the agreement have launched a Special-Purpose Vehicle intended to bypass U.S. sanctions and Washington has toned down the anti-Iran rhetoric surrounding next week's Warsaw summit initially intended to focus on the revolutionary Shiite Muslim power's activities amid international pressure.