Is Trump Next? Cohen's Lawyer Says There Is 'Proof' President's Organization Wired Money for 'Hush Deals'
Michael Cohen's lawyer, Lanny Davis, said on Tuesday that there was "proof" that the Trump Organization had wired money into an account that was used to make a "hush" deal with adult film star Stormy Daniels, which would support his claim that "there is no doubt" Trump "committed a crime."
Davis made the statement after Cohen pleaded guilty to eight counts of campaign-finance violations, tax fraud and bank fraud, while former Trump campaign chairman Paul Manafort was separately found guilty on eight counts of tax fraud, bank fraud and failing to disclose foreign bank accounts.
Cohen's lawyer said that if it was a crime for his client to make an $130,000 payment to Stormy Daniels, whose real name is Stephanie Clifford, as well as a separate payment to cover up an alleged affair with Playboy model Karen McDougal at Trump's "direction," then the president should be considered just "as guilty" over his involvement in the deals.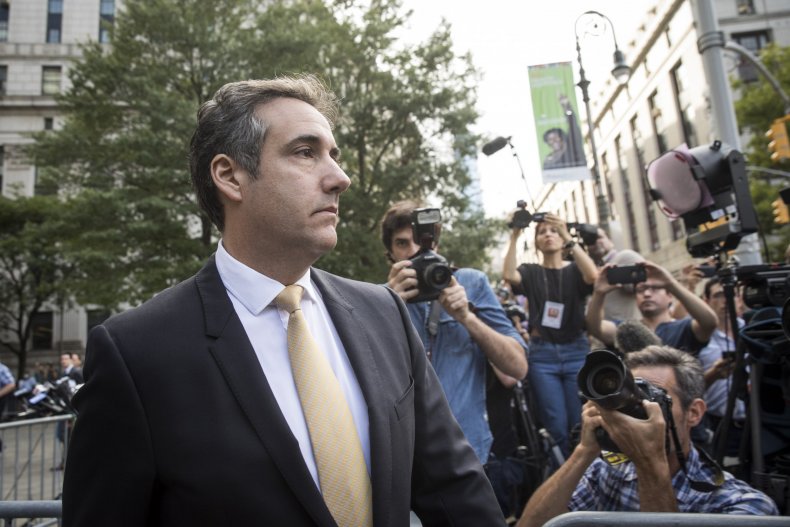 Asked during an interview with CNN's Don Lemon whether Cohen's legal team had "proof" of Trump's involvement, Davis said: "Yes, the wire transfer from the Trump corporation to the account that Michael Cohen set up that then went to Stormy Daniels is recognizable and provable."
Davis's claim came as new court filings also alleged that the Trump Organization approved $420,000 in reimbursements to Cohen related to efforts to silence women claiming to have had affairs with Trump ahead of the 2016 election.
Prosecutors in Cohen's case said Cohen approached Trump Organization executives asking to be reimbursed for "election-related" costs and started receiving payments in February 2017, according to The Washington Post.
Trump attorney Rudy Giuliani had also previously confirmed that Cohen had been reimbursed for the payments, including the $130,000 deal with Daniels.
Given Giuliani's admission, Davis said that the question of whether "proof" of the reimbursement existed was irrelevant, arguing that Trump's legal team's own admission that the then-presidential candidate had "directed" Cohen to make the payment to Daniels to cover up an alleged 2006 affair makes the "client [Trump] as guilty…as the lawyer [Cohen].
"There doesn't need to be proof when the lawyers have acknowledged that the client directed Michael Cohen to make an illegal payment, making the client as guilty, certainly, as the lawyer and in my judgment, more guilty because he was trying to cover up and hide his own role in the situation with Ms. Daniels by having Mr. Cohen do the deed rather than himself," Davis said.
"There is no dispute, there is no need for proof. His lawyers have admitted that fact," he maintained.
Michael Avenatti, Daniels's lawyer, has said he didn't agree with Davis but tweeted that Davis's "admission" was a "big deal."
"The admission by Mr. Davis relating to the wire, if true, results in significant trouble for Mr. Trump," Avenatti wrote. "And we are coming for him," he said.
Speaking with Lemon in an interview following Davis's, Avenatti said: "Lanny Davis just made an admission that's never been made before. It's the first I've ever heard of this.
"Lanny Davis just stated on your show, moments ago, you asked him about receipts and you asked him if Michael Cohen has the receipts, 'where are the receipts relating to this Stormy Daniels payment vis-a-vis Donald Trump's involvement?'" Avenatti stated.
"And Lanny Davis just stated that there was a wire transfer from the Trump Organization directly into the account that Michael Cohen had established…in order to pay my client the $130,000 payment," he said.
Read more: What Does Cohen Know About Trump and Collusion? President's Former Lawyer 'Happy' to Spill to Mueller
"Now, if that in fact is true, that is a huge problem for the president because it would be direct conduct by the Trump Organization to reimburse that payment. That would constitute campaign-finance violation and would basically make Donald Trump a co-conspirator. No question about that," Avenatti said.
"And I will also add," he continued, "that that is directly contrary to what Rudy Giuliani told Sean Hannity a few months ago…that the payment was reimbursed by way of invoices. I think he said 'laundered' or used a similar word when describing how the $130,000 was reimbursed.
"If in fact there was a $130,000 payment that went out to my client, which we know there was, and then there was a $130,000 wire that came in directly into that account from the Trump Organization, the president's in a lot of trouble," Avenatti said.
Asked to explain that assertion, Avenatti said: "Because I think it's an open and shut case relating to the fact that this $130,000 payment was paid by Michael Cohen with the understanding that he was going to be reimbursed directly by Donald Trump or the Trump Organization. That would have had to have been disclosed."