Trump Suggests North Korea Dictator Kim Jong Un Criticizing His Political Opponent Joe Biden Is a Positive Signal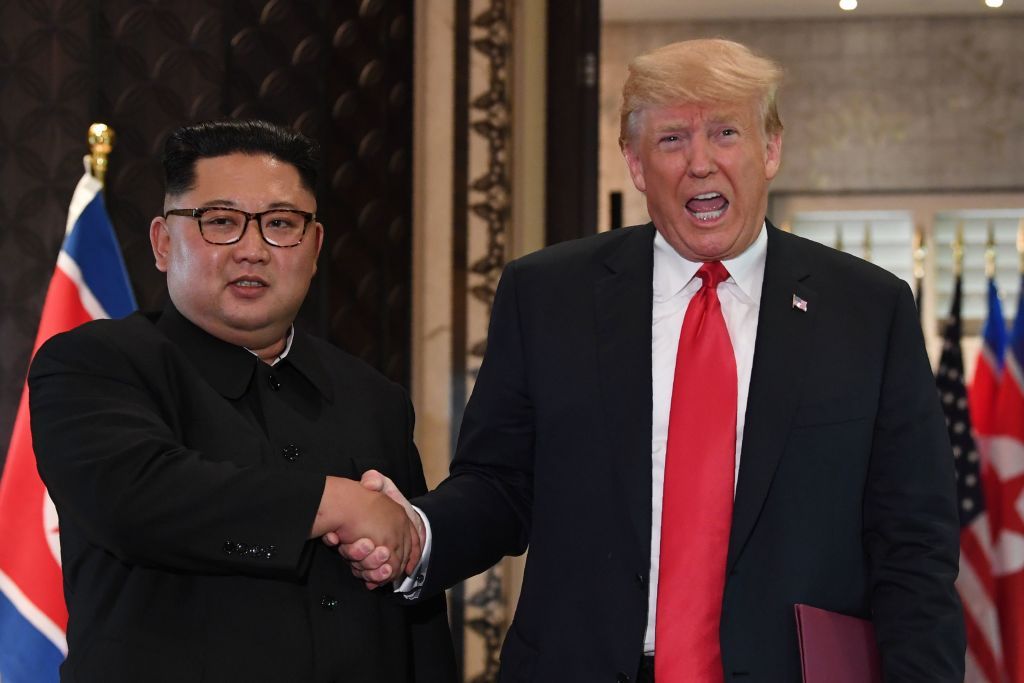 President Donald Trump suggested Sunday that North Korean dictator and U.S. adversary Kim Jong Un's criticism of the president's political opponent — Democratic presidential hopeful Joe Biden — was a positive signal, saying that he has "confidence" in the strongman leader.
"North Korea fired off some small weapons, which disturbed some of my people, and others, but not me. I have confidence that Chairman Kim will keep his promise to me, & also smiled when he called Swampman Joe Biden a low IQ individual, & worse," Trump said in a Sunday morning tweet in Japan. "Perhaps that's sending me a signal?" he asked.
Last week, North Korea's official Korean Central News Agency published commentary blasting Biden as a "snob lacking even the most basic qualities of a human being, much less a politician."
Continuing on, the North Korean propaganda outlet said that the former vice president was "an idiot with a low I.Q," which echoed similar criticism lobbed by Trump in March when he referred to his political rival as a "low-IQ individual."
The criticism from North Korea came after Biden criticized Trump's foreign policy toward the Asian nation and Russia during a campaign event. "Are we a nation that embraces dictators and tyrants like Putin and Kim Jong Un?" the former senator from Delaware asked.
Appearing on Meet the Press Sunday morning, White House Press Secretary Sarah Huckabee Sanders confirmed that the White House and Pyongyang share similar opinions of Biden.
"I think they agree in their assessment of former Vice President Joe Biden," she told host Chuck Todd.
She added: "The president doesn't need somebody else to give him an assessment of Joe Biden. He's given his own assessment a number of times. I think you've seen it. I'm sure you've covered it on your program. The president watched him and his administration with President Obama fail for eight years."
Trump has a history of expressing positive sentiments when adversaries of the U.S. act against his political opponents. During the 2016 presidential campaign he infamously called on Russian hackers to find and publicly release Hillary Clinton's emails, a move that he hoped would bolster his candidacy. Since being elected, the president has also repeatedly suggested he trusts Russian President Vladimir Putin over American investigators who confirmed that the Kremlin interfered in the U.S. election to support Trump and disparage Clinton.
The president's positive comments toward Kim also appear to contradict those of top administration officials, such as National Security Adviser John Bolton. On Saturday, Bolton said there was "no doubt" that North Korea's recent missile tests were a violation of United Nations Security Council Resolutions. He also insisted that the president intended to maintain pressure through harsh sanctions targeting the North Korean regime.
Although the missile tests earlier this month were relatively short-range, they were the first weapons tests by North Korea since Trump met with Kim for a historic summit last summer. Analysts argued that they showed Kim's growing frustration with U.S. sanctions, while also demonstrating that the dictator could not be trusted to keep his promises to Trump.