Donald Trump Says North Korea Is Right About Military Drills: 'I Never Liked It Either'
President Donald Trump has said he shared North Korean supreme leader Kim Jong Un's distaste for joint U.S.-South Korean military exercises they have both described as "provocative" in the past.
As the U.S. moved forward with planned drills alongside longtime Asia-Pacific ally South Korea, rival North Korea has conducted some four short-range missile tests in less than two weeks. Kim called these launches "an adequate warning" Tuesday to his country's two traditional foes whom he has joined in a fragile peace process, and Trump said Friday he received another "very beautiful letter" one day earlier from the young ruler in which he made it clear "he's wasn't happy with the tests, the war games."
"As you know, I've never liked it either. I've never liked it, I've never been a fan. And you know why? I don't like paying for it, we should be reimbursed for it, and I've told that to South Korea," Trump said to press gathered in front of the White House.
The president told reporters he "would love to give" them the three-page letter from Kim, but didn't "think it would be appropriate." Trump said Kim "sees a great future for North Korea," arguing "there have been no nuclear tests, all the missile tests have been short-range...no long-range missiles."
Newsweek subscription offers >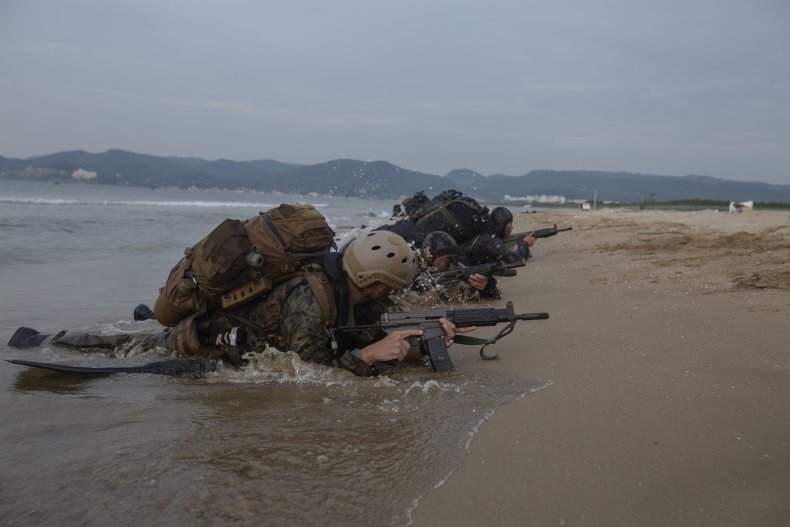 Trump has largely overlooked the recent quartet of launches believed to have involved two tests of the KN-23 mobile short-range ballistic missile system and two of a new multiple launch rocket system. Kim himself oversaw the demonstrations, which took place on the country's west and east coasts and marked the first such tests since May, when two launches also believed to have involved the KN-23 broke a test hiatus lasting over a year and a half.
Though Kim debuted his most powerful weapons such as intercontinental ballistic missiles and a powerful nuclear bomb just months into Trump's first year in office in 2017, last year saw the two come together to begin a historic peace process. Ahead of meetings with South Korean President Moon Jae-in and Trump, Kim announced a pause on intercontinental ballistic missile and nuclear tests.
This self-imposed moratorium has so far stuck, though a lack of progress in negotiations and the increased tempo in tests has raised regional concerns. Technically, the launches violate a United Nations Security Council resolution banning such ballistic activity in North Korea, but the country recently made it clear that it didn't recognize such limits, nor did it plan to.
Newsweek subscription offers >
In order to advance talks, Trump suspended some of the larger joint U.S.-South Korea drills, but the U.S. has continued to conduct some smaller-scale maneuvers alongside the South Korean military, which has criticized North Korea's recent launches.
In addition to Kim's missile launch message, North Korea's Reunification and Agitation Department of the Committee for the Peaceful Reunification of the Country issued a letter published Thursday by the official Korean Central News Agency that "warned that the South Korean authorities, who have been disloyal to the fellow countrymen and abetted the U.S. in the moves for stifling the DPRK, can never escape from the responsibility of compelling the DPRK to take countermeasures for eliminating potential and direct threats to its security, and will pay dearly for it" — using an acronym for the country's official name, the Democratic People's Republic of Korea.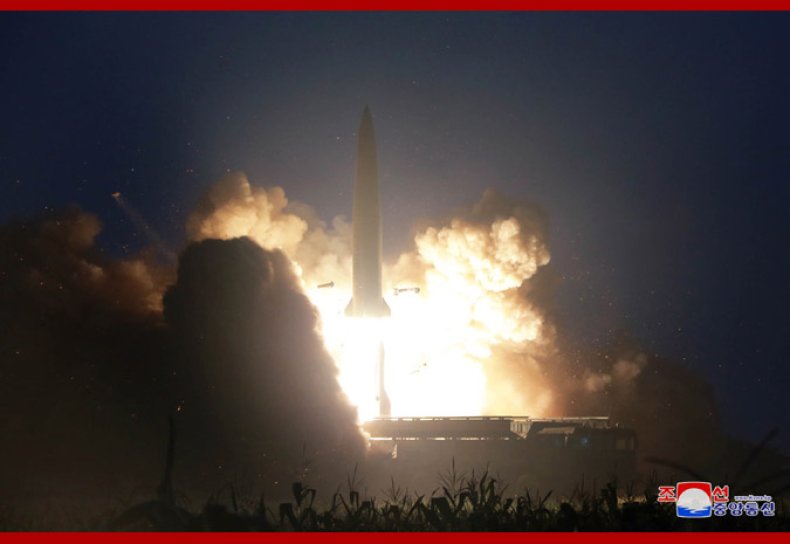 Asked Friday about the possibility of a third U.S.-North Korea summit, Trump said, "I think we'll have another meeting."
The latest summit between Kim and Trump, held in Vietnam, ended in February without a deal, but the two men last met alongside Moon in an unprecedented encounter at and across the heavily-fortified inter-Korean border in late June.
Both the U.S. and North Korea remain publicly committed to a denuclearization-for-peace deal, but Washington has so far refused to offer any sanctions relief ahead of Pyongyang completely dismantling its nuclear weapons program.
China and Russia, who once backed North Korea against South Korea and an international alliance led by the U.S. in a 1950s war, have encouraged Trump's efforts in attempting to resolve the decades-long conflict. They have advocated, however, for a "double freeze" approach through which the U.S. would cease all joint military drills in exchange for North Korea halting all nuclear activities.
Donald Trump Says North Korea Is Right About Military Drills: 'I Never Liked It Either' | World