Trump Not Committing to Peaceful Transition a 'Gift' to Adversaries: H.R. McMaster
Retired Lieutenant General H. R. McMaster, who served as a national security adviser under President Donald Trump, said that the president was giving a "gift" to U.S. adversaries by declining to commit to a peaceful transition of power following the upcoming election.
When asked last Wednesday if he would commit to a peaceful transition, Trump responded by saying "we'll see what happens."
"Get rid of the ballots and you'll have a very peaceful—there won't be a transfer, frankly. There will be a continuation," the president said. "The ballots are out of control. You know it, and, you know, who knows it better than anyone else? The Democrats know it better than anyone else."
Democrats and some Republicans raised alarms about the president's remarks. Leading GOP lawmakers also issued statements voicing their commitment to a peaceful transition, regardless of the results.
McMaster was asked about Trump's comments in a Sunday interview with NBC News' Meet the Press.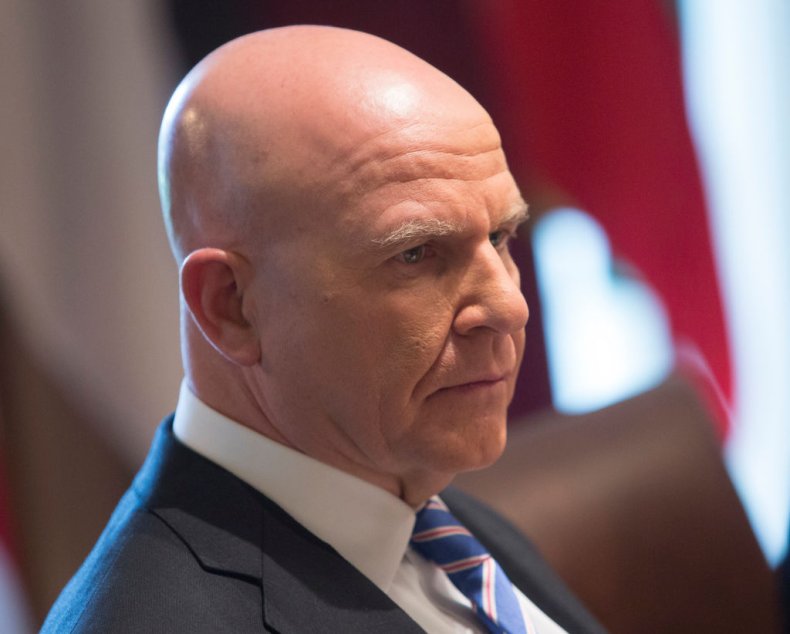 "Well, what I think is that it's a gift to our adversaries, right, who want to shake our confidence in who we are, shake our confidence in our democratic principles and institutions and processes," the retired general said.
Pointing out that Russia has already pushed disinformation and worked to interfere in U.S. elections, McMaster voiced concern that the president's words could be used against the country. "If the Russians can just use our own words against us, that's the best way to pull us apart from one another," he said.
McMaster also said that the military should have "no role" in a presidential transition. Some—including Democratic presidential nominee Joe Biden—have suggested that the military may need to become involved in a scenario where Trump refuses to leave office.
"I think what's really clear for the American people to understand is the military will have no role in a transition. In fact to even talk about it, I think, is irresponsible and that's maybe why if you detect some reticence on the part of senior military leaders or those in the Pentagon to talk about it, it's because it shouldn't even be a topic for discussion," the retired general said.
Newsweek reached out to the White House for comment, but it did not respond by the time of publication.
Concerns over the outcome of the election have mounted in recent days, particularly as Trump continues to attack mail-in voting, claiming without evidence that it will lead to higher levels of fraud. Prominent GOP lawmakers have also suggested that the election could be contested and go before the Supreme Court.
"We will accept the court's decision, Republican and Democrat. I promise you as a Republican, if the Supreme Court rules in favor of Joe Biden, I will accept that result," Senator Lindsey Graham, a South Carolina Republican and Trump loyalist, told Fox News on Thursday. "My hope is that we have such an overwhelming victory we don't have to worry about the courts."
Other Republicans have been more critical of Trump declining to commit to a peaceful transition. GOP Senator Mitt Romney of Utah—who has frequently clashed with the president and joined Democrats in voting for his removal following his impeachment in the House of Representatives—compared such a scenario to the ongoing political tensions currently playing out in Belarus.
"Fundamental to democracy is the peaceful transition of power; without that, there is Belarus. Any suggestion that a president might not respect this Constitutional guarantee is both unthinkable and unacceptable," Romney tweeted last week.