Trump's Advisers Gave Him Option to Recognize Armenian Genocide as Tactic to Pressure Turkey
Donald Trump's advisers offered him several options aimed at fulfilling his desire to pull back U.S. troops in Syria without allowing Turkey to commence its incursion. One tactic on the table: threatening to recognize the deaths of millions of Armenians and members of other ethnic minorities under the Ottoman Empire as a genocide, a National Security Council official told Newsweek.
Whether or not the deaths of up to a million and a half Armenians and hundreds of thousands of Greeks and Assyrians in 1915-1923 should be termed a "genocide" is a controversial topic in international relations. Turkey, the modern-day successor to the Ottoman Empire, rejects that these events constituted a systematic campaign to slaughter ethnic minorities, but more than 30 countries and governments have gone on the record to say it does.
The United States government has not joined them. While 49 U.S. states—Mississippi is the sole exception—have officially recognized the Armenian genocide, no federal legislation to do so has ever succeeded.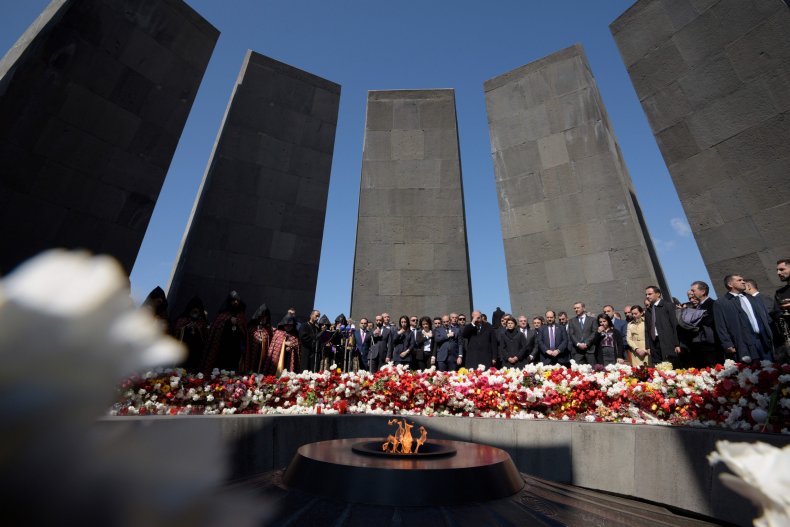 The issue has high-profile supporters. This past April, Senators Bob Menendez of New Jersey and Ted Cruz of Texas introduced a resolution "affirming U.S. recognition of Armenian genocide." Democratic presidential contenders Elizabeth Warren and Kamala Harris signed on, as did Rep. Tulsi Gabbard to the House version.
Just last week, on October 11, Kim Kardashian, who is of Armenian descent on her father's side, Instagrammed photos of herself being baptized with her children Saint, 3, Chicago, 1, and Psalm, 5 months, in Armenia. (Eldest daughter North was baptized in an Armenian church in Israel in 2015.)
"Thank you Armenia for such a memorable trip," she wrote on Twitter, calling herself "blessed."
In April 2018 the reality star tweeted a plea for the U.S. to recognize the genocide.
Two years earlier, in April 2016, she wrote an open letter to genocide deniers on her app, which the Armenian Education Association reprinted as a full-page ad in the New York Times that September.
Kurdish forces in Syria now accuse Turkey and its rebel allies of pursuing genocidal policies against them.
As Newsweek reported Wednesday, the president was presented by his top officials with a number of plans to realize his desired exit from war-torn Syria, where a U.S.-led coalition largely defeated the Islamic State militant group (ISIS) with the help of the Syrian Democratic Forces, a Kurdish-led militia that included separatist groups seen as terrorists by NATO ally Turkey. These tactics included economic and political pressure moves, but Trump opted instead for a hasty departure to avoid an upcoming clash between two forces the U.S. considered friendly.
The U.S. plan would have come as the Syrian Democratic Forces warned that Turkey was planning a new campaign of ethnic cleansing against another ethnic minority in the region, the Kurds. The Kurdish homeland spans parts of Iran, Iraq, Syria, and Turkey, all of which have complex relations with this local community that has sought some form of autonomy in all four countries.
Turkey has battled with a three-decade insurgency against a group known as the Kurdistan Workers' Party (PKK), considered a terrorist organization both at home and by the U.S. The group once found refuge in Syria, but the outlawed group's leader was expelled and ultimately arrested in Kenya as Damascus looked to improve ties with Ankara.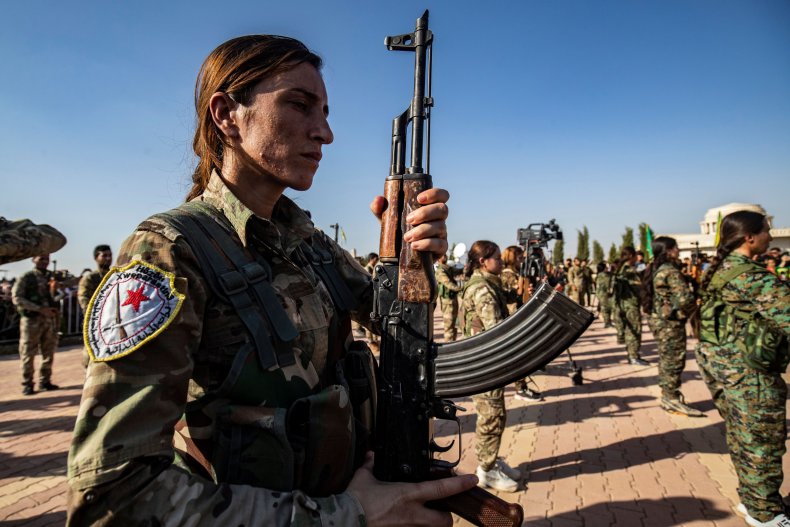 In the wake of the 2011 uprising across Syria, Kurds have fought both with and against government forces and, as of last week, ultimately chose to side with them as the U.S. pulled out of the war-torn country. The mostly Sunni Muslim Arab rebels and jihadis that make up the opposition, once a U.S. partner for regime change against Syrian President Bashar al-Assad, an ally of Russia and Iran, have deeply opposed efforts for Kurdish autonomy and now comprise the forces mobilized Turkey to enact a roughly 20-mile "safe zone" across the Turkish-Syrian border.
"The practices of the Turkish affiliated forces are similar to ISIS, even though these forces have different names," the Syrian Democratic Council, the political wing of the Syrian Democratic Forces, said Wednesday in a statement sent to Newsweek. "The Turkish State is also trying to use the refugees' issue to occupy further Syrian regions and to implement the demographic change policy, just as it did in Afrin and other Turkish-held regions in Syria."
"The Autonomous Administration reaffirms that what Turkey is doing amounts to genocide and occupation practices," the statement added.
That same day, Turkish President Recep Tayyip Erdogan denied reports of atrocities committed by his forces past or present, telling a parliamentary meeting of his ruling Justice and Development (AK) Party that "Turkey has never committed any civilian massacre throughout its history, and it never will, neither our faith nor our culture or moral values allows that."
Trump ultimately disagreed, threatening sanctions against Turkish officials "who may be involved in serious human rights abuses, obstructing a ceasefire, preventing displaced persons from returning home, forcibly repatriating refugees, or threatening the peace, security, or stability in Syria." He also warned of a steel tariff hike and the suspension of $100 billion-dollar trade talks, but did not use the diplomatic cudgel of the Armenian genocide issue.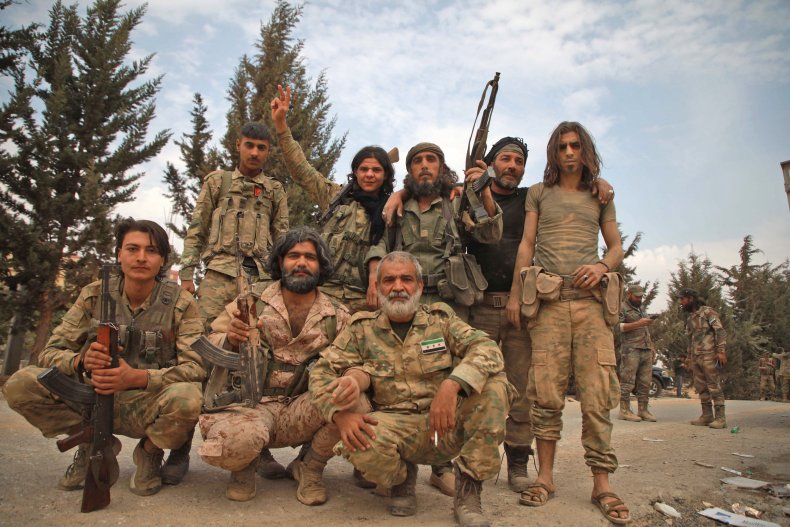 On Thursday, however, a Trump administration delegation led by Vice President Mike Pence and Secretary of State Mike Pompeo emerged from talks with Erdogan and his officials with what the U.S. referred to as a "ceasefire" deal. The agreement appeared to affirm Ankara's desire for a "safe zone" and the withdrawal of the People's Protection Units (YPG), a Syrian Democratic Forces militia that Turkey linked to the PKK.
The two warring factions themselves appeared to emerge with different understandings, as Turkish Foreign Minister Mevlut Cavusoglu declared "this is not a ceasefire," but a "pause" and Syrian Democratic Forces commander Mazloum Kobani argued the deal only applied to a small border area between Ras al-Ayn and Tel Abyad.
The move was also met with cautious skepticism by those fearing a repeat of history. In a statement sent to Newsweek, the Armenian Assembly of America—which calls on Congress to recognize the Armenian Genocide—said that it "joins the legitimate concerns raised by Congressional leaders about Turkey's invasion into Syria leaving America's Kurdish allies as well as other ethnic minorities, including Armenians and Assyrians, in precarious conditions."
"Turkey's attack against innocent civilians is all too familiar," it added, accusing Erdogan of seeking "the continuation of the Ottoman Empire" and "openly supporting ISIS" in Syria. "The international community should not stand by and watch as Turkey once again subjects ethnic and religious minorities in Syria to horrific atrocities. It is our legacy to protect those whose lives are at risk and our responsibility to prevent atrocities from being committed."
Meanwhile, the agreement came only after Syrian and Russian troops—whose countries both recognize the Armenian Genocide—joined Kurdish-led forces at a number of positions once held by U.S. troops, some of these locations within the planned "safe zone." Erdogan was likely to discuss the subject as he headed to Russia to meet with his counterpart Vladimir Putin in Sochi, the Black Sea city that previously hosted the two alongside Iranian President Hassan Rouhani for trilateral peace talk designed to end Syria's multi-sided war, in which yet another front has opened.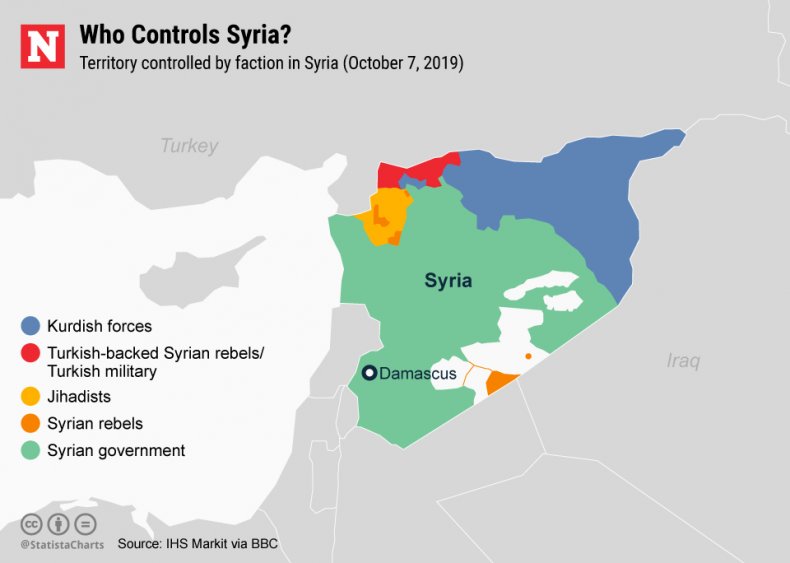 Source: Statista
This article has been updated to include a statement by the Armenian Assembly of America.