Donald Trump's PAC Has More Cash Than Republicans, Democrats Combined
Former President Donald Trump's "Save America" political action committee has more cash on hand than the Republican National Committee (RNC) and the Democratic National Committee (DNC) combined, according to financial data from the Federal Election Commission (FEC).
Kenneth Vogel, a journalist with The New York Times, noted the disparity between Trump's PAC and the committees' funds in a tweet on Monday. Vogel said that FEC records show Save America reported $110.4 million in cash on hand as of February 28, compared to the DNC's $52.9 million and the RNC's $24.5 million.
Trump has suggested multiple times since President Joe Biden took office in January 2021 that he might mount another run at the White House in 2024, though he has not yet officially announced a campaign. However, he's held multiple "Save America" rallies and proven to be the most prodigious fundraiser within the GOP. Though he legally cannot use the PAC funds directly for a comeback race, he's allowed to use the money toward such political expenses as television ads and investing in his own businesses.
On Sunday, Bloomberg reported that although Trump's war chest has grown, he has not yet donated any of the money from it in 2022 to the dozens of candidates he's endorsed in upcoming elections.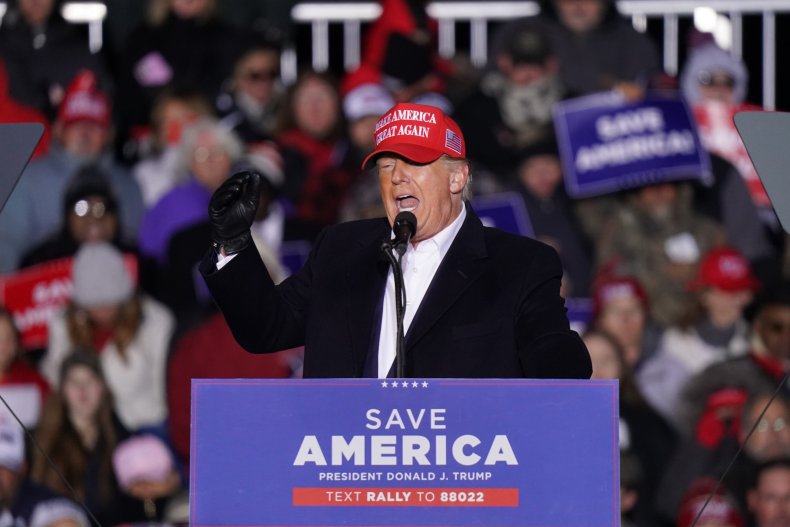 "Trump has endorsed GOP candidates at the federal, state and local level, focusing on those who support his baseless claims the 2020 presidential election was stolen from him or are challenging Republican incumbents who opposed him," Bloomberg's Bill Allison wrote. "He's championed more than 130 candidates since leaving the White House, more than half of whom are running for federal office."
Allison also noted that while Save America has given $350,500 to candidates since July, 2021, it has not reported making a single donation in 2022. In a separate story in February, Allison wrote in Bloomberg that Save America spent $838,000 "on event staging and related expenses in January."
Taylor Budowich, director of communications for Trump and Save America, discussed the Save America PAC's fundraising haul in 2022 in a written statement on February 1.
"President Donald J. Trump has built a political organization that continues to capture and define the future of the Republican Party," he said. "From the massive and unprecedented Save America Rallies, to these record-breaking fundraising numbers, there is no question that the MAKE AMERICA GREAT AGAIN (MAGA!) wave is set to crash across the Midterms and carry forward all the way through 2024."
The February 1 statement also said 98.6 percent of the donations to Save America came from small-dollar donors who gave under $200.
Newsweek contacted Save America, the DNC and the RNC for comment but didn't hear back from any of the groups in time for publication.