Trump Given Perfume Packaged in Reptile Skin Along With $140,000 Worth of Gifts From Foreign Leaders
Donald Trump and his family received more than $100,000 in lavish gifts from foreign leaders during the president's first year in the White House, with Saudi Arabia and China being among the most generous in their giving.
The State Department annually releases a full accounting of such gifts given to the White House, revealing that the Trumps received about $140,000 worth of items in 2017, the Associated Press (AP) reported Wednesday. Among the more unique items received by the first family was "royal" perfume in a reptile-skin carrying case worth $1,260 given by the deputy prime minister of Oman, a gold-plated fighter jet model worth $4,850 presented by Bahrain's crown prince and a bronze statue of three oryx from the crown prince of Abu Dhabi worth $3,700.
Some of the most expensive gifts included a porcelain dinnerware set with plates imprinted with the pink house at Trump's Mar-a-Lago resort, worth $16,250, and a $14,400 ornate calligraphy display and presentation box presented by China's President Xi Jinping. Saudi Arabia's King Salman also presented Trump with a $6,400 ruby and emerald pendant necklace.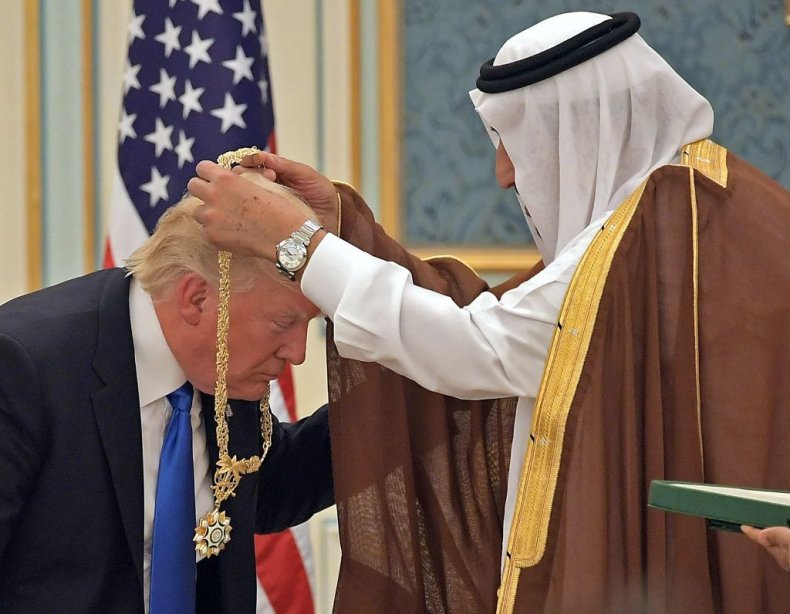 All the gifts given to Trump and his family members were turned over to the National Archives as is normal practice. Back in September 2017, The Daily Beast reported that Saudi Arabia had given Trump 83 lavish gifts during his first international visit to the kingdom in May of that year. According to an unclassified document shared by the news site, among those gifts were artwork featuring a picture of President Trump, tiger and cheetah fur robes and a dagger made of pure silver with a mother of pearl sheath. The document didn't reveal the value of the items.
European and North American leaders also got in on the gift giving, according to the list published by the State Department's Office of Protocol, the AP reported. French President Emmanuel Macron gave his American counterpart a map from 1783 of the United States worth $1,100. Germany's Chancellor Angela Merkel presented Trump with Mont Blanc pens and paper worth $5,264. And Canada's Prime Minister Justin Trudeau gave the president a $450 sandstone statue of a male lion wearing a crown.
Receiving official gifts from foreign leaders is a normal part of international diplomacy. Former President Barack Obama also received his fair share of lavish and unique presents from various leaders during his tenure in the White House. In his final year as president, Obama was given gifts ranging from intricate wooden figurines to alcohol, Cuban cigars and lots of jewelry. One particular brooch and earring jewelry set with diamonds, rubies and emeralds presented by the king of Morocco was valued at more than $100,000.