Trump Pleading the Fifth Might Have Doomed Him in Civil Case
Former President Donald Trump might have kept himself out of jail by invoking his Fifth Amendment rights in testimony with New York Attorney General Letitia James, but some law experts predicted that the action doomed him in the civil case filed against him Wednesday morning.
James announced that she would sue Trump, some members of his family and Trump Organization executives Allen Weisselberg and Jeff McConney for allegedly enriching the Trump family over a 10-year period with fraud, misrepresentation and by inflating Trump's net worth by billions to cheat lenders and others with false and misleading financial statements. During depositions in James' investigation, Trump and some of his associates allegedly pleaded the Fifth "hundreds" of times, according to several reports.
Pleading the Fifth protects someone from incriminating themselves in a criminal trial, but the protections are murky in a civil trial. When someone invokes their Fifth Amendment rights in a criminal trial, a jury cannot infer guilt based on the defendant's silence. However, inferences can be made against someone who invokes their Fifth Amendment rights in a civil trial.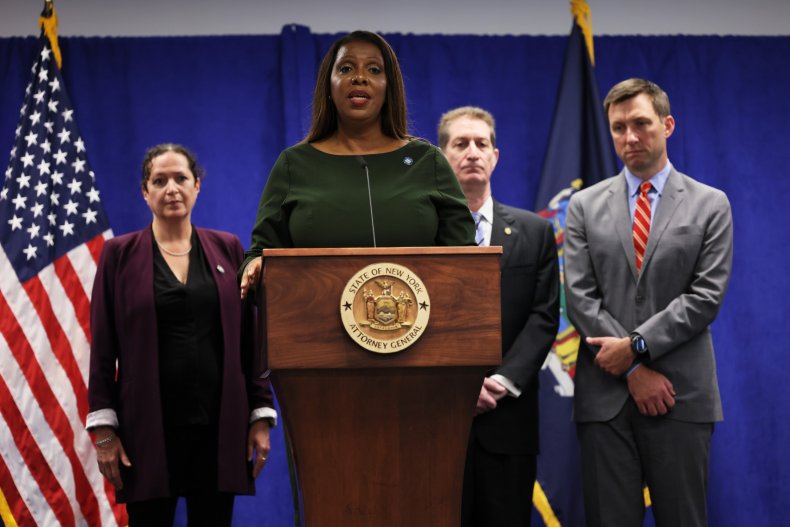 Former federal Prosecutor Renato Mariotti tweeted that Trump and his son Eric have invoked their Fifth Amendment rights "hundreds of times." In certain criminal cases, that could be a smart action, but Mariotti said the action "screwed" the family in the civil case.
"A jury would likely be instructed to presume their answers would have hurt Trump," Mariotti tweeted.
Senior political reporter Aaron Blake tweeted a reminder shortly after James' announcement that her office was filing a lawsuit against Trump.
"James keeps citing Trump and Weisselberg pleading the Fifth. As a reminder: That can be used against you in a civil case in NY state – unlike in a criminal case," Blake tweeted.
In her press conference, James said Trump and Weisselberg invoked their Fifth Amendment rights in many instances, such as when asked if Trump told Weisselberg he wanted his net worth reflections to increase on the statements and on whether Trump continued to review and approve the financial statements after becoming president in 2017.
James said the investigation unearthed how Trump, three of his children and the Trump Organization allegedly created and used more than 200 false and misleading asset valuations on statements of financial condition over a 10-year period. She said the family clearly violated generally accepted accounting principles.
Law experts anticipated that Trump's actions would save him from jail time but potentially crumble his business in New York.
"When he pled the Fifth last month before the NY AG, Trump may have effectively sacrificed his entire real estate empire to keep himself out of prison," lawyer Tristan Snell tweeted.
James announced the lawsuit after a years-long investigation into the Trump Organization's financial statements. ABC News reported that the lawsuit seeks a $250 million judgment and would prohibit any of the Trumps—including children Donald Jr., Eric and Ivanka—from leading a company in the state of New York.
In the past, Trump said he believes pleading the Fifth implies guilt, specifically when he spoke on the topic during his presidential campaign in 2016. However, Trump posted a lengthy statement on his app Truth Social in August that he had "no choice" in pleading the Fifth in regard to James' investigation.
"I once asked, 'If you're innocent, why are you taking the Fifth Amendment?'" he said in the statement. "Now I know the answer to that question. When your family, your company, and all the people in your orbit have become the targets of an unfounded, politically motivated Witch Hunt supported by lawyers, prosecutors, and the Fake News Media, you have no choice."
Trump called James a "failed politician" and condemned her for targeting his family and business.
A spokesperson from the Trump Organization told Newsweek that James was putting her own "political ambitions" ahead of the safety of New York residents, citing increased crime trends. The spokesperson called James' filing a "targeted, unethical political harassment."
"While the job of the Attorney General is to protect the interests of the public, today's filing, for the first time in the history of the Attorney General's office, seeks to protect the interests of large, sophisticated Wall Street banks. However, not only was no bank harmed—actually, they profited handsomely—to the tune of hundreds of millions of dollars in interest and fees," the statement said.
The statement called James' efforts to "[go] after President Donald J. Trump and the Trump Organization" as an "abhorrent abuse of power, waste of valuable resources and tens of millions of taxpayer dollars."
The statement also accused James of filing the lawsuit as a "desperate attempt to pander to voters," as she is running for re-election against Republican Michael Henry.
"An attorney general is supposed to be fair, impartial and unbiased—not weaponize their office to pursue a political vendetta or target their political opponents. Today's filing by Attorney General James sets a dangerous precedent—not just in New York, but for our entire nation," the statement added. "The good people of New York should be disgusted."
Newsweek reached out to the New York Attorney General's Office for comment.
Update 9/22/22, 1:37 p.m. ET: This story was updated with a statement from a Trump Organization spokesperson.