Trump in Poland: U.S. to Sell Warsaw Arms to Stop 'Hot War' With Russia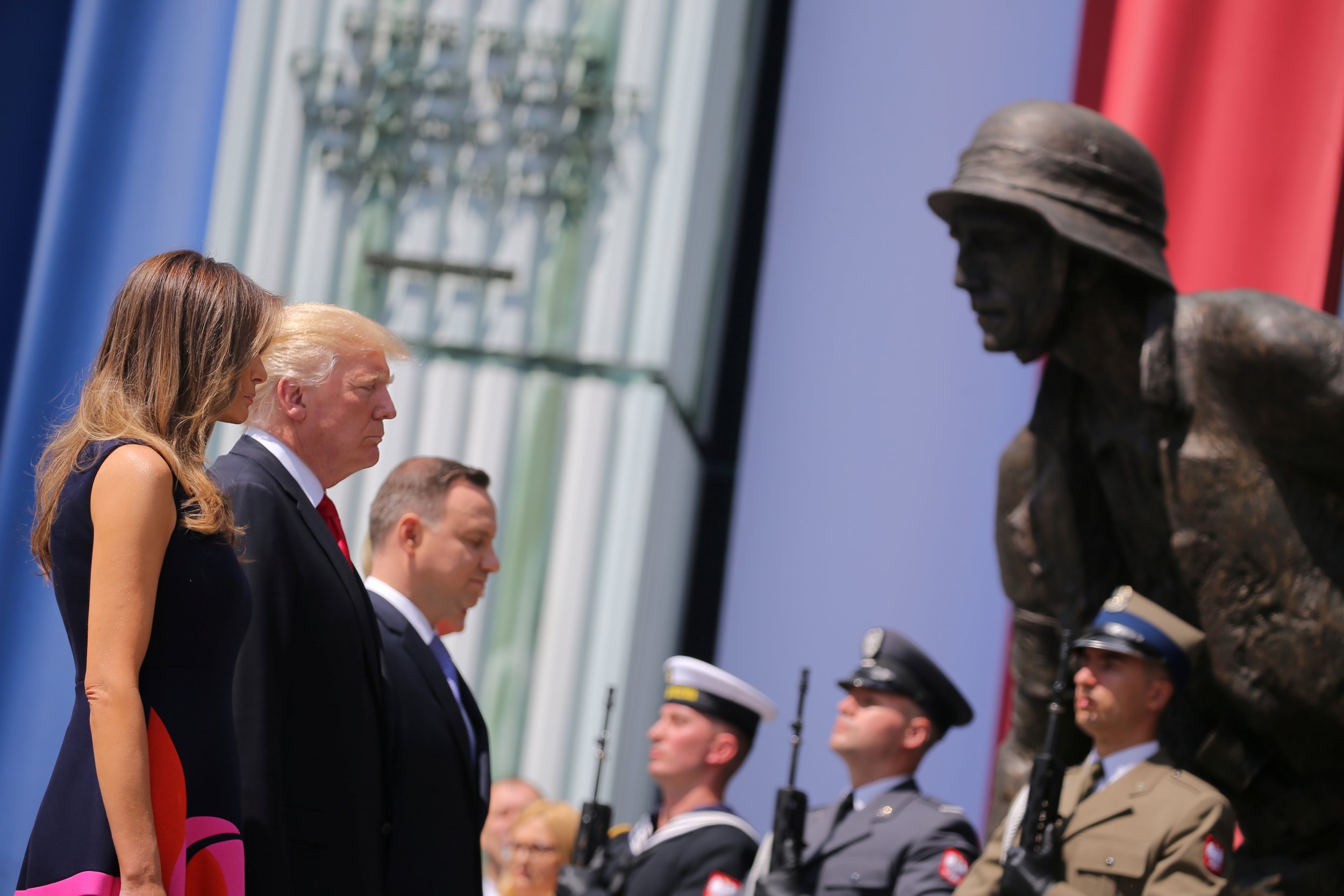 In a move set to counter Russia's reinforcement on NATO's borders, Poland and the U.S. have agreed that Warsaw will purchase the American-made Patriot air defense missile, the Polish government announced Thursday.
Trump delighted many in Poland when he announced he would be visiting the country before arriving in Germany for the G20 summit this week. The stop in Warsaw has already been welcomed by Poland's conservative government, who in turn have announced in principle to make the U.S. missile an integral part of their defenses.
Read More: Russia's neighbors fear incoming war more than terrorism
"A memorandum was signed tonight that the U.S. government has agreed to sell Poland Patriot missiles in the most modern configuration," Poland's defense minister Antoni Macierewicz said at a a press conference broadcast Thursday morning. "I am glad that I can pass on this information on the day of President's Trump visit to Warsaw," Macierewicz added.
Trump himself gushed about the deal, the price of which is yet to be announced and possibly even agreed, saying in his speech Thursday: "We applaud Poland for its decision to move forward this week on acquiring from the United States the battle-tested Patriot air and missile defense system—the best anywhere in the world."
The exact value of the deal is not yet public, though in March, Macierewicz said the government planned to pay less than 30 billion zloty ($8 billion) to the manufacturers of Patriot, Raytheon Co. before the end of the year. At the time, he estimated that the first deliveries of the missile interceptors could take up to two years to arrive.
Although Poland is a long-term advocate for more U.S. military presence in Europe, Russia's decision to deploy Iskander missile systems on its borders in November made the demand for assistance more urgent. The S-400 surface-to-air missiles and nuclear-capable Iskander systems are set to be delivered in Kaliningrad, Russia's exclave bordering Poland. The region is Russia's westernmost territory and has been reinforced heavily since a spike in tensions in 2014.
Russia is also now looking to extend the weapon's range from its current 400-500km (250-310 miles) range.
The Kremlin refused to comment at length about the Patriot deal Thursday and presidential spokesman Dmitry Peskov said it was unlikely the issue would come up during President Vladimir Putin's meeting with Trump at the G20.
The acquisition of the missiles fits into Poland's planned military modernization program by 2023. Russia's state media has already mocked the Patriot deal, as member of parliament Andrei Golovatyuk told state-run Sputnik radio the technology would be outdated by the time Poland received it.
"I doubt that the Patriot system can match our Iskander because the characteristics of the Iskander that Patriot cannot intercept it," he said Thursday. However, Omar Lamrani, Senior Military Analyst at private intelligence firm Stratfor says the purpose of the anti-air missile is not exactly to contain the weapon.
"The Patriot's range is not a strategic range missile, they are more medium-range," Lamrani says. "That means they are very capable against aircraft and cruise missiles. Poland is very cognizant that the airspace forces Russia has are vastly superior so this deal, dating back to 2011, is meant to hamper a theoretical Russian assault."
Russian military aircraft intercepts have peaked over the past three years and Russia's paratrooper forces have excelled as one of its most elite military units. The Patriots are intended as a deterrent for Russia to ever turn those resources into a direct assault.
"This is a missile system that will be used against bombers, fighter jets," Lamrani says. "The real concern is a hostile, hot war."
Raytheon has confirmed that Romania has also enquired about acquiring Patriot missiles. Along with Poland, Romania is hosting elements of the U.S. missile shield in Europe, which Russia considers an offensive move; Russian officials have called both countries "targets" for Russia's own systems.