Trump Praises Barr's Performance at Tense Senate Hearing: AG Was 'Really, Really Solid and Did a Great Job'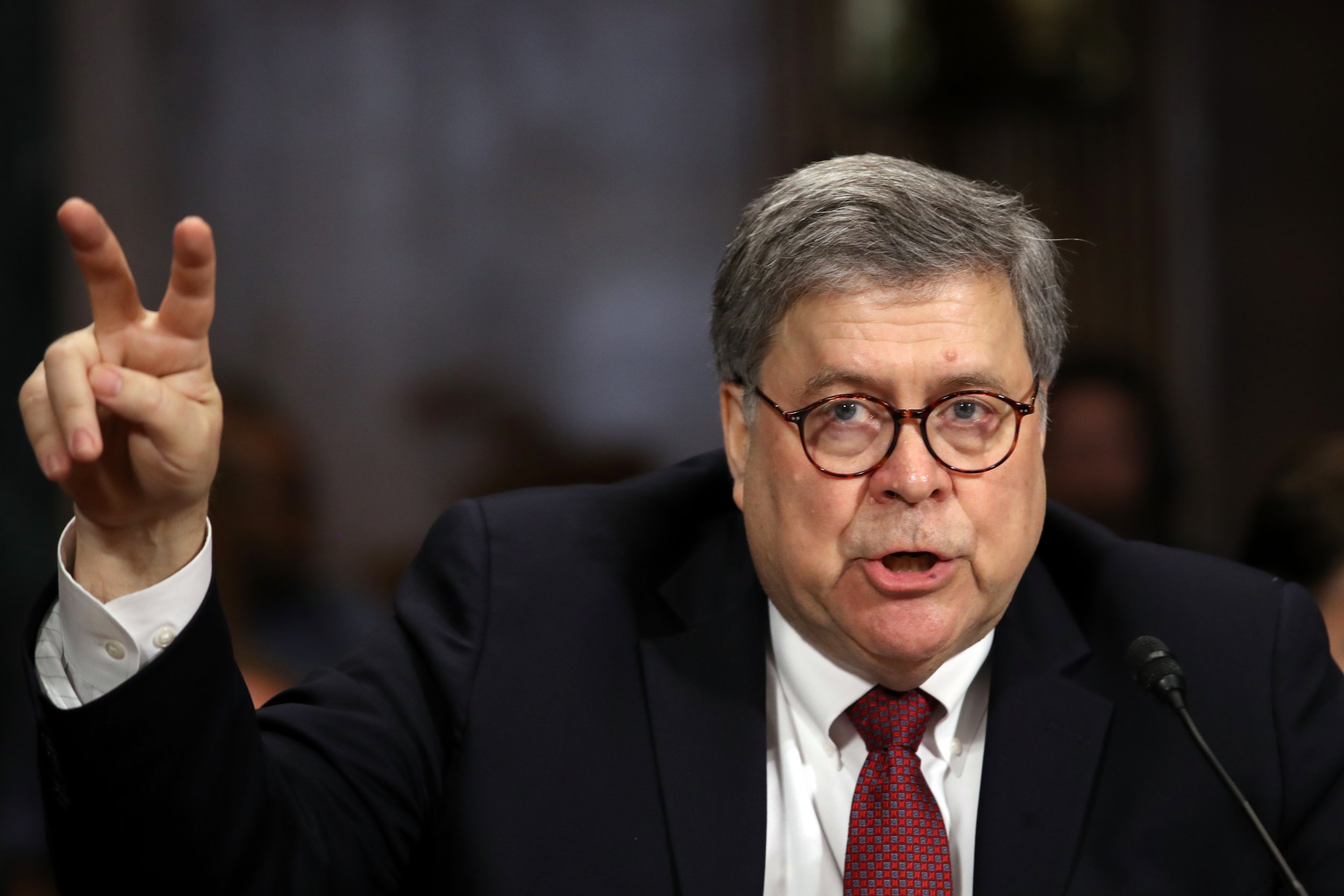 After William's Barr's tense testimony at the Senate Judiciary Committee hearing concluded on Wednesday, President Donald Trump praised the attorney general for his performance as Democrats intensify calls for Barr to resign over his handling of special counsel Robert Mueller's Russia investigation report.
"I heard that the attorney general was really, really solid and did a great job today," the president said of Barr's testimony during an interview earlier today with Boston Herald Radio, adding that Democrats "are very devastated because they looked at the report and there was absolutely no collusion and there's no obstruction either, and they were hoping against hope because that's the only way they could actually get lucky."
A number of Democratic senators grilled Barr for hours in Washington D.C. today after it was revealed on Tuesday that Mueller had sent him a letter in late March complaining about his summary of the Russia investigation, saying in it: "The summary letter the Department sent to Congress and released to the public late in the afternoon of March 24 did not fully capture the context, nature, and substance of this office's work and conclusions."
"There is now public confusion about critical aspects of the results of our investigation," Mueller added in his letter sent between March 25 and 27, days after Barr released his four-page summary, according to the Washington Post. "This threatens to undermine a central purpose for which the Department appointed the Special Counsel: to assure full public confidence in the outcome of the investigations."
Barr wrote in his summary, delivered nearly 48 hours after the completion of Mueller's investigation, that the special counsel's investigation "did not find that the Trump campaign or anyone associated with it conspired or coordinated with Russia in its efforts to influence the 2016 presidential election." He also concluded that Mueller's probe neither exonerated nor indicted Trump on whether he obstructed justice and indicated he saw no reason to move forward with criminal proceedings against the president.
When Mueller's highly-anticipated 448-page report, with redactions, was released almost a month later on April 18, it painted a more damning picture for Trump. Although the special counsel stopped short of accusing Trump of a crime, it did expose ample evidence of wrongdoing by the president and his inner circle, dating back to the then-presidential candidate's 2016 campaign. Mueller detailed at least a dozen instances in which Trump could have obstructed justice but, however, did not charge him with obstruction.
Critics, including top Democrats and legal scholars, have torched Barr's summary, arguing it misled public opinion and solidified a narrative that Trump was exonerated before Mueller's report was released a month later.