Trump Pressures Vos to Overturn Election After Wisconsin Drop-Box Ruling
Former President Donald Trump called on Wisconsin Assembly Speaker Robin Vos on Saturday to overturn the 2020 presidential election results in the swing state after its Supreme Court issued a ruling restricting the use of ballot drop-boxes on Friday.
The Wisconsin Supreme Court, led by Republicans, determined that absentee ballot drop-boxes can only be put in election offices and that only the voter can return a ballot in person, according to the Associated Press. In 2020, the drop-boxes were used for voting due to the COVID-19 pandemic, but the court found the Wisconsin Elections Commission overstepped its boundaries by allowing the use of ballot boxes.
The decision hands a win to Republicans, who have, without substantial evidence, claimed the boxes led to widespread voter fraud during the 2020 presidential election, which some claim was stolen from Trump.
The ex-president, who has continued pushing unfounded stolen election claims, pressured Vos to use the state's Supreme Court ruling to overturn the results—a year and a half after the election was certified in the key battleground state where Joe Biden eked out a victory by less than one percentage point, or 20,000 votes.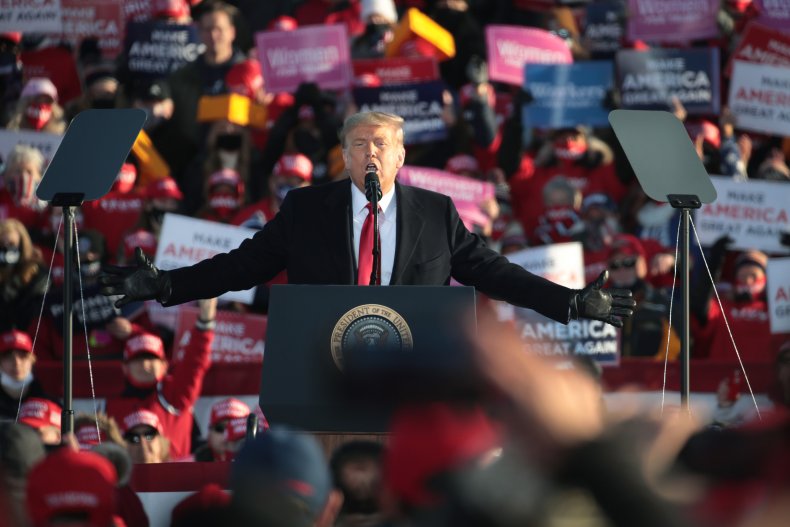 "It's now up to Robin Vos to do what everybody knows must be done. We need FAIR and HONEST Elections in our Country," the former president wrote. "Speaker Robin Vos has a decision to make! Does Wisconsin RECLAIM the Electors, turn over the Election to the actual winner (by a lot!), or sit back and do nothing as our Country continues to go to HELL?"
Vos praised the Supreme Court's decision on Friday, but did not mention the possibility of overturning the 2020 election.
"Today's decision demonstrates that the rule of law prevails and the illegal drop boxes are finally going to stop. This is a giant step forward in our efforts to ensure election integrity. Our next step has to be electing a new governor who will sign additional election reforms," he wrote. "The legislature has long maintained that the law never allowed these illegal drop boxes and we're happy to be vindicated by today's decision."
The decision will bolster Republican efforts to tighten election laws in Wisconsin, as conservative lawmakers have sought to do across the United States in the wake of Trump's defeat. The restrictions could have an impact on the midterm elections in the state in November.
Governor Tony Evers, a Democrat, condemned the Supreme Court's ruling in his own statement on Friday.
"Today's decision is another in a long line of Wisconsin Republicans' success to make it harder for Wisconsinites to exercise their right to vote, to undermine our free, fair, and secure elections, and to threaten our democracy," he wrote.
Even though more than a year has passed since the 2020 election, Trump and his allies are still continuing to push efforts to overturn the results and see the ex-president reinstated.
Attorney Christina Bobb, who has supported Trump's legal challenge to thwart the election results, told Right Side Broadcasting Network (RSBN) earlier this week that if Republicans retake majorities in Congress, they could reinstate Trump as president if three Biden-won states withdraw their electors.
Other Trump allies including Mike Lindell, the CEO of MyPillow who has supported the election conspiracies, also said the ruling should lead to decertification while speaking to RSBN on Saturday.
"Pennsylvania, Arizona and Wisconsin should be decertified immediately. There shouldn't even be a doubt," he said, even though there has been no substantial evidence of voter fraud in any of those states.
Newsweek reached out to Vos' office for further comment.