Trump Promises 'Wonderful Future Lies Ahead' In Thanksgiving Message
Former President Donald Trump released an official statement commemorating the Thanksgiving holiday on Thursday, promising that a "wonderful future lies ahead."
Trump, who served in the White House from January 2017 to January 2021, continues to falsely claim that the 2020 election was "rigged" or "stolen" in favor of President Joe Biden. While many of his recent official statements continue to promote that conspiracy theory or attack his political opponents, his Thanksgiving message struck a more optimistic tone. However, it also suggested the country was on the wrong track.
"A very interesting time in our Country, but do not worry, we will be great again—and we will all do it together. America will never fail, and we will never allow it to go in the wrong direction. Too many generations of greatness are counting on us. Enjoy your Thanksgiving knowing that a wonderful future lies ahead!" the former president said in the statement, which was posted to Twitter by his spokesperson Liz Harrington.
Biden also released a Thanksgiving message on Thursday, publishing a video online of him and his wife, first lady Jill Biden, sending their well-wishes to the American public.
"Happy Thanksgiving everyone. This is always a special time in America, but this year, the blessings of Thanksgiving are especially meaningful," the president said.
Jill Biden then jumped in, saying: "After being apart last year, we have a new appreciation for those little moments we can't plan or replicate."
"You make us so proud every day to serve as your president and first lady," the president added. "And from the Biden family to yours, Happy Thanksgiving! May God bless you and may God protect our troops and their families."
The president's and former president's Thanksgiving messages come as recent polls suggest Trump is well-positioned to potentially defeat Biden in a 2024 rematch election. Although Trump has not officially announced his intention to run for president again, he has repeatedly teased the possibility.
Polling data released this week by conservative Rasmussen Reports/Pulse Opinion Research showed Trump beating Biden by double-digits in a hypothetical matchup. Trump was backed by 45 percent of respondents while just 32 percent supported Biden—a difference of 13 points. A recent Emerson College survey conducted earlier this month found that Trump would defeat Biden with 45 percent to 43 percent in a potential 2024 rematch.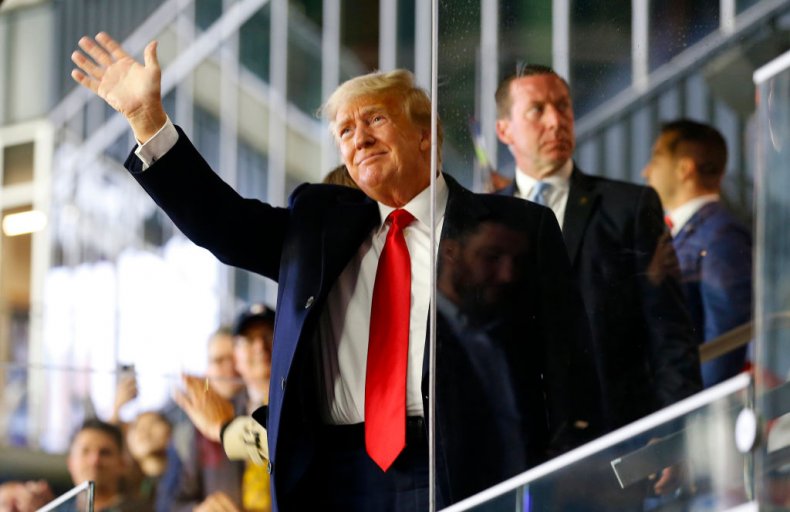 But Biden's approval rating remains slightly above that of Trump. The FiveThirtyEight average of recent polling data shows about 42.9 percent of Americans approve of Biden. Meanwhile, FiveThirtyEight's average also shows that just 41.5 percent of Americans view Trump favorably.
Biden's approval rating has dropped since he took office in January when it stood above 50 percent. Rapid inflation, the COVID-19 pandemic and a number of other crises have plagued the president's administration—leading to frustration among the American public.