A former top advisor to Donald Trump has described how the former president began to "resemble" Russia's Vladimir Putin during his time in the White House, speaking frequently about how he wanted to remain in power beyond the congressional two-term legal limit.
Fiona Hill, the former senior director for European and Russian affairs on the National Security Council, gave a damning indictment of how Trump handled foreign policy issues during his time as president in a lengthy profile for The New York Times.
In the article, Hill described how Trump started to mimic his Russian adversary during his four years in power, especially with regards to how he treated Ukraine—a country she said Trump used as a "plaything for his own purposes" after viewing it as a political enemy.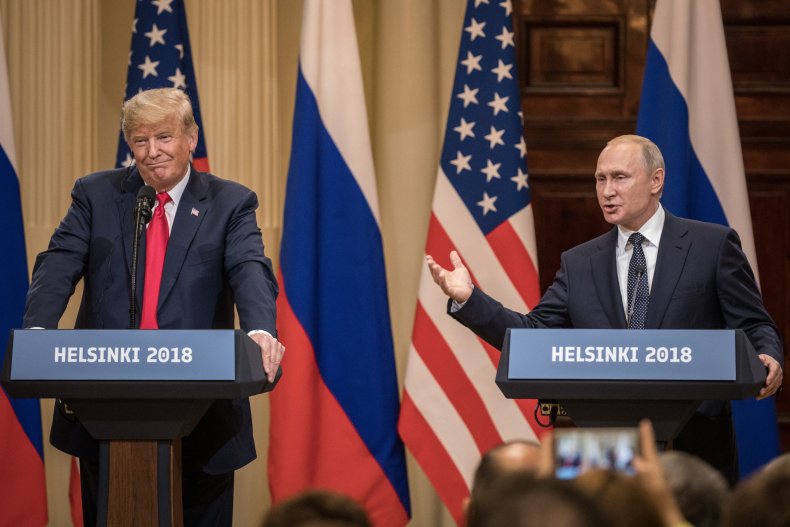 "In the course of his presidency, indeed, Trump would come more to resemble Putin in political practice and predilection than he resembled any of his recent American presidential predecessors," Hill said.
Hill also accused Trump of "pulling a Putin" with his alleged attempts to stop the certification of the 2020 Election results in favor of Joe Biden on January 6, 2021.
She said that while watching the violence unfold on January 6 she was able to "thread" together a chain of events that began with Trump allegedly pressuring President Volodymyr Zelensky to launch an investigation into Joe and Hunter Biden's business dealings to Trump's supporters storming the Capitol.
"I saw the thread," Hill said. "The thread connecting the Zelensky phone call to January 6. And I remembered how, in 2020, Putin had changed Russia's constitution to allow him to stay in power longer. This was Trump pulling a Putin."
Elsewhere, Hill, who testified in Trump's first impeachment trial over the Zelensky phone call, described how Trump would tell other world leaders that he should get a "redo" of his first two years as president seeing as they were overshadowed by Special Counsel Robert Mueller's investigation into Russian interference at the 2016 Election.
"He'd say that his first two years had been taken away from him because of the 'Russia hoax.' And he'd say that he wanted more than two terms," Hill said.
Hill also cited comments from David Cornstein, Trump's ambassador to Hungary, who claimed that the former president wanted to copy Hungarian prime minister Viktor Orban's arrangement where he could "push the margins and stay in power without any checks and balances."
When suggested by The Times that Trump meant these remarks as a joke, Hill replied that "he clearly meant it."
In a statement to Newsweek, Trump described Hill—who was born in England—as a "radical left RINO" [Republican in name only] and that "if she didn't have the accent she would be nothing."
Trump added: "During the Impeachment Hoax #1, she had no credibility, obviously, because we won unanimously. Never listened to her, I hardly knew her at all. She knew nothing about me, I knew nothing about her, and I liked it that way."
Trump's relationship with Putin was put in the spotlight again in the wake of Russia's invasion of Ukraine. Prior to the start of the conflict, Trump was criticized for describing Putin as a "genius" and "savvy" for his tactics prior to the invasion in late February.
Trump was also condemned after he asked Putin to "release" information on Hunter Biden's financial links to Russian oligarch Elena Baturina—a claim that President Biden's son has denied.