Trump Says Putin 'Overplayed His Hand' After Praising Him as 'Genius'
Former President Donald Trump said in a Washington Post interview published Thursday that he felt Russian President Vladimir Putin "overplayed his hand" by invading Ukraine.
This sentiment that Putin perhaps overreached in his invasion of Ukraine represents a change for Trump, who in the past, has praised the Russian leader. Trump called Putin's strategy for the Ukraine invasion "genius," a comment that he blamed the media for misreporting after receiving significant pushback.
In an interview in late February, after Putin recognized two breakaway regions of Ukraine—Donetsk and Luhansk— as independent, and the Russian president announced he was sending troops to the area for a "peacekeeping" mission, Trump said: "Here's a guy that says, you know, 'I'm gonna declare a big portion of Ukraine independent.' He used the word 'independent,' 'and we're gonna go out and we're gonna go in and we're gonna help keep peace.' You gotta say that's pretty savvy."
Trump has received criticism over his praise of Putin, and in a statement last week he addressed his previous comments.
"The Fake News is also saying I called Putin a 'genius,' when actually, and to be precise, I called his build-up on the Ukraine Border before the war started genius because I assumed he would be easily able to negotiate a great deal for Russia," the former president wrote.
In the wide-ranging interview published in the Washington Post Thursday morning, Trump also spoke about the march at the U.S. Capitol on January 6, 2021 and said he had wanted to join his supporters that day.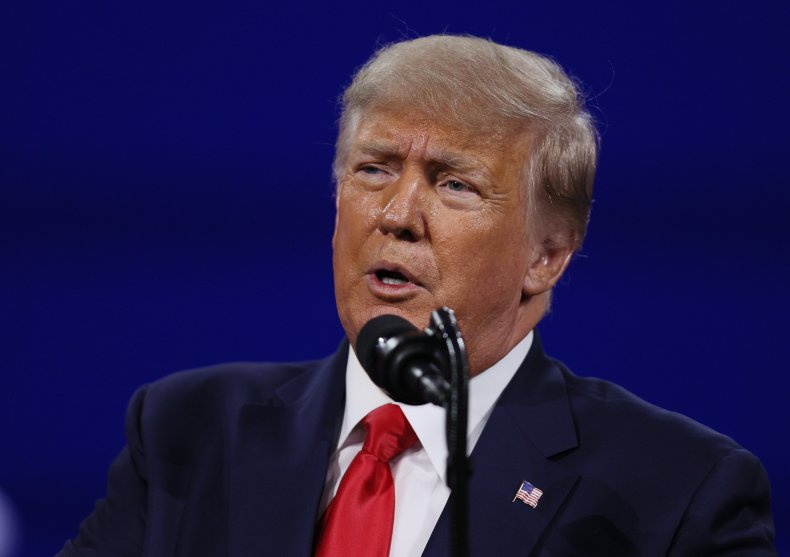 "[The] Secret Service said I couldn't go. I would have gone there in a minute," Trump said in the interview.
He also bragged about the crowd size in Washington. "The crowd was far bigger than I even thought. I believe it was the largest crowd I've ever spoken to. I don't know what that means, but you see very few pictures. They don't want to show pictures, the fake news doesn't want to show pictures," Trump told the Post.
Trump also said that he "hated seeing" the riot that occurred at the Capitol that day, and said that at the time, he "assumed" other the mayor of Washington D.C. and House Speaker Nancy Pelosi were "taking care of it."
"I thought it was a shame, and I kept asking why isn't she doing something about it? Why isn't Nancy Pelosi doing something about it? And the mayor of D.C. also. The mayor of D.C. and Nancy Pelosi are in charge," the former president said.
Drew Hammill, a spokesman for Pelosi, told the Washington Post: "The former president's desperate lies aside, the speaker was no more in charge of the security of the U.S. Capitol that day than Mitch McConnell."
Newsweek reached out to Trump's office for further comment, but did not receive a response before publication on Thursday morning.