House Republicans Vote Overwhelmingly Against Trump Administration Lifting Sanctions on Putin-Linked Oligarch's Companies
In a surprise move Thursday, the House voted against a Treasury Department plan that would lift sanctions on the companies of Russian oligarch and Kremlin ally Oleg Deripaska.
In what was an effective rebuke of President Donald Trump, 136 Republicans broke ranks and voted with House Democrats to oppose the plan. The move came exactly one day after the Senate blocked a measure proposed by Democratic Senator Chuck Schumer that would have prevented the Trump administration from lifting the sanctions on Deripaska's three firms. Only 11 Republicans in the Senate voted for the measure, which failed to win the 60 votes needed to break a filibuster.
Wednesday's Senate vote means that the overwhelming vote in the House on Thursday will not stop the Trump administration from lifting sanctions.
Deripaska was sanctioned in April 2018 along with a handful of other Russian companies and individuals.
His three companies, Rusal, EN+, and ESE, had been lobbying ever since to be removed from the sanctions list. A Deripaska ally, the former U.K. energy minister and known Russophile Lord Gregory Barker of Battle, orchestrated the lobbying efforts in Washington. Former Republican Senator David Vitter was also lobbying on behalf of the companies.
In late December, the Treasury Department notified Congress that it had struck a deal with the entities: Treasury would remove the three companies, but not Deripaska, from the sanctions list if they restructure their corporate governance so that the oligarch has less than a 50 percent share.
Treasury Secretary Steve Mnuchin gave a private briefing to Congress on the plan last Thursday, which House Speaker Nancy Pelosi later characterized as "one of the worst classified briefings" she'd received from this administration.
Jed Shugerman, a professor at Fordham Law, told Newsweek that, although Deripaska will lose majority control of his three companies, the Treasury's plan will benefit the oligarch, and by extension, Russian President Vladimir Putin.
"Given the reality of corporate structures, anyone looking at this understands that he was left with enough control that he would benefit if sanctions were lifted…Forty-five percent of a healthy company is better than 100 percent of a company that will fail," Shugerman told Newsweek, noting that the sanctions had left the three firms crippled economically.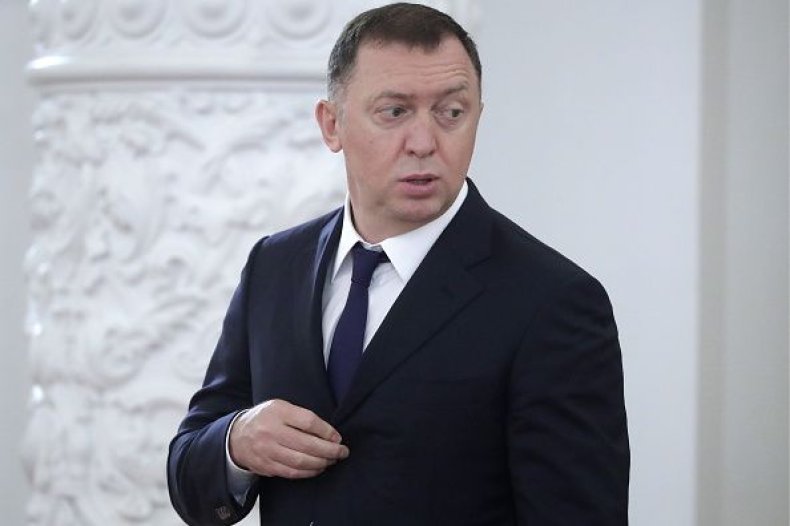 "Lifting sanctions benefits Putin because regardless of the shell games among oligarchs and Russian entities, this benefits Putin and has obvious implications. It is shameful that the Senate abandoned its duties," Shugerman added.
Major questions had also been raised about who would benefit from the corporate restructuring. Two of the companies taking over Deripaska's shares would be the Swiss commodities firm Glencore, which has done business with Deripaska for years and owns a small stake in the Russian oil company Rosneft, and the Russian bank VTB, which has been nicknamed Putin's piggy bank.
Meanwhile, Jean-Pierre Thomas, once an adviser to former French President Nicolas Sarkozy, will be named the new chairman of Rusal because the deal struck with Mnuchin's Treasury requires the company's former Kremlin-linked chairman to step down. Thomas often appears on Russian State TV where he vocally supports Moscow's foreign policy positions, and he has publicly defended Russia's role in the war in Ukraine.
Bill Browder, a British-American businessman whose company Hermitage Capital Management was seized by the Russian state, argues that Thursday's vote is a sign that "the American people don't want to give Putin any gifts."
"There is no good reason for the U.S. government to lift sanctions on one of the most compromised Russian oligarchs around. Deripaska has been Putin's main man in the private sector and the U.S. should hold his feet to the fire without showing any mercy," Browder told Newsweek.
The rationale behind lifting sanctions is allegedly to ensure that only sanctioned individuals like Deripaska, and not the shareholders and employees of their companies, are punished by sanctions. The sanctions also caused global aluminum prices to rise.
Brian O'Toole, an expert in economic sanctions at the Washington D.C.-based Atlantic Council, says that Thursday's House vote could make the Office of Foreign Assets Control (OFAC) more cautious when it decides whom to sanction in the future.
"The fact that it has been this close to overturning a highly technocratic, administrative action will make OFAC less willing to go after Russian targets with significant economic holdings because they can't be sure they'll be able to mitigate the spillover effects via divestment deals or licensing," O'Toole told Newsweek. "This will make OFAC gun shy because they can't count on Congress to let it do its administrative duties."
Deripaska is the same oligarch to whom former Trump campaign manager Paul Manafort was deeply indebted.