Trump and Putin: Stephen Colbert Asked Russians if They Think There Was Collusion in U.S. Election and Here's What Happened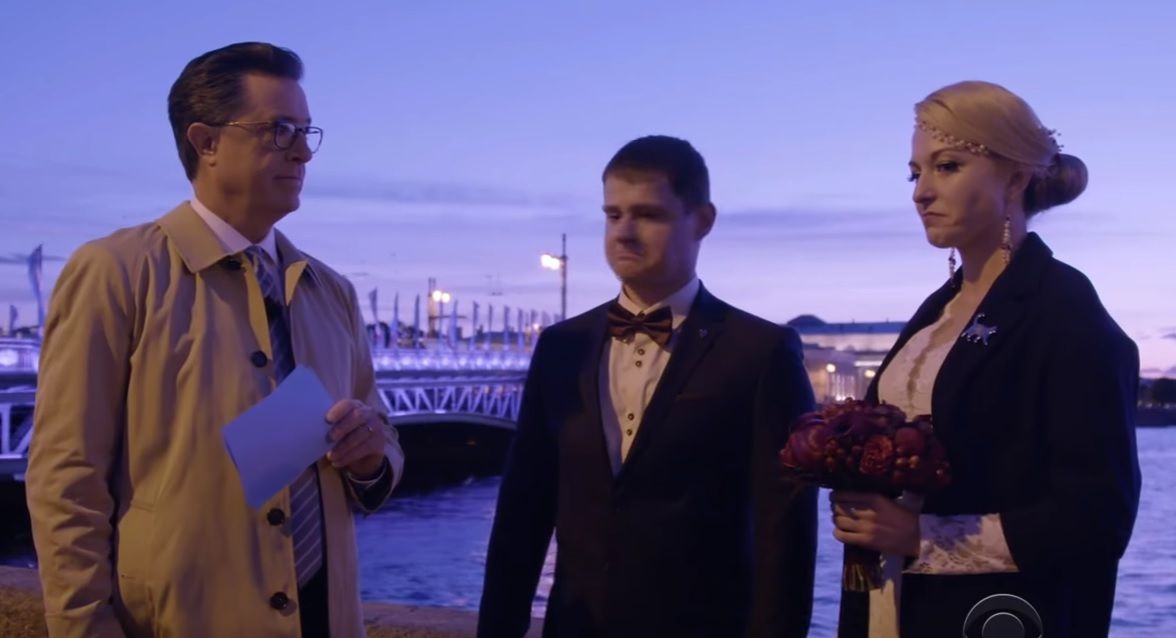 The consensus in America is pretty clear: people are convinced that Russia tampered with the 2016 presidential election to swing the vote in President Donald Trump's favor. But what do Russians make of the ongoing White House scandal? Stephen Colbert has the answers.
In night two of Colbert's Russia Week on The Late Show Tuesday, the comedian quizzed actual Russian citizens on their thoughts about the collusion allegations.
Colbert gave a newly married couple a potato each and asked them to hold it up if they agreed with his statement.
"Do you think officials in the Trump administration collaborated with Russia to influence our election?" he asked first. Neither the groom or bride held up their potato, indicating that they do not believe the Russian government had anything to do with Trump's November victory over Hillary Clinton.
Next, Colbert asked: "Do you think it's all just America blaming everything on the Russians?" That statement got two potatoes in the air.
As for whether the Russian president, Vladimir Putin, "has influence over our president, President Trump," the couple shook their heads and said no.
Though not exactly a scientific canvas survey of all of Russia, it's interesting to see that some Russian citizens have a vastly differing outlook on the relations between Trump and Putin compared to their American counterparts.
American intelligence officials have previously claimed Russia tried to influence the election. In a poll of American citizens conducted earlier in July by PBS NewsHour/NPR/Marist College, 54 percent of citizens said they believe Trump's dealings with Russia were either "illegal" or "unethical."
Forty-seven percent of Americans said that the Russian hacking of last year's election posed a "major threat" to the democratic process in future elections.
Colbert visited Moscow last month on a secret trip to film material for The Late Show. That footage is airing on his CBS talker throughout the week.