Trump Rally-Goers Say Space Force Can Prove 2020 Election Fraud
Supporters at former President Donald Trump's recent rallies in North Carolina and Michigan have claimed, without evidence, that Space Force has proof of interference during the 2020 election.
In a video taken by the Right Side Broadcasting Network (RSBN) and shared on Twitter by Daily Beast reporter Zachary Petrizzo, a Trump supporter at the rally in North Carolina on Saturday said: "Mike Lindell has the evidence of foreign interference on election night as well. And so does Space Force like President Trump has mentioned."
Lindell, the CEO of MyPillow, has promoted false allegations of election fraud, and says he has spent $35 million of his own money on efforts to prove Biden's 2020 election win was fraudulent.
Space Force, a branch of the U.S. armed services, was introduced in late 2019, while Trump was president. It is responsible for "organizing, training, and equipping Guardians to conduct global space operations that enhance the way our joint and coalition forces fight, while also offering decision makers military options to achieve national objectives," its website states.
In a separate video at Trump's rally in Washington Township, Michigan, last weekend, a supporter of the former president's also claimed that Space Force has information proving the 2020 election was stolen.
"The election, I believe, was stolen but we know that. Space Force has it all, Trump has all the information, it's going to be overturned," the woman said. "The night of the election, they literally watched the election be stolen."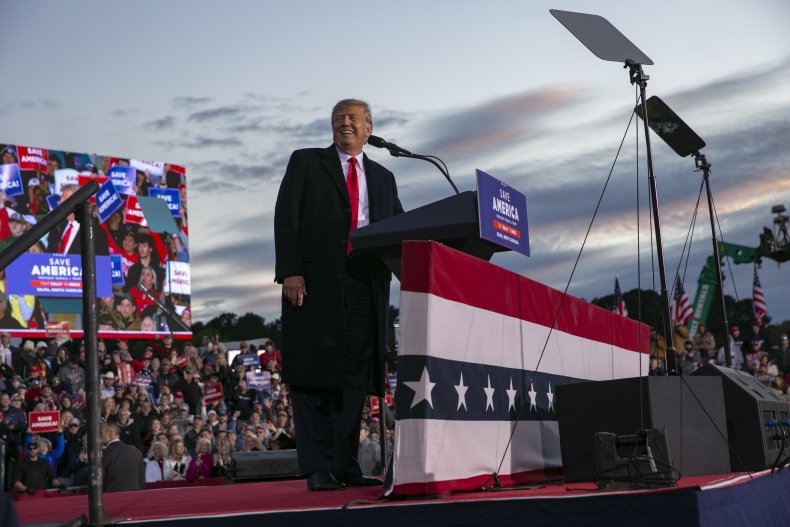 "They know, they watermarked the ballots, they know exactly what happened with every ballot, they know what fake ballots. They knew the election switches, they know what countries were involved, they followed the money, they know every politician that's been paid off," the woman continued.
The video has gone viral and has been viewed more than 2.5 million times on Twitter.
The comments from rally-goers come as Trump has repeated unfounded claims of election fraud in 2020.
After the Trump supporter in Michigan's interview went viral, Mashable reported that the idea that Space Force has information on fraud during the 2020 election is a "niche" QAnon belief. QAnon is a far-right political movement known for conspiracy theories including those surrounding the 2020 election.
Newsweek has reached out to Trump's press office and Space Force for comment.
Late last month, Trump's claim that the 2020 election was "stolen" suffered another blow when a Republican-led review in Arizona found no evidence that the election was compromised in Maricopa County.