Trump's Election Claims Rejected By New Republican-Led Review in Arizona
Former President Donald Trump's false claims that the 2020 election results were "rigged" or "stolen" received another blow this week after the findings of a new Republican-led review in Arizona showed there was "no evidence" voting network and election data were compromised in Maricopa County.
Trump and his allies continue to insist that President Joe Biden's election win in Arizona and in other key swing states was fraudulent, although audits and recounts have consistently countered these allegations. Maricopa County, which is largely led by GOP officials, has been at the center of the false claims—as Arizona state Senate Republicans ordered an audit of the results there.
As the largest population center in Arizona, Maricopa County's votes were key to Biden's victory in the southwestern state. The president beat Trump in Arizona by just over 10,000 votes—a narrow margin of about 0.3 percent. Arizona had previously gone for Trump in 2016, and for GOP presidential candidates in every election going back to 2000.
The Arizona state Senate Republicans' controversial audit was led by now-shuttered Florida-based company CyberNinjas, which has filed for bankruptcy. That review actually found Biden with a slightly bigger lead over Trump than the initial tally in Maricopa County. Despite those findings, the former president and his GOP allies continued to claim the results were manipulated.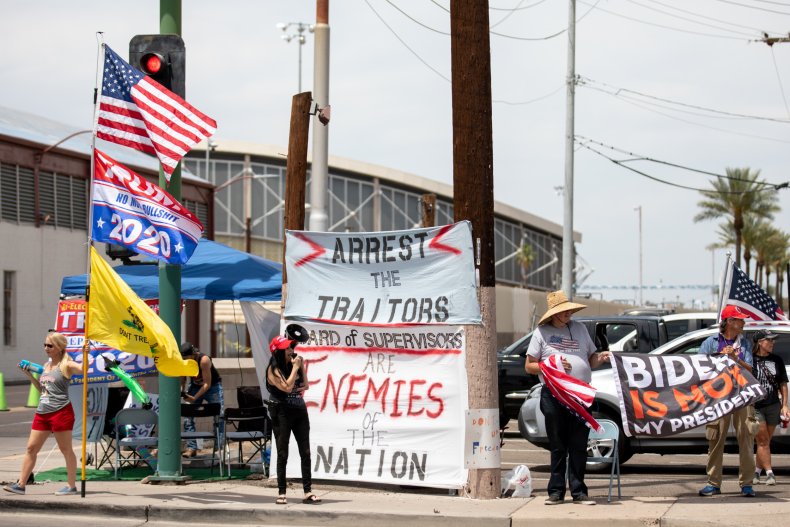 Last year, Arizona state Senate President Karen Fann, a Republican, brokered a deal with the Maricopa County Board of Supervisors to due an independent review of the county's network routers and certain log files. Former Representative John Shadegg, a Republican who represented Arizona in Congress from 1995 to 2011, oversaw the audit. Three independent technology experts were contracted by Shadegg to work on the review.
"We're pleased that we've been able to bring some closure to the voters who had questions and concerns about the security of these computers. We're hoping this new information will restore some confidence back into our elections system," Fann said in a statement emailed to Newsweek on Friday.
The expert findings were released in a lengthy report this week. In a Thursday email sent to Newsweek, Stephen Richer, a Republican, laid out the key findings. Shadegg's investigation found there was "no evidence of routers, managed switches or tabulation equipment connected to the internet" and that there was "no evidence of data deletion, data purging, data overwriting, or other destruction of evidence or obstruction of the audit."
"The County's ballot tabulation center is secured by badge access, secure key cards, and continuous video surveillance," the expert findings showed, according to Richer's email.
"Whenever impartial, independent, and competent people have examined the County's election practices, they have found no reason to doubt the integrity of those practices," Maricopa County Board of Supervisors Chair Bill Gates, a Republican, said after the report was released, Fox 10 Phoenix reported. "The Board of Supervisors remains committed to free and fair elections that conform to federal and state laws."
In his email, Richer pointed out that "even if every single machine was hacked and manipulated (they weren't), we would still have the physical ballots to review." The CyberNinjas audit, as well as previous non-partisan audits carried out by Maricopa County, already reviewed the paper ballots. Those reviews aligned with the initial results.
"Again, the election tabulation equipment wasn't connected to the internet or manipulated in any way as has now been confirmed by many, many studies," Richer reiterated.
In a tweet, Maricopa County voiced appreciation for the experts involved in the review but expressed frustration that so many Trump supporters had not previously listened when all this information was explained.
"While we appreciate the conclusions reached by 3 separate tech experts involved in the special master's report, it is discouraging that more people didn't listen 488 days ago when Elections Director Scott Jarrett explained all of this in a public meeting prior to canvass vote," the county wrote.
Although Trump and his allies continue to claim the 2020 election was "rigged," "stolen" or "hacked," no evidence has emerged corroborating the allegations. To the contrary, more than 60 election challenge lawsuits brought by Trump and his supporters failed in state and federal courts. Meanwhile, audits and recounts—including in states where the election was overseen by pro-Trump Republicans—have consistently reaffirmed Biden's victory.
Former Attorney General William Barr, who was widely viewed as one of the former president's most loyal Cabinet members, ordered the Justice Department to probe allegations of widespread fraud but determined there was "no evidence" to support them. Barr wrote in a new memoir that he told Trump directly that the claims were "bullis**t," drawing the former president's ire.
This article has been updated with a statement from Fann.