Mike Lindell Says He's Spent $35M Fighting for Trump Election Fraud Claims
MyPillow CEO Mike Lindell, a staunch supporter of former President Donald Trump, said that he's now spent some $35 million of his own money attempting to prove that President Joe Biden's 2020 election win was fraudulent.
Trump and his allies, such as Lindell, continue to claim that Biden only won the last presidential election due to "widespread fraud" or "hacking" of election machines. Although many supporters believe the conspiracy theory, no evidence has emerged corroborating the allegations.
Lindell has been one of the key promoters of the false claims—traveling around the country to host and attend large events where many Trump supporters largely believe the misinformation. On Saturday, the pro-Trump businessman attended a rally for the former president at the Michigan Stars Sports Center in Washington Township, Michigan. Ahead of Trump's speech, Lindell spoke to Right Side Broadcasting Network (RSBN) about his ongoing efforts to prove Biden isn't the legitimate president.
"The evidence we came out with 10 days ago—it's over. It's just a matter of getting it out there," he claimed.
"I've spent about $35 million," the MyPillow founder told RSBN. The interviewer looked shocked, turning her head and looking at the ground as she kept the mic on Lindell.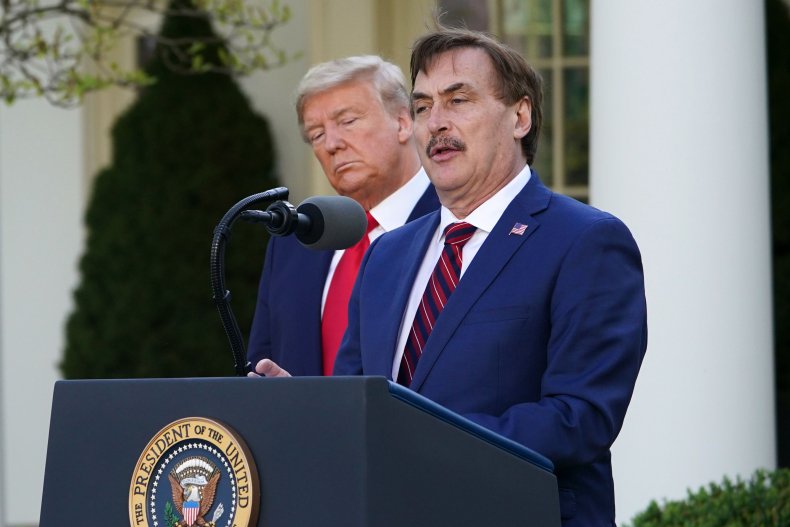 "Well, my employees thank all of you," Lindell said, motioning to the crowd around them. "We wouldn't have been able to do it if you guys hadn't supported buying our products and you guys on RSBN, you guys are the best," he added.
Back in mid-December, Lindell told CNBC that he'd already spent $25 million promoting the conspiracy theory and "investigating" the claims of fraud. If the figures are accurate, that means the pro-Trump businessman has spent an additional $10 million over the past three and a half months.
"I will keep spending it because there is no tomorrow. We lose our country. We either only have two paths: Either it gets changed before the 2022 election or we lose our country forever. I will spend every dime I have," the MyPillow CEO said at the time. "I will spend whatever it takes."
Despite Trump and Lindell's persistent claims, election and cybersecurity experts have consistently discredited their conspiracy theory. Furthermore, more than 60 election challenge lawsuits filed by Trump and his allies after the 2020 election failed in state and federal courts. Even judges appointed by Trump and other Republicans repeatedly ruled against the former president and his supporters
Meanwhile, audits and recounts across the country—including in many areas where the election was overseen by pro-Trump Republicans—have consistently reaffirmed Biden's win. A number of Republican officials and even former Trump administration officials, as well as other previous allies, have said publicly that the claims are without merit.
Former U.S. Attorney General William Barr, who was widely viewed as one of Trump's most loyal Cabinet members, has said that there is "no evidence" of widespread fraud leading to Biden's victory as his former boss claims. In a memoir published on March 8, Barr wrote that he told Trump directly that the allegations were "bullish*t" and that his legal team fighting the 2020 results was a "clown show."
"The reason you are in this position is that you wheeled out a clown show, and no quality lawyers who would otherwise be willing to help will get anywhere near it," the prominent conservative wrote that he told Trump.
Facts like this don't seem to have deterred Lindell in any way. During his Saturday interview, he attacked members of the GOP that have pointed out the claims are false.
"Look at the evil Republicans down in Georgia. I'm sure you've got some here [in Michigan]," he said. Lindell also slammed "horrible Fox News," a routine target of his ire—despite MyPillow advertising on the network.
Traditionally conservative Georgia narrowly flipped blue in favor of Biden, making it one of the key swing states of the last presidential election. The southern state's election as well as multiple audits there were overseen by GOP Secretary of State Brad Raffensperger, who voted for Trump and donated to his campaign.
Trump's and Lindell's claims about the 2020 election have resonated with GOP voters.
Polling conducted by University of Massachusetts Amherst and released in late December showed that 71 percent of Republicans believe Biden's win was illegitimate. Another poll carried out by NPR/PBS/Marist in October showed that 75 percent of GOP voters said Trump had a legitimate claim that there were "real cases of fraud that changed the results."