Mike Lindell Says U.S. 'Better Off' Now Because People Know 'How Bad' Fox News, Twitter Are
MyPillow founder Mike Lindell commented on the one-year anniversary of former President Donald Trump being banned from Twitter by criticizing Fox News and large social media platforms, claiming that the U.S. is now "better off."
Lindell, a key promoter of the conspiracy theory that the 2020 election was "stolen" from Trump, made the remarks during an episode of right-wing strategist Steve Bannon's War Room podcast on Saturday. During the episode, Bannon, Lindell and other guests discussed Twitter's decision on January 8, 2021 to de-platform Trump—who was still president at the time.
"How can you say we're better off than we were a year ago?" Bannon asked Lindell, after the businessman spoke optimistically about the past 12 months since Trump was removed from the mainstream social media site.
"Because we didn't know—because they had a hidden agenda that we just didn't know how evil they were, Steve," Lindell responded. "We didn't know how bad Fox was, we didn't know how bad Twitter was, we didn't know how bad Zuck-a-buck's [Zuckerberg's] Facebook was. It all got revealed," he claimed.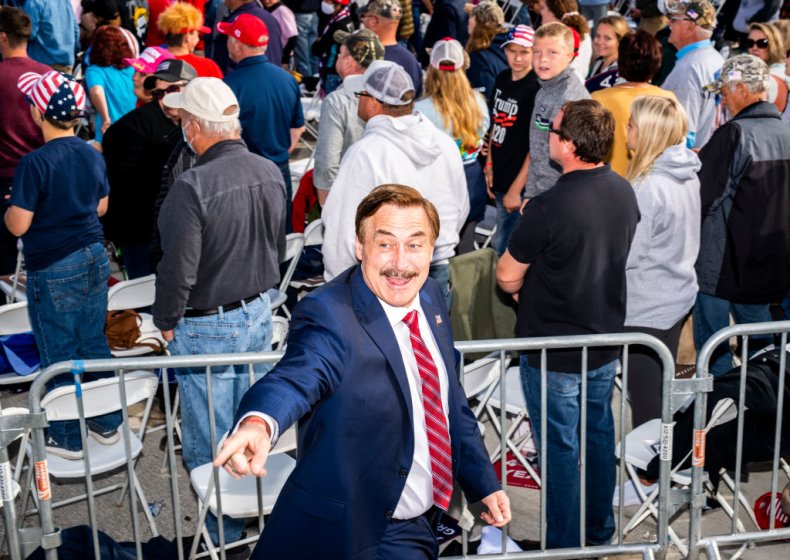 "So now it all gets revealed," the pro-Trump businessman asserted. During the segment, he and Bannon discussed new online platforms—such as Gettr, Lindell's Frank Speech and Bannon's podcast—that right-wing supporters have turned to over the past year.
Lindell said their movement is building "a solid foundation of new platforms speaking out the truth, speaking out the word of God. We'll be one nation once again under God."
Earlier in the segment, the MyPillow founder said that people are "now seeing the truth" and that the right-wing movement is in the "best position we've ever been in."
Despite criticizing Fox News, Lindell continued to advertise on it throughout 2021. As of January, his ads were still running on the network as well. However, he has repeatedly attacked and criticized the popular cable network, even organizing a small protest at the end of last year outside Fox News' headquarters in New York City.
"They [Fox News] are a big part of our country being taken from us," Lindell claimed at the end of November 2021. He said that Fox News was going toward "the middle" or "the left," claiming it is not even reporting the news anymore.
"You could at least report the news, Fox," he said, urging his supporters to join a protest outside of the network. He went on to organize a small demonstration with those in attendance holding signs promoting his website Frank Speech.
Although Trump has also repeatedly criticized Fox News, he regularly does interviews with popular hosts on the network that remain friendly to his politics. Fox News personalities Maria Bartiromo, Sean Hannity, Laura Ingraham and a number of others are generally viewed as staunchly supportive of the former president.
Twitter banned Trump from its platform on January 8, 2021 after the former president's supporters attacked the U.S. Capitol two days earlier. That assault came after the former president used Twitter and other social media platforms to spread conspiracy theories about the 2020 election results, claiming that the election was "rigged" or "stolen" in President Joe Biden's favor.
Twitter declined to comment for this article.
At a rally near the White House just before the Capitol assault, Trump urged his thousands of supporters there to head to the legislative building and "fight like hell" to save their country. Hundreds proceeded to heed the directive in an apparent effort to disrupt the formal certification of Biden's Electoral College victory.
Facebook and other social media platforms also banned Trump, drawing strong condemnation from many conservative supporters. Free speech advocates and some world leaders raised concerns about the tech giants' decision as well, but many liberals and Democrats argued that the decision should have been made sooner. Left-wing critics of Twitter and Facebook have slammed the tech giants for allowing the violence of January 6 to be partially organized through their social channels.
While Trump and other conservatives have been removed from Twitter, the former president and his allies continue to promote baseless claims that Biden's election win was fraudulent. Lindell has become one the most outspoken proponents of this conspiracy theory, traveling the country to organize and speak at large events to spread the misinformation.
In December, Lindell told CNBC that he had spent some $25 million of his own money on the effort.
"I will keep spending it because there is no tomorrow. We lose our country. We only have two paths: Either it gets changed before the 2022 election or we lose our country forever. I will spend every dime I have," he told the network. "I will spend whatever it takes."
Despite Trump's and Lindell's claims, no evidence has emerged substantiating their allegations that the election was fraudulent. More than 60 election challenge lawsuits filed by the former president and his allies failed in state and federal courts. Judges appointed by Trump ruled against the legal challenges as well.
Audits and recounts across the country—including in areas where pro-Trump Republicans oversaw the election—have consistently reaffirmed Biden's win. Top former Trump administration officials and a number of conservative supporters of the former president have repeatedly explained that there is "no evidence" to corroborate the claims of widespread fraud in the last election.