Mike Lindell Calls for Protest Outside Fox News Despite MyPillow Advertising on Network
MyPillow founder Mike Lindell, a staunch supporter of former President Donald Trump, called for people to protest outside of Fox News headquarters in New York City despite his company continuing to advertise with the network.
Lindell has been one of the key promoters of Trump's baseless conspiracy theory that the 2020 election was "rigged" or "stolen" in favor of President Joe Biden. While Lindell has put forward alleged "evidence" of widespread voter fraud, it has been consistently discredited and debunked by election experts and computer scientists, as well as by Republican and Democratic officials.
During a Friday evening program on his Frank Speech website, Lindell took aim at Fox News. He described the network as "controlled opposition," The Daily Beast first reported.
"We are going to do something out in front of Fox News, I think we should have—you know, if people want to go down there, maybe we should give out Frank Speech signs," the Trump ally said.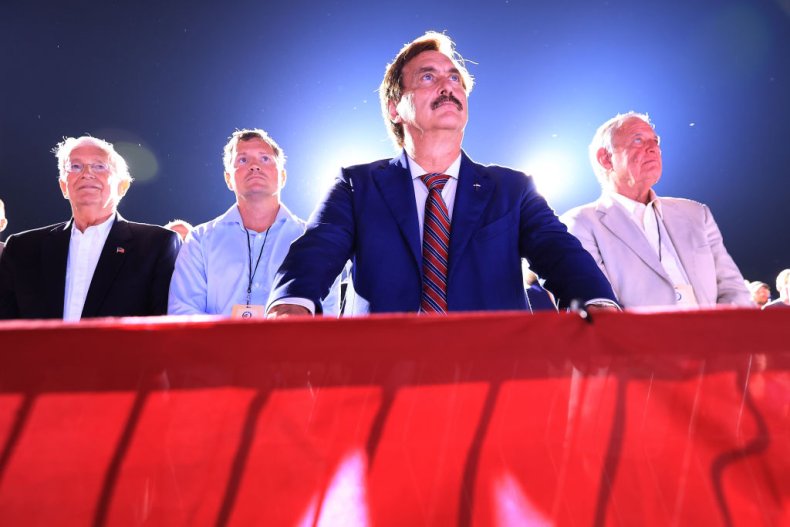 "They [Fox News] are a big part of our country being taken from us," Lindell said, who suggested that Fox News was going towards "the middle" or "the left" and claimed it is not even reporting the news anymore.
"You could at least report the news, Fox," he said.
The MyPillow exec said Fox News could call him a "conspiracy theory" or "nuts." But he lamented that the network was not covering his efforts to spread misinformation about the 2020 election.
Lindell has become publicly critical of Fox News, as he views the network as unwilling to give credence to his baseless claims of widespread election fraud. Back in July, Lindell temporarily pulled ads for MyPillow from the network after it reportedly declined to play a promotion for his August "cyber symposium" that purported to show "evidence" that China hacked the 2020 election.
However, Lindell's ads returned to Fox News by late September. The network confirmed to Newsweek on Sunday morning that Lindell's ads are still running across Fox News.
Despite advertising with Fox News—presumably paying the company money—Lindell continues to regularly attack the network.
"Fox is the worst media outlet in probably the history of the planet," he recently said on his show, CNN reported. "Why don't you help save our country?" he asked.
Trump has also taken aim at Fox News numerous times as he has viewed some of the network's coverage as unfavorable to him. At the same time, the ex-commander-in-chief maintains close ties with a number of the network's hosts who regularly speak favorably of his political movement and former policies.
Lindell has promised to file a 2020 election challenge lawsuit with the Supreme Court this week, claiming that it will be supported by states' attorneys general. He has claimed that he believes the Supreme Court will rule 9-to-0 to throw out the 2020 election results.
Despite Trump and Lindell continuing to claim that the last presidential election was fraudulent, they have not provided evidence substantiating the extraordinary allegation. More than 60 election challenge lawsuits filed by Trump and his allies in state and federal courts failed. Even judges appointed by Trump and other Republicans rejected the allegations.
Meanwhile, audits and recounts across the country have consistently reaffirmed Biden's win. Former U.S. Attorney General William Barr, who was widely viewed as one of Trump's most loyal Cabinet members, said in December that there was no evidence of widespread fraud that would change the election's outcome.
Additionally, the Cybersecurity and Infrastructure Security Agency at the Department of Homeland Security, which was led by a Trump appointee at the time, said last year that the 2020 election was the "most secure in American history."