Donald Trump will be in Michigan this weekend to address supporters ahead of the 2022 midterm elections.
The former president is scheduled to stump for local Republican candidates at the Michigan Stars Sports Center in Washington Township on Saturday, April 2. In attendance will be Kristina Karamo, who's seeking the Republican nomination for Michigan secretary of state, and Matt DePerno, who's running for state attorney general.
The rally kicks off at 7 p.m. ET. It will be streamed live on YouTube by the Right Side Broadcasting Network.
Ahead of Trump's arrival in the Wolverine State, Secretary of State Jocelyn Benson issued a warning about the ongoing threats to election integrity and security. Benson, a Democrat, is Michigan's top election official and defended the state from Trump's attacks in the aftermath of his 2020 loss.
"The threats against our democracy are truly a five-alarm fire and in that fire, Michigan is ground zero," Benson told reporters earlier this week.
President Joe Biden won Michigan by approximately 154,000 votes in 2020. Trump has claimed, without evidence, that the race was rigged despite hundreds of audits verifying the results. The Trump campaign also lost several lawsuits in the state challenging ballots.
Local officials in Michigan have expressed concerns about the logistics of Trump's rally, the Detroit Free Press reported.
"I do not want to allow it," Rob Schmelzer, the township's assistant fire chief and fire marshal, told the newspaper. "I have nothing against the past president. This has to do with the venue."
According to the Free Press report, Washington Township officials are concerned that the rally will draw far more attendees than the building's 5,760 capacity, leading to safety concerns.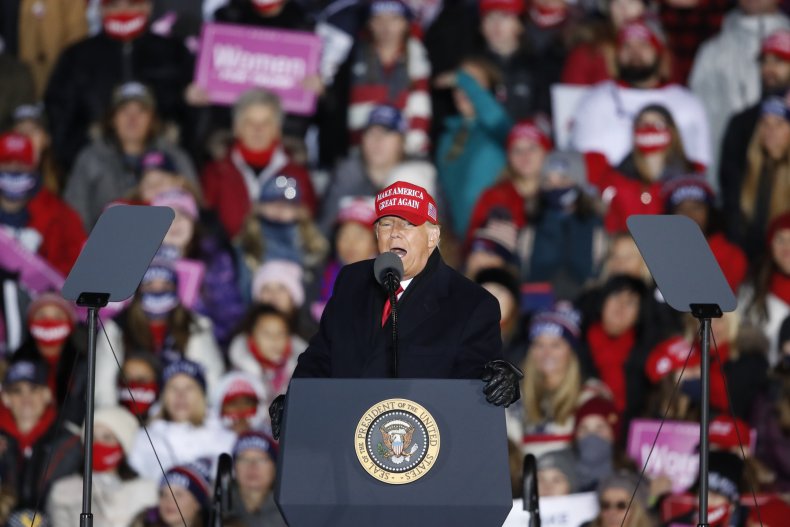 Last week, Trump traveled to Georgia to rally support for his two Republican picks: Herschel Walker and David Perdue. Walker is running to unseat Democratic Senator Raphael Warnock while Perdue is challenging Republican Governor Brian Kemp. Polls show Walker far ahead of the Republican field for Senate but Perdue lagging behind Kemp for the GOP nomination for governor.
At the event, Trump continued to air grievances about the 2020 election by doubling down on his attacks on Georgia's top Republican leaders: Kemp and Secretary of State Brad Raffensperger.
Trump called Kemp a "coward" for not overturning the results of the race. Trump was the first Republican candidate for president to lose Georgia in nearly three decades.
"We need a landslide so big they can't rig it or steal it," Trump told the crowd.
Perdue also peddled Trump's election claims, stating that the 2020 races were "absolutely stolen." The former senator, ousted during a special runoff election last year, also vowed to ensure "whoever was responsible goes to jail."