How to Watch Trump Georgia Rally: Time, Live Stream for GOP Campaign Event
Donald Trump is hitting the road ahead of the midterm elections this fall, and his next stop is Georgia.
The former president will hold a campaign rally at the Banks County Dragway in the city of Commerce on Saturday. Trump's influence over the Republican Party will be tested in the Peach State this fall, as he's endorsed two candidates: Herschel Walker and David Perdue.
The rally will kick off at 7 p.m. ET. The event will be streamed live on YouTube by the Right Side Broadcasting Network.
In addition to Perdue and Walker, Trump supporter U.S. Representative Marjorie Greene Taylor is also expected to make an appearance at the rally on Saturday. Guest speakers also include Georgia State Senator Burt Jones, U.S. Representatives Jody Hice and Andrew Clyde, and congressional candidate Vernon Jones.
Polls currently show one of Trump's picks ahead. Walker, who is running for U.S. Senate against Democrat Raphael Warnock, was far ahead of his conservative rivals in a recent Fox News survey. The former football star had 66 percent support while the next closest candidate, Georgia's agriculture commissioner Gary Black, had 8 percent support.
Walker received Trump's support before he even officially entered the race. Before joining the National Football League, Walker played for a United States Football League team that Trump owned. Trump has praised Walker as "unstoppable."
David Perdue, on the other hand, is trailing to current Governor Brian Kemp in the Republican primary race. Trump encouraged the former U.S. senator to challenge Kemp after the governor refused to abide by Trump's request to overturn President Joe Biden's electoral victory in Georgia.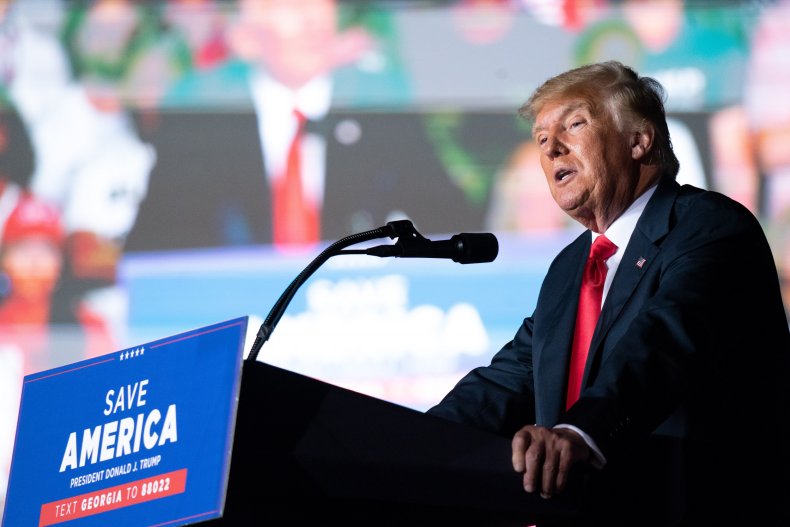 The Fox News survey found Perdue with 39 percent support from Republican primary voters compared to Kemp's 50 percent support. Just 10 percent of respondents said they were unsure of who to back in the race.
Trump recently held a fundraiser for Perdue at his Mar-a-Lago resort in Florida. Perdue is also trailing Kemp in fundraising, according to filings with the Federal Elections Commission. Perdue raised $1.1 million by the end of January after entering the race in early December, while Kemp raised $7.4 million in seven months ending on January 31.
Donald Trump Jr., the former president's son, was in Georgia earlier this month stumping for Perdue.
"We need people to understand that my father is supporting David Perdue," said Trump Jr. at an event in Cumming, Georgia, Fox 5 Atlanta reported. "They love weak Republicans. Right? They're useful idiots. Right, you see they love Brian Kemp because they know when it actually matters, Brian Kemp won't fight."