Mike Lindell Dubs Politicians Who Don't Back Trump Election Lies Traitors
MyPillow CEO Mike Lindell dubbed politicians who do not support his and former President Donald Trump's discredited claims about the 2020 elections as traitors, urging them to take action to decertify President Joe Biden's Electoral College victory.
Lindell, Trump and other allies of the former president continue to promote the conspiracy theory that Biden won the presidency through widespread voter fraud or "hacked" election machines. No evidence has emerged corroborating their claims, while election and cybersecurity experts have consistently debunked their allegations. Numerous audits and recounts have reaffirmed Biden's victory as well.
None of that has deterred Lindell, however, who continues to travel the country to promote the so-called "Big Lie" that the election was "stolen" from Trump. On Saturday, the pro-Trump businessman attended the former president's Florence, South Carolina, rally and did an interview with Right Side Broadcasting Network (RSBN) as the event got underway.
"Legislators out there, all you legislators that are running for office in all those states that we know that—the swing states...where they can decertify tomorrow if they want to," Lindell said in rambling remarks. "These legislators, what we're at a time in our history—you need to have courage, everyone's got to have courage now. You can't save it for a rainy day, because it's pouring outside."
Lindell then issued a warning to "all you politicians that are in power right now."
"You're either going to go down in history as a traitor or a hero. There's nothing in between anymore this time around...and we will leave no traitor left behind," the MyPillow CEO said.
Later in the interview, he began calling out specific states and Republican state officials who have rejected his claims. "I'm coming for you," the prominent Trump supporter cautioned, mentioning Alabama's Secretary of State John Merrill by name.
He then went on to list states that went for Biden, claiming they actually cast the majority of their ballots for Trump. These included Minnesota, Wisconsin, Michigan, Pennsylvania, New Hampshire, Georgia, Arizona and Nevada. "Might have won Maine, might have won Colorado," Lindell added.
Last October, Merrill told AL.com: "The thing we have maintained is that we didn't have any issues, any irregularities, any inconsistencies, any probing, any concerns that was introduced at any level to us." A number of other GOP officials from across the country have debunked Lindell's often bizarre claims.
Idaho's Secretary of State Lawerence Denney and Attorney General Lawrence Wasden, both Republicans, sent a letter to Lindell in January demanding that he "promptly remove all false statements about Idaho's elections" from his website, the Idaho Statesman reported at the time. The letter also urged him to "refrain from making similar statements in the future."
Notably, Alabama and Idaho went for Trump in the 2020 election and generally elect Republicans in federal and statewide elections. Nonetheless, Lindell has claimed the results in those states were fraudulent as well.
Georgia's Secretary of State Brad Raffensperger, a Republican who voted for and donated to Trump, has repeatedly pushed back against false claims by Trump and Lindell. In February, a spokesperson for his office told Newsweek that Lindell "knows he's lying—but he's fallen so deep into the grift that he may actually believe his own lies."
In the wake of the 2020 election, more than 60 election challenge lawsuits filed by Trump and his allies failed in state and federal courts. Even judges appointed by Trump and other Republicans ruled against the legal challenges.
Former Attorney General William Barr, who was widely viewed as one of Trump's most loyal Cabinet officials, ordered the Justice Department to investigate claims of widespread fraud after the 2020 election. Barr concluded that there was "no evidence" of fraud that would change the election's outcome. In recent days, the former Trump administration official has reiterated that assessment.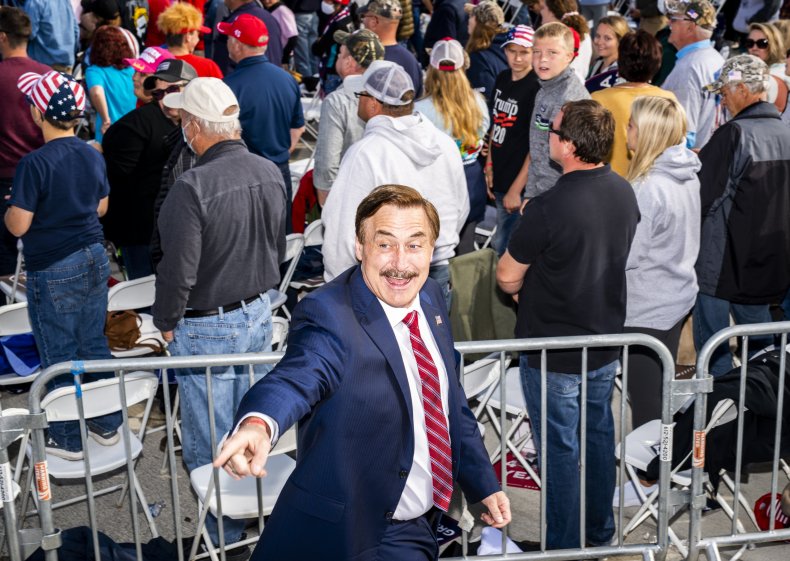 In an interview this month with NBC News, Barr said Trump's claims were "bullish*t" and described Trump's legal effort to challenge the 2020 election as a "clown show."
"I was pretty content with the administration up until the election. I supported his policies. He was always hard to work with and resistant to advice, but you could usually keep things on track," Barr told TODAY on March 7. "But after the election, he went off the rails and wouldn't listen to anybody."
Trump is slated to speak at South Carolina's Florence Regional Airport at 7 p.m. EST on Saturday. The doors for the event opened at 2 p.m. and preliminary speakers are set to take the stage at 4 p.m.