President Donald Trump has taken aim at the Food and Drug Administration, revisiting his claims about hydroxychloroquine and chloroquine as effective COVID-19 treatments and accusing the FDA of dragging its feet on vaccine trials.
On Saturday morning, Trump shared a Twitter moment from June 15 which announced that the FDA would revoke the emergency use authorization of the drugs due to evidence they were "unlikely to be effective" in treating the coronavirus.
Trump wrote: "Many doctors and studies disagree with this!" apparently reiterating his backing for the drugs which he has promoted, leading to their high demand and shortages, as well as sparking controversy over their safety and effectiveness.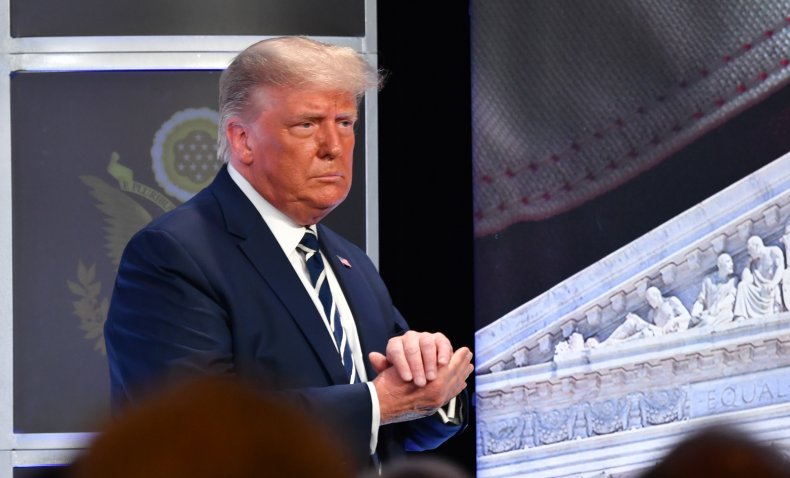 It is unclear which studies Trump is referring to. In June, the National Institutes of Health [NHI] halted trials of hydroxychloroquine after evidence showed that while the drug did no harm, it was "very unlikely to be beneficial."
Earlier in the year, the FDA had given an emergency use authorization (EUA) for the drug and some tests show it eased COVID-19 symptoms in some patients, there was concern over its side effects.
Meanwhile, in a follow-up tweet, Trump accused the FDA of hindering coronavirus vaccine and drug trials so they would not be developed until after the election.
Trump wrote: "The deep state, or whoever, over at the FDA is making it very difficult for drug companies to get people in order to test the vaccines and therapeutics."
Trump uses the term "deep state" to describe those at government agencies he believes are working against his interests.
Trump added: "Obviously, they are hoping to delay the answer until after November 3rd," he wrote referring to the U.S. election date. "Must focus on speed, and saving lives," he added, tagging FDA Commissioner Stephen Hahn.
Trump's suggestion that that research was being deliberately slowed to hurt him at the ballot box comes amid concerns that his administration might pressure the FDA to authorize a vaccine in time for the election, even if its safety and efficacy were not backed by clinical trials.
Trump has said a vaccine could be approved before November but Hahn has repeatedly said that would only happen if clinical trials proved it to be safe and effective.
FDA research chief Peter Marks also said this week that he would resign if an unsafe vaccine was rushed out, according to Reuters.
"I could not stand by and see something that was unsafe or ineffective that was being put through," Marks said.