Trump Ridiculed After Calling for His Reinstatement: 'Ridiculous at Best'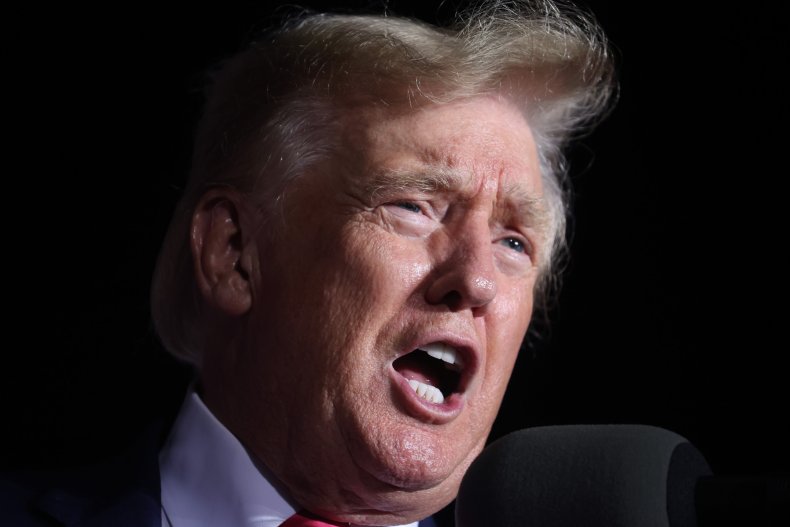 Former President Donald Trump was mercilessly mocked after demanding that he be retroactively declared the 2020 presidential election winner or be allowed to hold a "new election."
Trump said in a Truth Social post on Monday that unspecified "conclusive" information proved the FBI had "buried" an investigation into a laptop previously owned by Hunter Biden, the son of 2020 election winner President Joe Biden. The former president claimed that the FBI's alleged "interference" into the election could only be remedied by him being declared the winner almost two years after he lost, or by the "minimal solution" of calling a new election that could lead to his reinstatement.
"This is massive FRAUD & ELECTION INTERFERENCE at a level never seen before in our Country," Trump wrote. "REMEDY: Declare the rightful winner or, and this would be the minimal solution, declare the 2020 Election irreparably compromised and have a new Election, immediately!"
Trump was ridiculed by many on social media soon after, with some suggesting that the former president was "delusional" for apparently believing that his mid-term reinstatement was even a possibility.
"Donald Trump just called for someone (anyone?) to 'declare' him the 'rightful winner' of the 2020 election he lost or redo it 'immediately,'" tweeted Kevin Baron, executive editor of Defense One. "Neither will happen. He's ridiculous at best, delusional at worse. Well, purposefully stoking a violent civil war is worse ... "
"If Trump really believes this he is having delusions of grandeur & needs some serious psychiatric help," television producer Laurie Zaks tweeted. "Republicans in congress, do your job and protect us against this crazy, destructive person ever running for office again. Is this really the best you've got?"
"Lol at Trump calling for a re-do of the 2020 election what a maniac," tweeted lawyer Exavier Pope.
"It's as likely that Mike Pillow will be enshrined President as it is that Trump will be reinstated," progressive talk show host David Pakman tweeted, referencing MyPillow CEO Mike Lindell, an outspoken proponent of Trump's false claims that the 2020 election was "stolen" from him.
There were also suggestions that Trump's post was a sign of desperation over the possibility that he could soon be facing a criminal indictment. Federal agents recovered multiple boxes of classified documents from Mar-a-Lago this month as part of an investigation into potential violations of federal laws including the Espionage Act.
"Having tasted the impunity he enjoyed as President, Trump is going to get increasingly desperate to (re)claim those levers of power as NARAlago closes in on him," attorney and former FBI agent Asha Rangappa tweeted. "This will get worse and I'm not sure it's ever going to get better."
"The cult leader just posted on his own social media site that he should be reinstated as President because he's the rightful winner," British broadcaster Anthony Davis tweeted. "This is where his head is at. Desperation. Panic. 'Semi-Fascism'. #TRUMP"
"Trump's a crazy person," tweeted Condé Nast legal affairs editor Luke Zaleski. "He makes no sense. Contradicts himself. Has no connection to reality. He simply spouts insanity like stream of consciousness reality-TV plots. he's the literal human embodiment of fake news/propaganda trying to lie himself into a dictatorship to avoid jail."
"Donald Trump wants to toss the Constitution of the United States aside, demanding that he be reinstated as President - or - that new elections should be held immediately," journalist Jamie Dupree tweeted. "(Pro Tip: That's not the way it works.)"
"If he's setting up an insanity defense, here's some free legal advice: It won't work," Harvard Law School professor Laurence Tribe tweeted in response to a Newsweek article on Trump's post.
Newsweek has reached out to Trump's office for comment.