Trump Rips Letitia James' 'Very Plush' Office as He Sits for Deposition
Posting to social media from inside the office of his longtime political rival, New York Attorney General Letitia James, former President Donald Trump ripped James for her "very plush" Manhattan office ahead of his deposition.
"At the very plush, beautiful, and expensive A.G.'s office. Nice working conditions, as people are being murdered all over New York - and she spends her time and effort on trying to 'get Trump,'" the former president wrote on his social media platform Truth Social on Wednesday morning.
Trump is set to appear before lawyers from James' office as part of the attorney general's civil investigation into the Trump Organization's business practices. The probe, which is looking into allegations of inflated financial statements from Trump's company, has been ongoing for more than three years.
Trump was seen walking into the New York City headquarters located in lower Manhattan just before 9 a.m.
The deposition comes during a shocking legal week for Trump, whose home at Mar-a-Lago was searched by the FBI on Monday. A day later, Trump's long-running effort to block a House committee from obtaining his tax returns was rejected by a federal judge.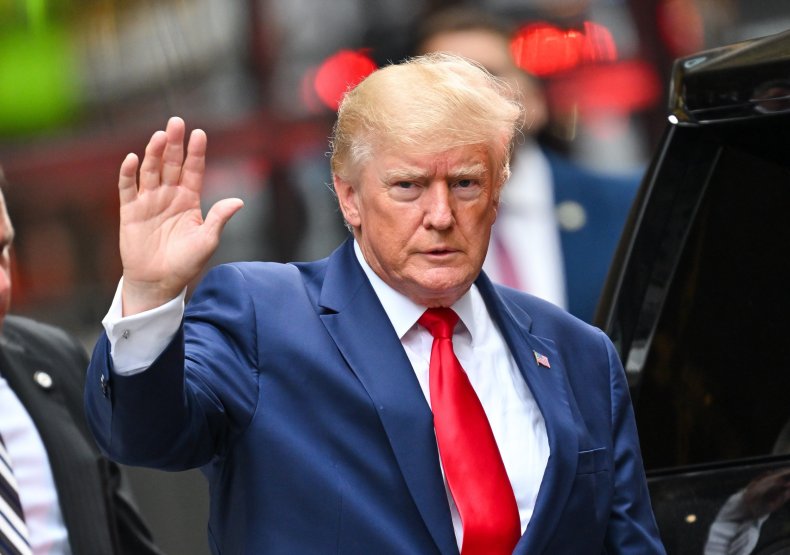 Ahead of his deposition on Wednesday, Trump released four ads targeting James' "radical witch hunt" against him, which included clips of the attorney general criticizing Trump as an "illegitimate president."
On Tuesday night, he announced via Truth Social that he had arrived in New York City, saying: "Seeing racist N.Y.S. Attorney General tomorrow, for a continuation of the greatest Witch Hunt in U.S. history! My great company, and myself, are being attacked from all sides. Banana Republic!"
Trump and his two eldest children, Donald Trump Jr. and Ivanka Trump, had been expected to testify under oath for the New York civil probe last month. However, the death of his first wife and the mother of Donald Jr. and Ivanka—which was announced on the eve before the scheduled testimonies—delayed the July 15 interviews.
"In light of the passing of Ivana Trump yesterday, we received a request from counsel for Donald Trump and his children to adjourn all three depositions, which we have agreed to," James' office said in a statement that day.
Trump's other son, Eric, has already appeared for his interview with James, although he invoked his Fifth Amendment right.
In a statement made Wednesday, Trump hinted that he too would plead the Fifth because he had "absolutely no choice" due to the loss of "moral and ethical bounds of decency" by the Biden administration.