Donald Trump Arrives in New York, Yet To Share FBI Warrant
Donald Trump has arrived in New York where he is set to testify under oath for Attorney General Letitia James' long-running probe into his family business. Live updates here.
The former president confirmed in a post on Truth Social that he will cooperate with the civil investigation into allegations The Trump Organization exaggerated the value of a number of assets and properties in order to obtain better loans and other financial benefits.
Trump's testimony arrives two days after the FBI raided his Mar-a-Lago resort in Florida as part of an investigation into allegations the former president illegally removed or destroyed classified White House documents after he left office in January 2021.
In the social media post, Trump continued to hit out at the investigation into his businesses as a "witch hunt," while accusing James, who is Black, of being "racist" towards him.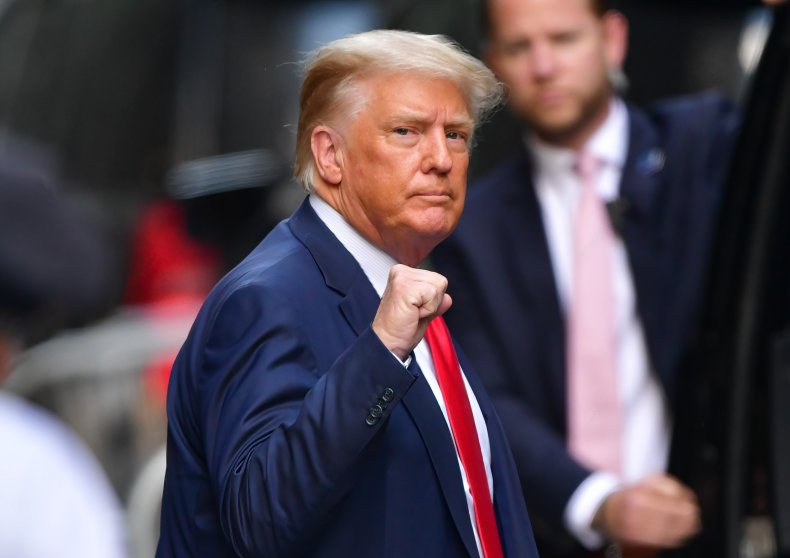 "In New York City tonight. Seeing racist N.Y.S. Attorney General tomorrow, for a continuation of the greatest Witch Hunt in U.S. history! My great company, and myself, are being attacked from all sides. Banana Republic," Trump wrote.
Two of Trump's children—Donald Trump Jr. and Ivanka Trump—have already testified as part of the investigation, two people connected to the probe told The Associated Press. The Trumps' depositions were delayed from July following the death of Ivana Trump, the former president's ex-wife and mother of Ivanka, Donald Jr. and Eric Trump.
As part of the fallout over the FBI raid at his home in Palm Beach, Florida, a number of top Trump allies have criticized the FBI, its director Christopher Wray, and Attorney General Merrick Garland for what they believe was an unjustified and politically motivated move.
GOP figures have also called for the federal government to publicly release the search warrant the FBI would have used on Monday in order to justify the raid.
"The raid by Joe Biden's FBI on the home of a former president who is also Biden's chief political opponent is an unprecedented assault on democratic norms and the rule of law. Biden has taken our republic into dangerous waters," tweeted Missouri Senator Josh Hawley.
"At a minimum, Garland must resign or be impeached. The search warrant must be published. Christopher Wray must be removed. And the FBI reformed top to bottom."
Senate Minority Leader Mitch McConnell said in a statement: "The country deserves a thorough and immediate explanation of what led to the events of Monday. Attorney General Garland and the Department of Justice should already have provided answers to the American people and must do so immediately."
However, a number of legal experts have noted that there is nothing stopping Trump from making the search warrant he would have received public himself, which would also well detail what was removed from his Florida home.
Barbara McQuade, a University of Michigan law professor and former U.S. attorney, tweeted: "The law prohibits DOJ from discussing a search warrant that is under seal. Secrecy rules are designed to protect the person under investigation.
"You know who could discuss it? Donald Trump, who would have received a copy of the inventory of items seized."
Neal Katyal, former U.S. Acting Solicitor General, said: "Search of Trump abusive? Law enforcement leaves a copy of the search warrant, which itemizes what they are looking for and what laws were violated
"If Trump/RNC think this search signed off on by a fed judge is abusive & they have nothing to hide, release the warrant to the public."
Democratic California Rep. Eric Swalwell also called on Trump to make the search warrant public himself.
"Donald Trump has a copy of the search warrant. He'd show us the warrant if he were so wronged. Show it or shut it," Swalwell said.
On Tuesday, Trump spoke with a group of House Republicans in Bedminster, New Jersey, as part of a pre-planned meeting.
Rep. Jim Banks, the chairman of the Republican Study Committee, told Fox News' Laura Ingraham that he had never seen Trump "as fired up as what he was tonight" during the meeting which took place one day after the raid.
Banks said: "He's not fazed at all by what the DOJ has done to him, an unprecedented move of raiding the home of a former president, and not at all explaining to the American people about why they did it."
Trump has been contacted for comment.