Four Things to Look for in Donald Trump, Ivanka, Don Jr. Court Testimonies
The news that a judge has ordered Donald Trump and two of his children, Ivanka Trump and Donald Trump Jr, to comply with subpoenas issued by New York Attorney General Letitia James was a hugely significant development in the ongoing probe into the finances of the Trump family's businesses.
On February 17, judge Arthur Engoron outlined a number of reasons why the Trumps' attempts not to testify under oath as part of the civil inquiry were futile, and that James had a "clear right" to investigate the Trump Organization.
The decision is certain to be appealed in what will be the latest in a long line of legal attempts to prevent the former president and his family from talking to prosecutors.
James' investigation is looking into allegations the Trumps inflated the value of some New York properties to obtain better bank loans and other financial benefits. The inquiry is running parallel to Manhattan District Attorney Alvin Bragg's investigation into allegations of felony tax fraud by the Trump Organization and its longtime CFO Allen Weisselberg.
If Donald Trump ultimately fails to appeal Engoron's ruling, the former president, Ivanka and Trump Jr. must sit for a deposition hearing by March 3. Below, with the help of legal experts, Newsweek lists a number of questions, details and issues that must be addressed if the Trumps testify under oath.
Can You Explain These Wild Discrepancies in Property Values?
The core of the investigation focuses on claims that the Trump Organization used fraudulent and misleading asset valuations in order to obtain economic benefits and better bank loans. On January 18, James took the unusual step of outlining several examples where the organization allegedly miscategorized, inflated or misstated the value of a number of properties.
This includes Donald Trump's claim that his luxury Manhattan apartment was valued at $327 million in 2015 and 2016, based on claims it was 30,000 square feet in size, despite only being 10,996 square feet.
In 2015, he allegedly claimed the Trump Building was worth $735 million while trying to refinance a loan on the property. A year earlier, an independent lender had determined that 40 Wall Street was worth $257 million.
According to financial statements, Trump is alleged to have inflated the value of his golf course in Aberdeen, Scotland, to $435 million on the assumption he had the right to build 2,500 luxury homes on the grounds, despite having approval to build fewer than 1,500 holiday apartments and golf villas.
The Trump Organization is also accused of inflating the value of the 212-acre Seven Springs in Westchester County by hundreds of millions of dollars, before changing a financial statement when a March 2016 appraisal valued the property at $56 million. According to James, the Trump Organization valued the property at $80 million in 2004, upped it to $200 million in 2007 and increased it further to $291 million in 2012, later changing it to the $56 million independent valuation.
Barbara McQuade, a University of Michigan law professor and former U.S attorney for the Eastern District of Michigan, said the deposition would be an opportunity for James to see whether there were "possible innocent explanations for the wild discrepancies" in these financial statements.
"In many ways, this is [Donald] Trump's opportunity to offer a defense that could end the investigation. If he lacks innocent explanations for the discrepancies, that will also be informative," McQuade told Newsweek.
Just days before Engoron said the Trumps must comply with the subpoenas, the former president's longtime account firm Mazars announced they would be leaving the Trump Organization, as 10 years' worth of financial statements from the company could not be "relied upon."
Lock In The Trump Witnesses On Their Version Of Events
McQuade said another goal of the AG would be to "lock in" the Trump family for each of their version of events, and use any potential discrepancies against them.
"I can imagine a very tedious process of putting documents in front of the Trump witnesses and asking about their knowledge of the basis for the numbers," McQuade said.
"These answers are then locked in on transcripts. If any of them try to tell a different story at trial, then the AG can point to the deposition testimony and raise the inference that the trial story is a recent fabrication designed to defeat claims of fraud."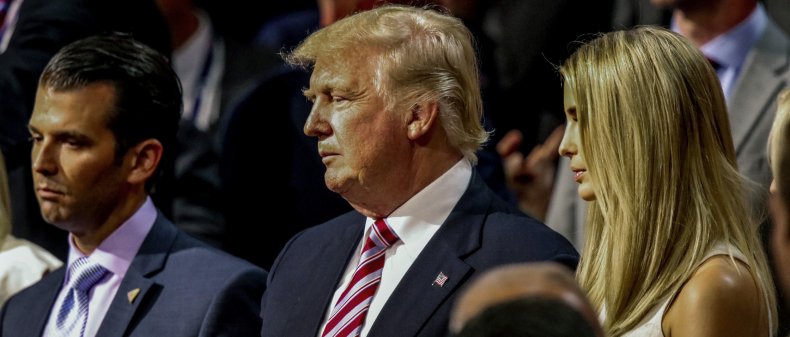 The Trumps Can't Always Plead The Fifth
In their fight against the subpoenas, the Trumps' lawyers suggested that the family wouldn't be able to invoke the Fifth Amendment while taking questions in the civil inquiry, which may ultimately hurt their defense in the criminal case being headed by Bragg.
During a hearing on February 17, Donald Trump's criminal defense lawyer, Ronald Fischetti, said if the former president invoked the Fifth when taking questions, it would be on "every front page in the newspaper in the world."
Engoron dismissed that argument and noted that another one of the former president's children, Eric Trump, invoked his Fifth Amendment right more than 500 times during his deposition in October 2020 as part of the same probe.
Former Los Angeles County prosecutor and criminal defense attorney Josh Ritter told Newsweek that while Trump is free to invoke the Fifth, this may have ramifications in future cases or trials.
"In certain contexts, an invocation of an individual's Fifth Amendment protections during a deposition can be revealed to a jury, who are then free to draw conclusions from that invocation."
McQuade reiterated that even though a witness's invocation of the Fifth Amendment can't be used against him in a criminal proceeding, it can be used in a civil trial, and a jury can "draw an adverse inference" from their refusal to provide an answer.
Ritter said Donald Trump's testimony in particular would be important as he would not be able to use his "typical tap dance approach" to answer questions while under oath, as he did during his presidency.
"Vague or ambiguous answers will not be tolerated and the AG will press him to give granular detail on what he knew and when. This is very different from taking a press conference and where one is simply able to move on to the next reporter and the next question," Ritter said. "He's going to be grilled by experienced lawyers until they are satisfied with the answers he gives."
Who Does What at the Trump Organization?
The New York attorney general may also look to confirm what role the Trump family has inside the family company, and who has been responsible for each financial irregularity.
"The AG will be most concerned with Trump's level of hands-on involvement with his various business enterprises and to what level of detail he was aware of the day-to-day goings-on of the businesses," said Ritter. "It's the notorious old adage 'what did he know and when did he know it.'"
"The AG suspects that fraudulent dealings were taking place under the Trump name, but now the question becomes how much of that was President Trump actually aware of," he said.
While giving explicit details on how the Trump Organization allegedly fraudulently valued multiple assets, James said Ivanka Trump was a "primary contact" for the organization's largest lender, Deutsche Bank, and allegedly "caused misleading financial statements" to be submitted to the German bank and the federal government. Trump Jr. is also alleged to have had authority over numerous financial statements containing misleading asset valuations.
"As the papers filed today make clear, each of the individuals was directly involved in one or more transactions under review," James said.