New York judge Arthur Engoron has ordered Donald Trump and his two children, Ivanka and Donald Trump Jr, to testify under oath about their family company's finances in a lengthy ruling to justify the decision.
Engoron said in an eight-page ruling on Thursday that the former president and his two children must comply with the subpoena issued against them by New York Attorney General Letitia James.
James' office is looking into allegations the Trumps inflated the value of some New York properties to obtain better bank loans and other financial benefits.
The decision from Engoron is almost certain to be appealed by Donald Trump's lawyers in what is the latest update in the long running attempt by the former president to prevent the prosecutors forcing him or his family to comply with the investigation.
In his decision, Engoron said that James has a "clear right" to investigate the Trump Organization while dismissing a number of arguments given by Donald Trump and his legal team for why the inquiry should be scrapped.
Mazars Cutting Ties With Business Claim 'Audacious As It Is Preposterous'
The ruling was given just days after Donald Trump's longtime accounting firm Mazars announced it is cutting ties with the former president's business because a decade's worth of financial statements "should no longer be relied upon."
While announcing the decision, Mazars said it had not concluded if the 10 years' worth of financial statements contain any "material discrepancies." In a statement responding to the news, the Trump Organization claimed that the line about the lack of "material discrepancies" means that James' investigation is now "moot."
In his ruling, Engoron dismissed this suggestion entirely.
"To proclaim that the Mazars' red-flag warning that the Trump financial statements are unreliable suddenly renders the OAG's [Office of the Attorney General's] long-running investigation moot is as audacious as it is preposterous," he wrote.
Engoron also invoked famous quotes to dismiss the idea that an accounting firm's announcement that no one should rely on a decade's worth of financial statements means that an investigation looking at the statements is now invalid.
The judge said the suggestion is "reminiscent of Lewis Carroll ('When I use a word, Humpty Dumpty said…it means just what I chose it to mean – neither more nor less'); George Orwell ('War is peace, freedom is slavery, ignorance is strength'); and 'alternative facts.'"
A 'Dereliction of Duty' if James Did Not Subpoena the Trumps
Ahead of the ruling, Donald Trump attacked James and Manhattan District Attorney Alvin Bragg—who is running a parallel criminal investigation into alleged fraud at his company—claiming the two Black prosecutors are conducting a "political and racist attack" against him.
Donald Trump and his family have long suggested that James' investigation should be scrapped because she is biased, based on her prior statements.
James promised that she would be a "real pain in the a**" for the former president after she was elected in 2018 and said she was "going to sue Trump" every day in office.
During oral arguments on Thursday, Engoron said that James' comments have been "very aggressive" and helped contribute to a "circus"-like atmosphere to proceedings, but wrote in his ruling there is no evidence the Attorney General was actively discriminating against Donald Trump and his family with her investigation, or conducting it as some sort of personal vendetta.
"For OAG not to have investigated the original respondents, and not to have subpoenaed the new Trump respondents, would have been a blatant dereliction of duty (and would have broken an oft repeated campaign promise)," the judge wrote.
"Indeed, the impetus for the investigation was not personal animus, not racial or ethnic or other discrimination, not campaign promises, but was sworn congressional testimony by former Trump associate Michael Cohen that respondents were 'cooking the books.'"
Nothing To Stop the Trumps Invoking Fifth Amendment
Donald Trump's lawyers suggested that the family won't be able to invoke the Fifth Amendment while taking questions in the civil inquiry, which may ultimately hurt their defense in the criminal case being headed by Bragg.
Engoron also dismissed that argument in his ruling and noted that another one of the former president's children, Eric Trump, invoked his Fifth Amendment right more than 500 times during his deposition in October 2020.
"The target of a hybrid civil/criminal investigation cannot use the Fifth Amendment as both a sword and a shield; a shield against questions and a sword against the investigation itself," Engoron wrote.
"When they are deposed, the New Trump Respondents will have the right to refuse to answer any questions that they claim might incriminate them, and that refusal may not be commented on or used against them in a criminal prosecution. However, there is no unfairness in allowing the jurors in a civil case to know these refusals and to draw their own conclusions."
Engoron ruled on Thursday that Donald Trump and his children have 21 days to sit for a deposition.
In a statement to Newsweek, a spokesperson for The Trump Organization said: "The entire system is corrupt."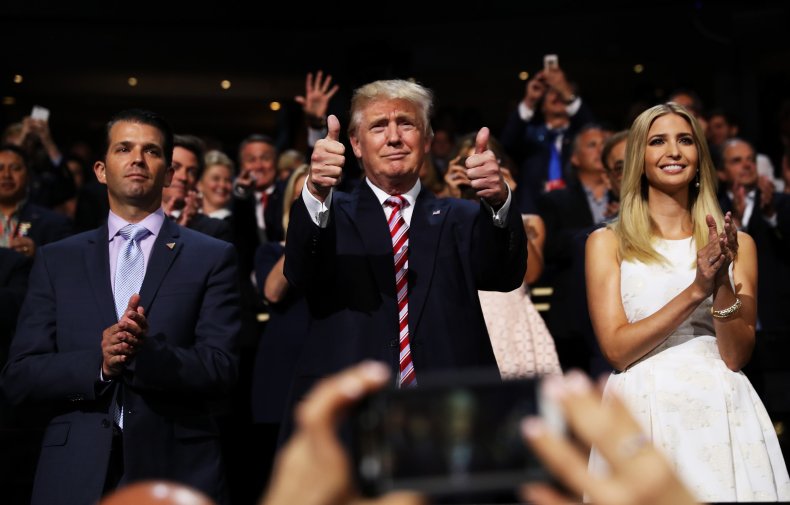 Update 2/18/2022, 9:13 a.m. ET: This article has been updated with comment from The Trump Organization.