Former FBI acting Director Andrew McCabe said on Thursday there's "no doubt" Donald Trump's 2016 presidential campaign team was "receptive" and "interested" in assistance from Russia, pointing to the special counsel report and Robert Mueller's comments on Wednesday.
Appearing for an exclusive interview on MSNBC on Thursday morning, McCabe explained his perspective on Mueller's investigation and allegations that members of Trump's 2016 campaign conspired with the Russian government.
"I think there's no doubt that the Russian– there's absolutely no doubt that the Russians were interfering with the election for the purpose of helping the Trump campaign. There is also no doubt that the Trump campaign was receptive to that assistance, was interested in receiving that assistance," McCabe, who was fired by Trump last year, said.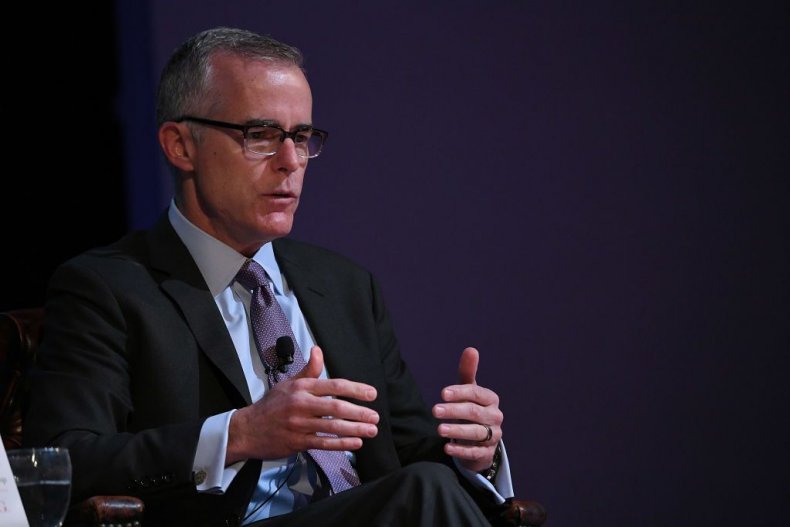 "The one thing we lack is kind of the keystone in the bridge, that agreement between the two parties," the former FBI agent explained. "And I think what we have here is just a clear lack of evidence to bring a prosecution on those grounds."
MSNBC journalist Willie Geist then pressed McCabe, asking: "But you believe there was a conspiracy there?"
Responding, McCabe said he believed "there was a strong desire, a willingness on both parts." Continuing, he added that he "can't sit here and point to that evidence of an agreement."
When asked by Geist whether he believed Trump had obstructed justice by interfering in Mueller's investigation, McCabe responded affirmatively.
"I believe, and I think the Mueller report details quite clearly, that the president engaged in numerous acts intended to obstruct and impede the investigation," he said.
Mueller made his first public comments about his 22-month long investigation into 2016 election interference Russia on Wednesday. Reiterating specific details from his final report, the special counsel asserted that if he and his team "had confidence that the president clearly did not commit a crime" they "would have said so."
"We did not, however, make a determination as to whether the president did commit a crime," Mueller added, arguing that such a move would have gone against Justice Department policy and would have been unconstitutional. Many Democratic and some Republican politicians and analysts have inferred that Mueller was suggesting that Congress was intended to take his findings and begin an investigation, potentially leading to the president's impeachment.
Addressing Mueller's public comments and the public reaction on Thursday, Trump tweeted:
"Russia, Russia, Russia! That's all you heard at the beginning of this Witch Hunt Hoax...And now Russia has disappeared because I had nothing to do with Russia helping me to get elected. It was a crime that didn't exist. So now the Dems and their partner, the Fake News Media … say he fought back against this phony crime that didn't exist, this horrendous false accusation, and he shouldn't fight back, he should just sit back and take it. Could this be Obstruction? No, Mueller didn't find Obstruction either. Presidential Harassment!"
Despite Trump's repeated insistence that he is a victim of a partisan political attack, more than 1,000 former federal prosecutors, who served under Republicans and Democrats, have signed a statement arguing that Trump would have been indicted on several felony charges if he was not the president.
"Each of us believes that the conduct of President Trump described in Special Counsel Robert Mueller's report would, in the case of any other person not covered by the Office of Legal Counsel policy against indicting a sitting President, result in multiple felony charges for obstruction of justice," the former prosecutors' statement, shared by Protect Democracy, said.
"The Mueller report describes several acts that satisfy all of the elements for an obstruction charge: conduct that obstructed or attempted to obstruct the truth-finding process, as to which the evidence of corrupt intent and connection to pending proceedings is overwhelming."