Donald Trump Says Brexit Will Be 'Great,' Angela Merkel Made 'Catastrophic Mistake' on Refugees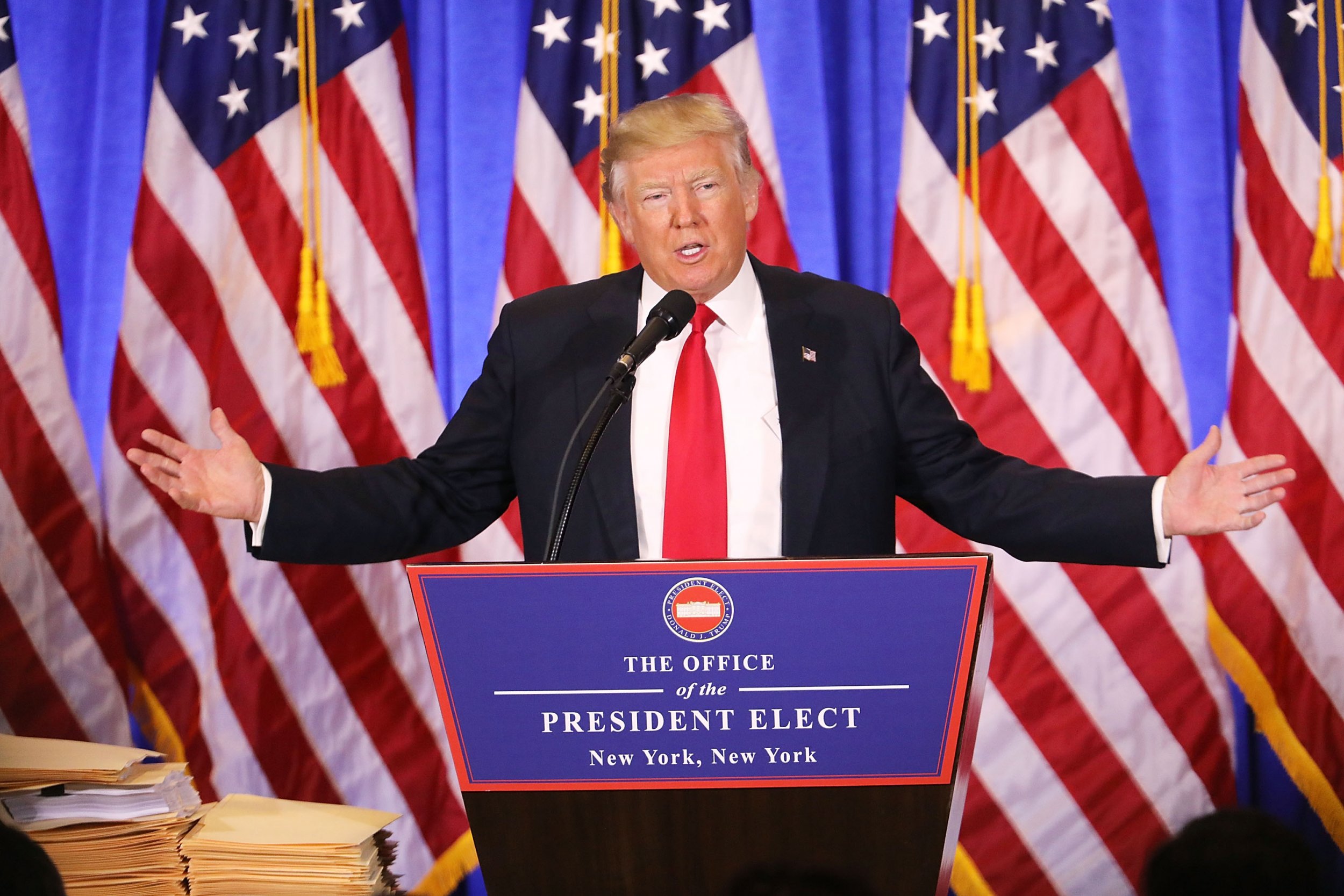 Brexit will be "great," NATO is "obsolete," and German Chancellor Angela Merkel made a "catastrophic mistake" on the refugee crisis. These are the controversial comments U.S. President-elect Donald Trump made in a round of interviews with European media on Sunday.
Trump, 70, is set to be inaugurated on January 20 as the 45th president of the United States. Ahead of that day, he sat down with Britain's The Times and Germany's Bild for hand-picked, exclusive interviews.
His comments will likely cause concern in both western and eastern Europe. In calling the NATO military alliance out of date, Trump risked angering eastern European NATO members already anxious about an increasingly assertive Russia in the region, as displayed by its alleged presence in eastern Ukraine and its annexation of Crimea.
"I said a long time ago that NATO had problems," he said in an hour-long interview with both The Times and Bild.
"Number one, it was obsolete, because it was designed many, many years ago," he said. "Number two, the countries aren't paying what they're supposed to pay."
In the campaign to win the presidential election, Trump had said that he may not help eastern European NATO members if Washington was not "reasonably reimbursed" for the costs of defending them.
The billionaire then took aim at the European Union, saying that Britain's exit from the political bloc would be "great" and that he would move quickly to seal a trade deal with London. He blamed the number of refugees entering the EU's borders as the "final straw that broke the camel's back."
The remarks stood in contrast to President Barack Obama's statement that Britain would be at the back of the queue for a trade deal if it left the EU. Trump's support of Brexit and his support of London's economy will come as another blow to leaders in Brussels and their integration project on the continent.
"I think it's very tough," Trump said. "People, countries want their own identity and the U.K. wanted its own identity."
He continued: "I do believe this—if they [EU countries] hadn't been forced to take in all of the refugees, so many, with all the problems that it… entails, I think that you wouldn't have a Brexit.
"I think people want… their own identity, so if you ask me… I believe others will leave."
In his comments on refugees, he pointed the finger of blame at Merkel for allowing refugees without documents into Germany. In 2015, Germany accepted almost 900,000 asylum seekers into its borders, a record for the country, as hundreds of thousands of Syrians fled the war.
"I think she made one very catastrophic mistake and that was taking all of these illegals, you know taking all of the people from wherever they come from. And nobody even knows where they come from," Trump said. Despite his criticism of Merkel, he said he had "great respect" for the German leader.
As reports of links between Trump's team and the Russian government continue to circulate, Trump said "let's see if we can make some good deals with Russia." It comes after Obama placed sanctions on Russia over Moscow's interference in Ukraine, the Syrian conflict and alleged hacking in the U.S. election.