Trump Says He Could Solve Ukraine War 'in 24 Hours'
Former President Donald Trump said he could solve the Russia-Ukraine war "in 24 hours," while speaking at his presidential campaign kickoff in New Hampshire on Saturday.
"Remember crooked Hilary? 'He's going to cause a war in his first week in office.' Because they think that's my personality type. But it's actually the opposite," Trump said while speaking to the crowd in Salem, New Hampshire.
"My personality kept us out of war," the former president continued. "And I told you before, [it] would have never happened with Russia. Putin would have never ever gone in. And even now I could solve that in 24 hours. It's so horrible what happened. Those cities are demolished now."
Trump concluded by saying that if he was president, there would have been "zero chance that war would have happened."
According to Bloomberg, Russian President Vladimir Putin is planning a new offensive in the next month or two to combat Ukrainian gains in the war that he started last February. This comes after the anticipated announcement that Ukraine will soon be receiving more military weaponry from the West.
On Wednesday, President Joe Biden announced that the United States would send Ukrainian President Volodymyr Zelensky's troops 31 M1 Abrams battle tanks. Meanwhile, Germany also announced that it would send Ukraine its Leopard 2 main battle tanks (MBTs) to help the war-torn country fight off Russian forces.
Political analyst and Dillard University professor, Robert Collins, told Newsweek on Saturday, "Former President Trump always claims he can easily solve any problem currently in existence. Even though the records show that he had his own problems that he could not solve while in office."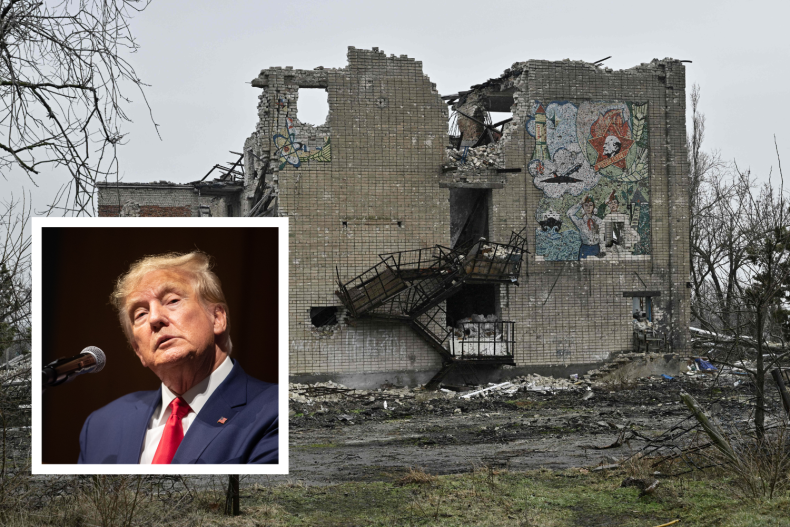 Collins continued: "His claims will not affect foreign policy or the image of Biden or the U.S. outside of the country. Polling data shows [the] rest of the world has a negative view of Trump. Of course, it will keep his base in the U.S. happy and energized to send him money, which is the only thing he is concerned about."
Following Biden's announcement, Russian officials condemned the U.S. and disparaged the Abrams' potential usefulness.
Russia's ambassador to the U.S., Anatoly Antonov, said the step was "another blatant provocation against the Russian Federation," while Kremlin spokesperson Dmitry Peskov said the Abrams and other Western tanks "would burn up just like all the others."
On Thursday, Pentagon deputy spokesperson Sabrina Singh said the Russian vitriol was nothing new.
"I feel like I've heard that talking point before from them, whether it was the Javelins that we were giving or the HIMARS and then the Patriot," she told reporters. "Everything seems, I guess, to be an 'escalation.' I don't view it as that."